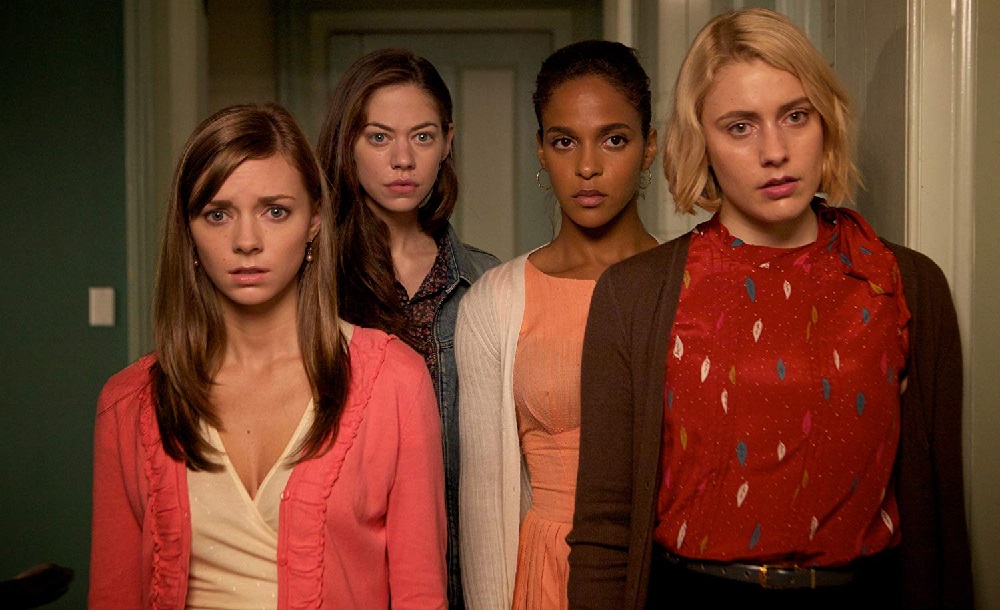 Quirky Damsels Dances to its Own Idiosyncratic Beat
At Seven Oaks College, friends and roommates Violet (Greta Gerwig), Rose (Megalyn Echikunwoke) and Heather (Carrie MacLemore) are intent on rescuing their fellow students, helping ease their low self-esteem and/or depression through a mix of good hygiene, hot coffee, fresh donuts and intricately choreographed dance routines. They have decided to allow recent transfer student Lily (Analeigh Tipton) into their group, sure she has just the traits and outlook they're looking for to make their school a place everyone can be proud of.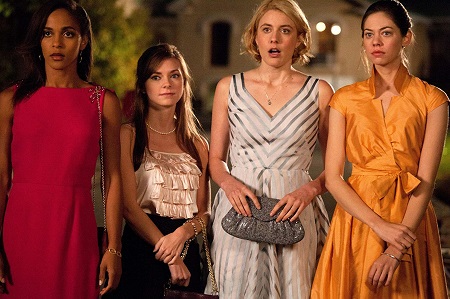 That's all I'm going to write as far as a description for writer/director Whit Stillman's latest flight of fancy Damsels in Distress. The acclaimed auteur's first motion picture since 1998's The Last Days of Disco, the man behind whimsically devastating comedic dramas Barcelona and Metropolitan certainly hasn't lost an ounce of his bouncily acidic fury. There are teeth hiding behind this seemingly sunny smiling façade, waiting for them to clamp down and bite the one constant around which everything else revolves.
But unlike his previous three efforts I can't say this one is entirely successful. The pitter-patter of the dialogue, the obtuse obnoxious way in which his characters interact with one another, the way the melodrama shifts from light to dark to light again with devil-may-care insanity, all of it never comes together in truly satisfying way. During the early portions I was outright annoyed by Violet and her fellow minions, the opening half hour as difficult to sit through as anything I've been able to slog through so far this year.
Yet somehow, someway, Stillman and his gifted group of actresses, especially the luminous Gerwig, managed to get me back onboard and, in the end at least, I found Damsels in Distress to be strangely charming. It's arch and weird and not altogether focused. But at the same time its honesty and emotional directness still spoke to me, all of which helped make the finished product a delicate balancing act that had me dancing out the door with a smile.
These characters, though, are not always easy to relate to or even like. Violet, in particular, is about as aggressively obtuse a presence as any that Stillman has ever written (which is saying something for those who've seen The Last Days of Disco and had a visceral love/hate relationship with Kate Beckinsale), and even when her world falls apart there was something about the college student that kept me from warming to her as much as I felt I was supposed to. But there is something about the luminous nature of Gerwig's performance, the way she fearlessly dives into the character's more detestable traits yet also manages to bring her more laudable ones to the forefront, it nothing short of sublime. The actress is close to stunning in the role, and it could be said that one's kinship with the film will rise or fall depending on just how much one is captivated by this performance.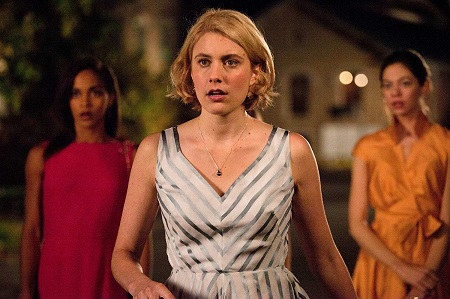 Not that I can discount the efforts of the other actors. All three of the other young actresses, especially Tipton (best known for her turn as the amorous babysitter lusting after Steve Carell in Crazy, Stupid, Love), are nothing less than great, while there's also some fine supporting work turned int by Adam Brody, Jermaine Crawford and Hugo Becker as well. Stillman knows how to handle his actors, and while the world they all inhabit isn't ever as realistic as I might have wanted it to be, there is something about this ungainly surrealist quagmire that after that shaky opening that still managed to hold me spellbound.
Damsels in Distress isn't for everyone. It's quirky and obnoxious, every character speaking with a stilted directness that takes getting used to. But as it travels down its bizarre little road Stillman finds a way to make his foray into the collegiate atmosphere relatable, discovering universally intimate truths I never would have thought possible based on how I felt during those opening scenes. Definitely worthy of a look.
– Review reprinted courtesy of the SGN in Seattle
Film Rating: 2½ (out of 4)