Overstuffed Rome a Disappointing Afterthought
After reaching a recent high with the Academy Award-winning Midnight in Paris, Woody Allen, the hardest working writer/director in Hollywood, returns with another star-studded affair. This one is an ensemble, multi-story comedy that attempts to look at all the various stages of love in all its bewildering guises. But whereas his last film tapped into something special and managed to become a universal saga of what it means to live in the now and embrace one's current reality for the magical wonder it is, Allen's To Rome with Love is a mystifying, sometimes glorious, oftentimes annoying failure. The movie never finds its footing, and while certainly not the worst thing the filmmaker has ever crafted it's doubtful any of us will be talking about this one again at any point in the future.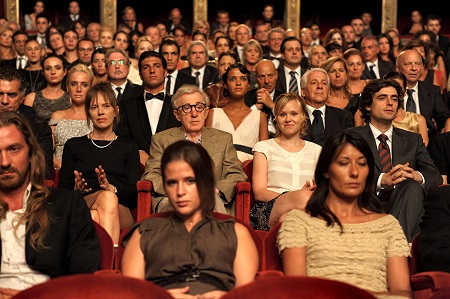 Renowned American architect John (Alec Baldwin) is vacationing in Rome, returning to some of the same streets and neighborhoods where he resided back when he was a wide-eyed student learning his craft. Near his old apartment he runs into Jack (Jesse Eisenberg), a pleasant young man oddly following in many of the same footsteps he did once upon a time. He's got a live-in fellow graduate student girlfriend, Sally (Greta Gerwig), whom he supposedly loves. But when her best friend, a self-possessed actress named Monica (Ellen Page), comes for an extended visit all bets are off, John seeing numerous commonalities as Jack enters into a passionate, yet almost certainly doomed, affair with the young woman.
In another corner of the city, newlyweds Antonio (Alessandro Tiberi) and Milly (Alessandra Mastronardi) have come to celebrate their honeymoon as well as see him start a cushy, high-profile job engineered by his well-connected extended family. But when she gets lost on the streets of Rome looking for a salon, he ends up the victim of mistaken identity when a sexy and expensive prostitute (Penélope Cruz) enters his bedroom. One thing leads to another and Antonio is forced to pass her off as his wife while Milly discovers she's suddenly having lunch with cinematic legend, and vaunted lothario, Luca Salta (Antonio Albanese), each encounter having a noticeable impact upon the couple's future happiness.
But that's not it. There's also Leopoldo Pisanello (Roberto Benigni), an Italian nobody who is mysteriously famous for being famous, constantly stalked by the paparazzi while his opinions about breakfast foods and shaving techniques lead the nightly news. There's also red classical music producer Jerry (Allen) and his wife Phyllis (Judy Davis), the two having come to Rome to meet their daughter Hayley's (Alison Pill) fiancée Michelangelo (Flavio Parenti), the obsessive father certain he's discovered greatness when he hears his daughter's future husband's proud, hard-working papa Giancarlo (Fabio Armiliato) singing opera in the shower.
There's way too much going on if you ask me, and I can't help but think that if Allen had edited himself rather significantly there might have been something gloriously entertaining to be discovered here. But the shifts between vignettes are clunky and haphazard, and sometimes it's hard to get a feel on what it is Allen wants to say. Just as I was getting absorbed by one story the filmmaker would shift gears and spotlight another tale, and the more times this happened the angrier I found myself becoming.
I did love the subplot involving Antonio and Milly, their dueling escapades heavenly. I also found Allen's treatise on modern celebrity culture centered on Leopoldo to be prescient and spot-on, the filmmaker utilizing Benigni's droopy, hound dog façade to perfection. Both these stories kept me continually transfixed, and whenever the filmmaker switched away from them it was all I could do to keep from yelling at the screen urging him to return to these lustily comic, sexually spirited fables.
Of the other two primary tales, while the one focusing on Jerry, Phyllis, Hayley, Michelangelo and Giancarlo is potentially the most interesting, because the absurdist idiosyncrasies integral to it are so over the top I had trouble caring what was going to happen one way or the other. It didn't help that none of these people, other than Giancarlo, are ones I'd ever want to hang out with let alone get to know personally, each character so self-absorbed more often than not I wanted to slap the entire lot of them.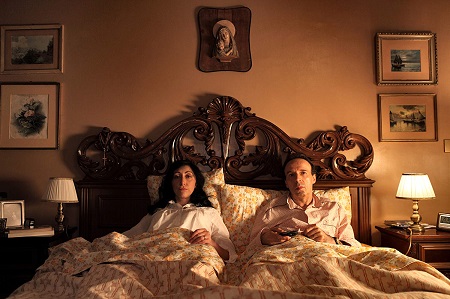 Then there's Jack's flight of fancy revolving around his mysterious relationship with John. Parts of this are divine, ascending to the same mystically metaphorical heights Midnight in Paris resided in so effortlessly. Other pieces drove me crazy, some of the conversations happening between Jack and Monica borderline insulting. There is a disconcerting unevenness to this story that's perplexing, and while Baldwin is excellent, many of his verbal asides and karmic witticisms just perfect, this particular vignette never achieves its emotionally satisfying potential, making it easily the film's most frustrating subplot mainly because it also could have also been its best one.
Closing in on 77 years of age, Woody Allen shows no signs of slowing down, still putting out roughly a movie a year. He's still a fascinating auteur, one whose latest works are must-see events no matter what their subject matter. But in the case of To Rome with Love I can't help but wonder what might have happened had Allen slowed down and taken the time to edit his script down a bit before proceeding to principal photography. His film is overstuffed yet also oddly vague, and while the better bits are wonderful the lesser ones irritated me so much they made the final product a disappointing afterthought in the career of a justifiably lauded filmmaker we all know is capable of better.
– Review reprinted courtesy of the SGN in Seattle
Film Rating: 2½ (out of 4)