Boisterous Tonight a Musical Delight
Adam (Luke Treadaway) is an Indie Rock star. Morello (Natalia Tena) is the frontwoman for an all-girl Punk Rock group trying to make a name for themselves. The two have nothing in common, run in completely different circles and don't particularly care for one another, and considering they're playing in completely different venues at a massive weekend outdoor music festival there's no reason for them to even come into contact.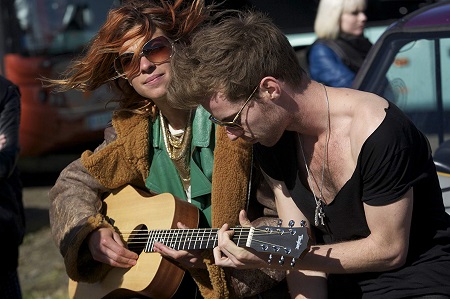 But after a chance backstage encounter devolves into an argument, a stranger preaching peace, love and understanding handcuffs the two together and then wanders off into the throng of thousands. Now they have to find a way to unshackle before each is supposed to perform, leaving them, their bandmates and their significant others scratching their collective heads as to the best way to deal with this surreal problem.
What happens next isn't exactly a surprise, and at only 80 brief minutes director David Mackenzie's (Perfect Sense, About Adam) latest Tonight You're Mine is nothing more than a romantic trifle that doesn't push too many buttons or attempts to break very many rules. Newcomer Thomas Leveritt's script goes right where I expected it to and ends at the exact moment that was preordained the second Adam and Morello were initially shackled together.
I'm perfectly fine with all of that. Shot on the quick during Scotland's famous T in the Park festival and featuring a supporting cast of around 85,000 or so, the movie is filled with glorious music and delectable touches of quiet romance that I found entrancing. I liked the way Adam and Morello dealt with their requisite significant others (nicely underplayed by Ruta Gedmintas and Alastair Mackenzie) as well as the way they try to make the best of the situation. I liked the documentary-like dissection of the narrative and how filming in a live musical environment shapes and molds the action makes things even more emotionally relevant.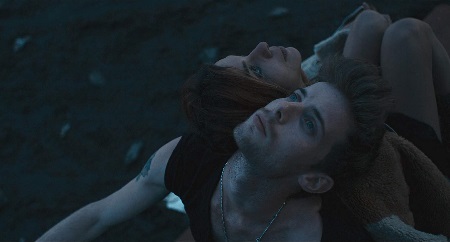 The movie goes off the rails a couple times, a subplot involving Adam's manager feeling like filler to pad out the running time than it does anything substantive. But I liked the way that Mackenzie meanders through T in the Park, the way he makes the festival an intricately evolving character that evolves right along with Adam and Morello over the course of this chaotic, and cathartic, 24-hour period. The best bit might just be Morello singing her heart out while she and her band perform with Adam chained to her arm, the priggish rock star taking things into an unexpected direction that makes the lot of them instant sensations. Additionally, there are s number of quiet moments, inspired little vignettes, all of them helping to create a melodious bit of bliss I didn't want to see end.
The finale is a bit silly and over the top, but much like Baby getting out of her corner or Maverick recovering from his crash and burn with Charlie there is something about the sight of Adam and Morello reuniting on the stage (and this is not a spoiler) that couldn't help but make me swoon in happiness. Tonight You're Mine isn't anything new, doesn't break any ground or go any place that I didn't fully anticipate. But like I've already stated, that's just fine. This movie is a song I loved singing along to, its boisterous chorus so infectious I feel like I'm going to be humming it for the remainder of the week.
Film Rating: 3 (out of 4)