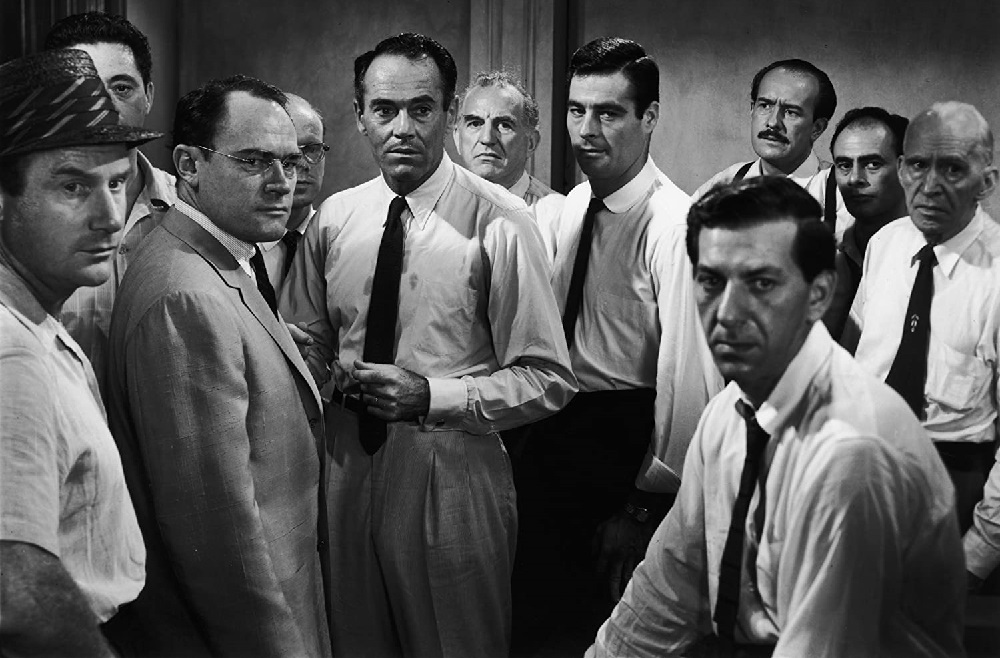 How does the Blu-ray/DVD Disc stack up? (all ratings out of 10.)
Movie
Video
Audio
Extras
Overall
SYNOPSIS
Twelve jurors are tasked with delivering a verdict in a case involving a boy charged with the murder of his father. A lone man, Juror No.8 (Henry Fonda), is the only one to raise his voice in dissent of a guilty verdict, insisting the group take the time to deliberate before deciding the fate of the youngster accused of the crime.
CRITIQUE
What's there to say? Based on the teleplay by Reginald Rose, Sidney Lumet's landmark 1957 marvel 12 Angry Men is one of the most iconic and influential motion pictures ever made. How many have paid it homage? How many other films and television programs have openly 'borrowed' from this plot? The list is endless, Lumet delivering a timeless piece of cinematic brilliance that more than lives up to its reputation.
You know the story even if you've never seen the film. Fonda attempts to convince his fellow jury mates to take a moment to consider the evidence and spend some time deliberating before determining the fate of a teenager accused by the prosecution of murdering his father with a switchblade. One by one they begin to come around to the idea the lad might be innocent, retrying the case as they analyze the evidence from every angle.
Fonda is magnificent. His powerful performance is a constant revelation. He's always poking, always prodding, always forcing his 11 mates onward whether they want to keep looking at the evidence or not. As good as the two-time Academy Award-winner had been before this and would be afterward, as unforgettable as performances in Once Upon a Time in the West, On Golden Pond, Fail Safe and 3:10 to Yuma are, this might be his best work, and from the first moment something is going on behind Fonda's calmly endearing façade that speaks volumes.
The rest of the cast, almost all of whom were relative unknowns at the time of release but would pretty much all become stars later on, is equally up to the challenge. Martin Balsam, Jack Warden, Lee J. Cobb, E.G. Marshall, Jack Klugman, Ed Begley, even John Fielder, Edward Binns, Robert Webber and especially George Voskovec, each work in perfect symmetry with the man next to them like a ticking clock. All of them are extraordinary.
For a one-room drama, Lumet delivers a picture that's beautifully photographed by the great Boris Kaufman. The layers contained within his black and white cinematography are stunning, Kaufman always making certain there is something of interest going on within the frame at all times. You feel the tension and the angst, the whirlwind of emotions passing between these 12 men transferred to the audience with pinpoint precision.
There's a reason Lumet became a Hollywood wunderkind known for dramas overflowing in labyrinthine emotions other filmmakers were afraid to touch. From Dog Day Afternoon to Network, The Verdict to Before the Devil Knows Your Dead, The Hill to Q&A, the director intimately understood the complexities of the human condition. 12 Angry Men showcases that skill arguably better than almost any of his subsequent efforts, and as such it remains an unequaled classic that will continue to fascinate audiences for generations to come.
THE VIDEO
12 Angry Men is presented on a dual-layer 50GB Blu-ray MPEG-4 AVC Video with a 1080p 1.66:1 transfer. As stated in the included booklet: "This new high-definition digital transfer was created on a Spirit 2K from a 35mm fine-grain master positive. Thousands of instances of dirt, debris, scratches, splices, warps, jitter, and flicker were manually removed using MTI's DRS and Pixel Farm's PFClean, while Image Systems' DVNR was used for small dirt, grain, and noise correction."
THE AUDIO
12 Angry Men comesto Blu-ray in English LPCM 1.0 Mono and includes optional English SDH subtitles. Again, from the included booklet: "The monaural soundtrack was remastered at 24-bit from a restored 35mm magnetic print. Clicks, thumps, hiss, and hum were manually removed using Pro Tools HD. Crackle was attenuated using AudioCube's integrated workstation."
THE EXTRAS
Extras here include:
12 Angry Men: From the TV to the Big Screen
Sidney Lumet (Sidney Lumet Interview Collection, Reflections on Sidney – Interview with Walter Bernstein)
On Reginald Rose – Tragedy in a Temporary Town
On Boris Kaufman
12 Angry Men (1954) – "Westinghouse Presents Studio One" version by Reginald Rose and directed by Franklin J. Schaffner (Introduction by Ron Simon)
Original Theatrical Trailer
This set of extras is impressive. Not only do you get the original television version of 12 Angry Men from 1954, but there's also the Lumet scripted and directed television drama Tragedy in a Temporary Town based on another story by Rose. The Lumet interview section is filled with fascinating anecdotes from the iconic filmmaker. It also includes a ten-minute section with close friend and collaborator Walter Bernstein.
But all of the extras here are outstanding. I'll likely watch quite a few of them multiple times.
The Blu-ray also comes with a 20-page Illustrated Booklet featuring Thane Rosenbaum's essay "Lumet's Faces."
FINAL THOUGHTS
Criterion's Blu-ray presentation of Sidney Lumet's 12 Angry Men is sensational. Do yourself a favor and add it to your personal collection immediately.