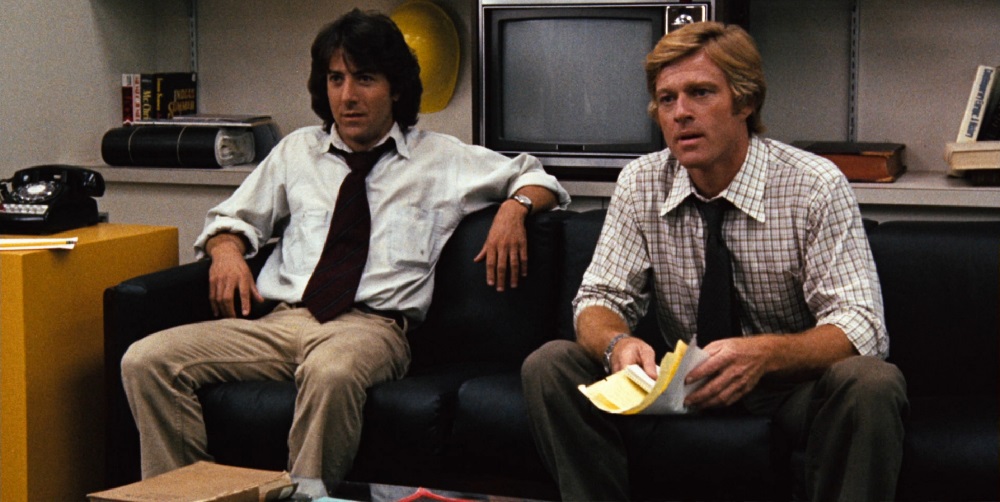 How does the Blu-ray/DVD Disc stack up? (all ratings out of 10.)
Movie
Video
Audio
Extras
Overall
SYNOPSIS
Washington Post investigative journalists Bob Woodward (Robert Redford) and Carl Bernstein (Dustin Hoffman) begin an investigation into the Nixon presidency's involvement in the Watergate Building break-in occurring at the run-up to the 1972 elections. Their quest for the truth will lead to Richard Nixon resigning from office in disgrace on August 8, 1974.
CRITIQUE
Few films have ever captivated me quite like Alan J. Pakula's (The Parallax View, Presumed Innocent) mesmerizing adaptation of Washington Post reporters Bob Woodward and Carl Bernstein's All the President's Men. Shepherded to the screen by its star Robert Redford, who began his attempts to turn it into a motion picture long before it was written and while the pair's investigation into Watergate was still in progress, the movie is the ultimate journalistic thriller. It intimately showcases exactly what a free Press is capable of and why having one unhampered by corporate interests or political connection is so vitally important to the continuance of American democracy.
When I first saw this one as a kid it blew my mind. The movie was a living, breathing entity that inspired me then and continues to do the same now, and while I frustratingly admit I'll never live up to those early fantasies of working as an investigative journalist at the Washington Post,the fact I get to do what I love for this website and other outlets makes me extremely happy.
Working from an Academy Award-winning script by William Goldman, what's so amazing about Pakula's classic is that it takes the mundane aspects of life as a professional reporter and makes them exciting and vital. There is a constant energy to this drama, a pulsing rhythm that kept me glued to the screen. Even all these years later, even with the outcome being taught in High School social studies classes throughout the U.S., this is an absorbing larger-than-life cinematic miracle that crackles with an intellectual intensity that's nothing less than extraordinary.
As we're right on the cusp of the 83rd annual Academy Awards, I'm still flabbergasted by the Best Picture field of 1977. That this lost to Rocky, as great as it is, still boggles my mind. Then when you consider the other titles in the top category were Network, Taxi Driver and Bound for Glory, Sylvester Stallone's boxing saga winning is even a tiny bit more insane. This has to be considered one of the best five-film lineups in Oscar history, each of them bona fide classics inspiring new generations of viewers every day.
For my money, All the President's Men is the best of that bunch. I can't tell you how many times I've watched this one. What I can say is that I will watch it many more times in the future, and the chances I'll ever grow tired about a single solitary frame of Pakula's spellbinding classic hover someplace between zero and nil.
THE VIDEO
All the President's Men is presented on a dual-layer 50GB Blu-ray MPEG-4 AVC video with a 1.85:1/1080p widescreen transfer. Transfer is a significant improvement over the previous DVD edition, although some might have a problem with the noticeably darker look. For my part, this presentation is the best I've ever seen All the President's Men look, and while I've never seen it in a theater, I imagine this is as close to the original theatrical presentation we're likely ever going to get.
THE AUDIO
Available audio includes English 1.0 DTS-HD Master Audio and Spanish and French 1.0 Dolby Digital with optional English SDH, French and Spanish subtitles.
THE EXTRAS
All extras are ported over from the previous DVD two-disc special edition and include:
Audio Commentary from producer and star Robert Redford
Telling the Truth About Lies: The Making of "All the President's Men"
Out of the Shadows: The Man Who Was Deep Throat featurette
Woodward and Bernstein: Lighting the Fire featurette
Pressure and the Press: The Making of "All the President's Men" vintage production featurette
Vintage Jason Robards interview excerpt from "Dinah!," hosted by Dinah Shore
Theatrical Trailer
Redford's commentary track is superb. This was his baby, and the work he put into making the film become a reality is staggering.
The 2006 documentary Telling the Truth about Lies is also excellent, as are the featurettes on the real Deep Throat, former FBI assistant director W. Mark Felt.
Also included is the 38-page Digibook filled with interesting tidbits about the film, biographies of the principal players, and numerous color and black and white photographs.
FINAL THOUGHTS
All the President's Men is the greatest journalism thriller ever made. It is also one of the best pure procedural dramas I've ever seen. It is the best film of the great Alan J. Pakula's career. It is one of my personal favorites, making this Blu-ray essential for every library.