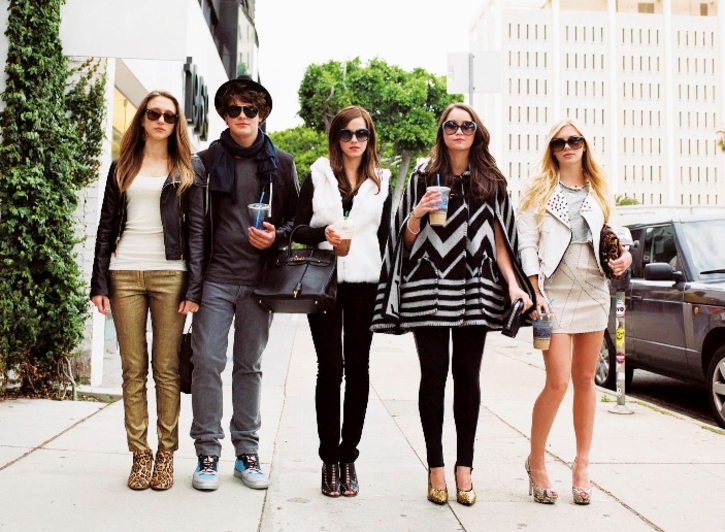 a SIFF 2013 review
Coppola's Ring an Unflattering Portrait of Celebrity Obsession
I'm not sure what to write about Sofia Coppola's The Bling Ring. The movie is as observationally distant as many of her previous films, especially Somewhere, to a lesser extent Lost in Translation, looking at its vapid, materialistic, fame-obsessed central group of teenage reprobates with the same disaffected malaise they themselves project. It's aggressively nonjudgmental, the film choosing to view its protagonists with a detached superficiality that doesn't connect emotionally but still manages to pack something of a major, uncomforting wallop all the same.
And that's probably the point. A somewhat fictionalized recounting of how a gang of suburban Los Angeles teens managed to casually steal over $3-million in clothing, jewelry and cash from a group of well-known targets including Paris Hilton, Lindsay Lohan, Orlando Bloom, Rachel Bilson and Audrina Patridge, the movie looks at the growing prevalence of an internet-based youth culture and its infatuation with celebrity in a way that feels disturbingly authentic. Coppola doesn't mince words, doesn't take sides and doesn't try to prove a point, allowing the shallowness of the act and the vainglorious myopia fueling it to speak for itself.
Thing is, I'm not sure that makes the movie entertaining. For that matter, I'm not certain it's even good. I did not like spending time with these kids. I didn't enjoy being a part of their world. What they were doing, their outlook, how easily they allowed themselves to be manipulated, the complete lack of a moral compass, all of it ate at me in a way I can't entirely put a finger on. It was ugly and distasteful, and what it ends up saying about the human condition is a theorem part of me would rather not be forced to contemplate.
On the other hand, Coppola does just that and more with such ease, with such subtle exactitude, with such principled precision, the overall effect might just border on genius. Nothing feels out of place, no single scene out of whack or without context. The voyeuristic carnality of it all, our innate need to watch, to see, to experience our own bases desires and wants through the success, failure and excesses of others, all of that is tapped into and fed. More, much like Spring Breakers and Pain & Gain, and to an additional extent last year's Killing Them Softly, Coppola has given the American Dream a serious wakeup call, showcasing the dark underbelly of modern me-first society in a way that taps directly into the current ephemerally small-minded zeitgeist that's sadly too often all the rage.
It should be pointed out the movie looks amazing. Sadly his last film, cinematographer Harris Savides (Zodiac), working with Christopher Blauvelt (Meek's Cutoff), paints things with a piercingly clinical lens, the digital sheen of wasted youth gorgeously magnified within each and every frame. The picture is also vividly edited by Sarah Flack (Away We Go), the diametrically polarized pieces fitting together in a way that manages to keep the central tangents center stage while also allowing the background commentary to come through with upsetting clarity.
The cast is comprised by and large of newcomers, Katie Chang and Israel Broussard slipping into the insubstantial shells of their instigating ringleaders with sinister transparency. It's easy to understand how the former could so easily stage-manage the latter, his lack of confidence coupled with her self-centered views on privilege and wealth melding together to craft the almost perfect teen burgling field general. They're terrific, tapping into Coppola's views on this event with canny understanding, Chang and Broussard breaking through in a way that couldn't help but catch me a little bit off-guard.
Of the established faces, the two most notable – and noteworthy – are Harry Potter alum Emma Watson and Judd Apatow regular Leslie Mann. Each make the most of what they're given to do, Watson in particular, her casual, cursorily haughty cadence fitting her character, based on real life "Bling Ring" participant and "Pretty Wild" reality star Alexis Neiers, to perfection. Each actress manages to ground things in a tactile honesty that makes the events cascading towards tragedy around them resonate on a deeply unsettling level, both parent and child living in a world detached from normalcy yet one that still felt all-too commonplace both at the exact same time.
Based on a 2010 Vanity Fair article by Nancy Jo Sales, I can't admit to liking what The Bling Ring has to say about modern youth culture. Just as readily, I also can't state I felt like my time sitting in the theatre watching Coppola weave her ignominious web was something I enjoyed. But when I step back, when I choose to look at the picture on a grander scale, part of me can't fathom the thought of having been anywhere else. Even more important, an even larger part of me can't wait to sit through it all, every despicable, skin-crawling, self-loathing moment, again.
Review reprinted courtesy of the SGN in Seattle
Film Rating: 3 (out of 4)
ADDITIONAL LINK:
Interview with "The Bling Ring" actress Katie Chang