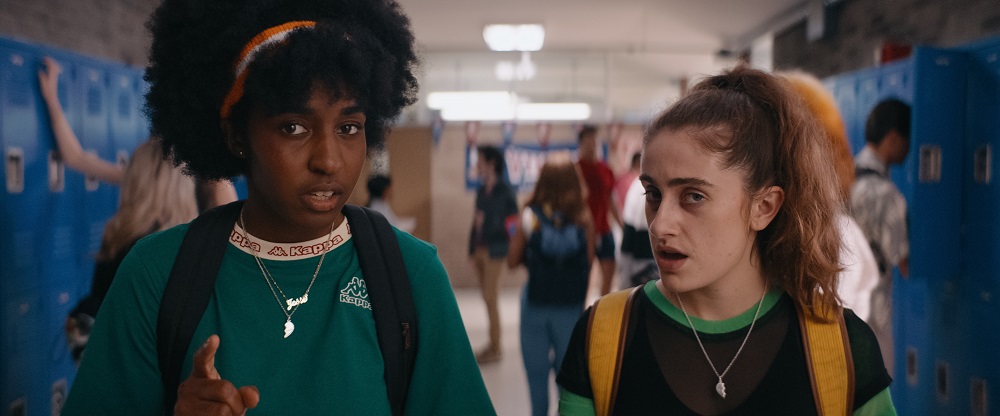 Suitably Abhorrent Bottoms Gets Top Marks for Queerly Vulgar Teenage Debauchery
Bottoms is director Emma Seligman's masterful follow-up to her 2020 stunner, Shiva Baby. It reunites her with that film's star, Rachel Sennott, and this time the pair take their collaboration up a notch by also working together to craft this comedy's delightfully anarchic and creatively vulgar screenplay. More importantly, much like its predecessor, this picture is also a bona fide winner, making this wildly inventive, R-rated slice of Heathers-meets-Mean Girls-meets-Bring It On depravity one of 2023's best pieces of rule-breaking pop entertainment.
Trying to break down the film into a quick and easy synopsis doesn't really do it any justice. The basics? Under the guise of it being an afterschool self-defense course, high school seniors PJ (Sennott) and Josie (Ayo Edebiri) start a female fight club with the hope that this will lead to their losing their virginity to cheerleaders Isabel (Havana Rose Liu) and Brittany (Kaia Gerber). They end up empowering several of their more marginalized classmates (including young Willow and Mare of Easttown star Ruby Cruz) to stand up for themselves against the misogynistic tyranny of the school's football heroes (led by Red, White & Royal Blue's Nicholas Galitzine).
What Seligman and Sennott have delivered is so much crazier than any of that sounds, in fact unleashing 92 minutes of madness that rocked my world. This isn't some foolish piece of nutty, scattershot, joke-a-second lunacy made in the style of Airplane, Scary Movie, or Not Another Teen Movie. Instead, this is an absurdist, high-concept ensemble piece about identity, alienation, empowerment, and friendship — only with a bevy of broken noses, black eyes, and dislocated shoulders, and an unexpectedly high body count.
It's obvious that this sort of thing won't tickle every viewer's funny bone. Even those that agree with its social and feminist outlook may find it too cartoonishly ridiculous. There's also a good chance they'll not fall in line with the film's arch tone. It's as if the director is channeling her inner Luis Buñuel or Paul Thomas Anderson and crossed them both with a Wes Anderson–John Hughes hybrid. The whole thing is as painful as it is uproarious, and much like with Shiva Baby, Seligman is as eager to amuse her audience as she is to make them uncomfortably anxious.
I tapped into what Seligman and Sennott were doing almost immediately. The jokes fly fast and furious, and they're consistently two or three steps beyond plausible reality. And yet, they are also laced with an acidic truthfulness that's frequently — and suitably — abhorrent. Better, the filmmakers don't care a lick whether or not PJ and Josie are entirely likable.
But that makes them real, and considering how farcical the events surrounding and involving the two are, this adds an aura of authenticity that allows the overall insanity to hit harder than it ever would have otherwise.
Then there are the performances. The entire ensemble is terrific, including a scene-stealing Marshawn Lynch as the teacher who agrees to oversee this "self-defense club" — and isn't anywhere as clueless as to what is really going on as PJ and Josie erroneously assume. There's not a single bad apple to be found: all of the actors fit so well into Seligman's peculiarly personalized satirical world, it's as if they've lived there their entire lives.
Yet none of this works without Sennott and Edebiri. Their chemistry is off the charts, and it's immediately clear how much PJ and Josie depend on one another for their sanity. This friendship has been forged by the types of microaggressions, belittlements, and abuses every teenager can relate to, especially LGBTQ kids trying to discover who they are, with seemingly an entire world ridiculing and judging them with every step they attempt to take.
Edebiri is particularly fearless. Josie has the stronger backbone, but it's still easy to see how she would fall in line with PJ's goofy plan, even though every fiber of her being tells her she should be telling all their newfound friends that the fight club is built on a foundation of selfish lies. Edebiri is awkward yet resilient, outwardly tough yet emotionally naked. There is a steely fortitude to this performance that's sublime. It's clear 2023 has been a titanic coming-out party for the highly talented youngster the likes of which we've rarely seen (she's appeared in everything from Theater Camp to Spider-Man: Across the Spider-Verse to Teenage Mutant Ninja Turtles: Mutant Mayhem to The Bear, and those are just four of the dozen or so projects she's been involved with this year).
The less said about the film's raucously violent climax, the better. Let's just say Seligman and Sennott unleash a level of dismembering rambunctiousness that threw me for a loop. I couldn't believe what I was seeing, and it's rare for a film to shock me senseless while it had me laughing myself hoarse at the same time. Bottoms is a riotous assault on the status quo, making this Queer gem of revolutionary bedlam a sex-positive sensation that grabbed me by the jugular and refused to let go.
– Review reprinted courtesy of the SGN in Seattle
Film Rating: 4 (out of 4)