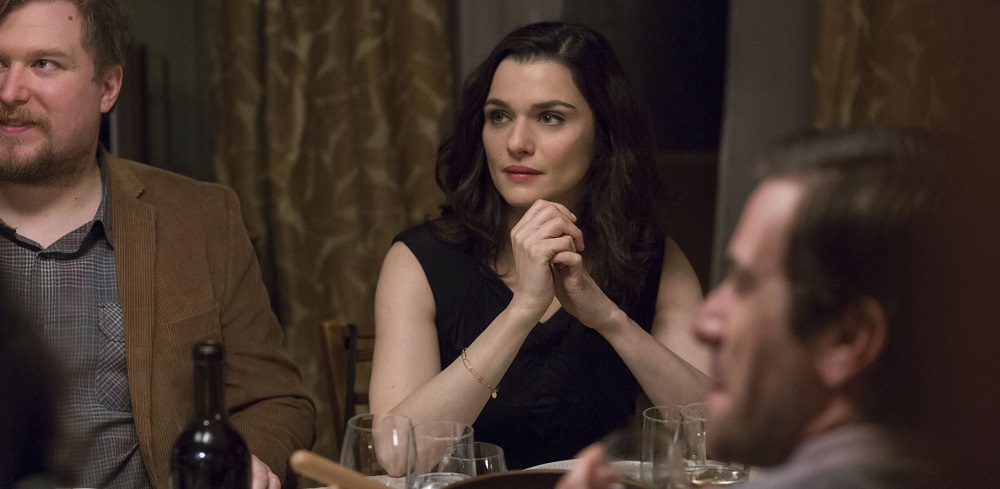 Fascinating Complete Unknown Finds Truth in Imitation
Tom's (Michael Shannon) wife Ramina (Azita Ghanizada) is giving him a birthday dinner party, a group of their closest friends, including co-worker Clyde (Michael Chernus), all scheduled to attend. He's actually brought a guest, a beautiful amphibian research biologist named Alice (Rachel Weisz), her myriad of crazy stories fascinating everyone sitting at the table. But as astonishing as these worldly tales of wonder might be, Tom is intrigued for reasons entirely his own. You see, he's pretty sure he knows Alice, he's almost positive she was the woman he loved before Ramina, and whether she likes it or not he's going to find out the truth before this night comes to an end.
First things first, acclaimed writer/director Joshua Marston needs to work more often. His first feature, 2004's Maria Full of Grace is a bonafide masterwork that earned star Catalina Sandino Moreno a well-deserved Academy Award nomination for Best Actress. His second, the powerfully austere, if unnervingly bleak, Albanian melodrama The Forgiveness of Blood didn't hit domestic theatres until 2012, but earned all kinds of critical praise once it did. Both are dynamic, fearlessly tough-minded features that refused to shy away from darker aspects of the human condition, attempting to find universal truths as their respective characters attempted to extricate themselves from unimaginably dire circumstances.
I'm not certain Marston's latest, the puzzle box drama Complete Unknown belongs in the same conversation as the director's previous efforts. It's a little too on-the-nose, a little too neat in its chamber piece theatricality. At the same time, there are a number of themes working inside this piece that have me swirling in emotionally intrigued circles. This is the kind of movie that sits inside the viewer, marinating there as its various bits and pieces continue to resonate. Its primary two characters are cleverly complex, each searching for different things as both try to connect to portions of their personalities that may no longer existence but for very different reasons.
A central mystery is resolved right around 30 minutes into the barely 90-minute movie. But it isn't the only one Marston has on his mind, isn't the only question he's asking his characters to seek the answer to. Together, Tom and Alice must communicate all that is happening in their lives, must find a way to connect dots that haven't been a part of the coloring book of their lives for over a decade. In doing so, each will try to find answers to some fairly tough questions; whether there ends up being comfort in the doing so, however, might be a different thing entirely.
Weisz, after a year where she's been spellbinding in motion pictures as diverse as The Lobster and The Light Between Oceans, is as superb as ever, playing a character where the pieces of her makeup are more substantial than the sum of them. The reason for this? Alice is a purposeful enigma, a woman who reinvents herself at the drop of the hat, growing tired of who she is and what she is doing and, instead of trying to do something about that, decides to become someone else entirely instead. What Weisz discovers is the power of this person, the intriguing majesty of her mystery. Additionally, she also mines the missteps that haunt her, the ever-gnawing realization that she's given up more than she can possibly ever know in order to be whomever she wants wherever she wants whenever she wants. It's a tricky balancing act, one the Oscar-winner pulls off with majestic, transfixing grace, allowing her final scenes to sparkle with a form of euphoric tragedy that should be contradictory yet somehow make perfect sense here.
Even though Tom's a lot more straightforward, in many ways Shannon has the more difficult task. He must make this workingman's life feel rock solid, yet at the same time with just a hint enough of doubt to allow his infatuation and curiosity as it pertains to Alice to remain naturally unforced. Shannon is in quiet observation mode the majority of the time, allowing Weisz to initiate the majority of the action, his responses to what she does fueling the emotional transformations both characters will eventually undergo. He's a rock steady presence who is still not immune from temptation, how he reacts to it and whether or not he ends up giving in the catalyst that will drive the climactic moments towards their conclusion.
There is a beautiful scene where, entirely by chance, Tom and Alice make the acquaintance of Nina (Kathy Bates) and Roger (Danny Glover), and it is here Shannon's gifts are in full display. Deftly coerced into impersonating a doctor out for a quiet evening stroll, Tom instantly begins to understand the addictive allure of recreating one's life and persona at the drop of the hat. He sees what it is that has allowed Alice to become consumed with doing just that, the person she used to be forgotten as instead she puts all her energies into fully embracing the one she has given herself over to now. Shannon runs an emotional marathon during this sequence and does it in a manner of seconds, all of it made vital and authentic to devastating effect.
Complete Unknown is far more dialogue-driven than anything Marston has crafted before, and it's safe to say this story could be transferred to the stage with fairly little in the way of effort. This isn't so much a complaint as it is an observation, and for my part I was perfectly fine with his story's theatricality. His screenplay, co-written with Julian Sheppard, is smart in all the ways that matter, moving to the idiosyncratic beat of its own drum as it brings Tom and Alice's night learning about one another to its absorbing conclusion. Offering up plenty of food for thought, I find the director's latest to be one I'm eager to sink my teeth into again, the line between fantasy and reality an ever-blurring wonderland where truth can be an illusion, and impersonation is often anything other than a lie.
Review reprinted courtesy of the SGN in Seattle
Film Rating: 3 (out of 4)
Additional Links:
Interview with writer/director Joshua Marston