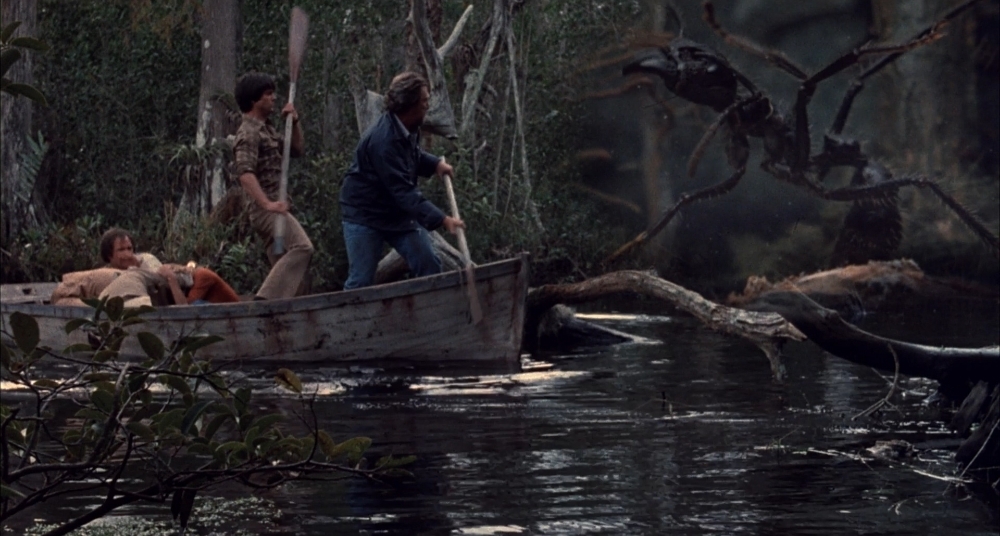 How does the Blu-ray/DVD Disc stack up? (all ratings out of 10.)
Movie
Video
Audio
Extras
Overall
SYNOPSIS
Empire of the Ants
Unscrupulous real estate swindler Marilyn Fryser (Joan Collins) finds her swindling of a gaggle of potential investors in her latest enterprise disrupted when a colony of gigantic marauding man-eating ants go on the attack. (4/10)
Jaws of Satan
Father Tom Farrow (Fritz Weaver) is forced to follow in the footsteps of his Druid kin as he battles Satan – who has taken the form of a lethal King Cobra – for the soul of the beautiful Dr. Maggie Sheridan (Gretchen Corbett), the fate of the world likely hanging on the outcome of their duel. (2/10)
CRITIQUE
Empire of the Ants

From the man who gave us Food of the Gods (which also just received a Blu-ray release from Scream! Factory) Bert I. Gordon, Empire of the Ants is glorious schlock masterwork that revels in its stupidity and has a great deal of fun with its inherent structural and narrative awfulness. It's a loopy and loony loose adaptation of an H.G. Wells story (the film stretches the meaning of 'loose' to its breaking point) that just gets stranger and stranger as things progress, working in both giant monster and disaster movie clichés at every turn.
And that's okay, because the movie is a total hoot, so by the time it reaches its improbably Invasion of the Body Snatchers finale (the giant ants have somehow hypnotically transfixed an entire town) I was having such a great time the unabashed silliness of this turn of events didn't bother me a single ounce. A bad movie? Certainly. Without question. But it's also equally entertaining (and, it must be said, nicely cast) if one is of the right mindset going in, and in the end watching these ants march on is surprisingly easy to do.
Jaws of Satan

Wow. Jaws of Satan is all kinds of terrible. Odd. Bizarre. Undeniably unique. Even so, the film manages to be its own kind of awful. Worse than that, it's borderline boring, not even the sight of an exceedingly tiny Christina Applegate – in her film debut – running around in mortal danger gets the pulse racing in any sort of noticeable fashion. As curiosity pieces go, this low budget genre effort is hardly worthy of all the fuss, and other than an improbably committed performance by Weaver and one good shock scare somewhat early on (I'm not going to ruin things by describing it) there's precious little to talk about.
THE VIDEO
Empire of the Ants and Jaws of Satan are presented on a dual-layer MPEG-4 AVC 50GB Blu-ray, the former with a 1.85:1 1080p transfer and the latter with a 1.78:1 1080p transfer.
THE AUDIO
This Blu-ray features an English DTS-HD LPCM 2.0 Master Audio soundtrack for both films and comes with optional English SDH subtitles.
THE EXTRAS
Extras here include:
Empire of the Ants
Audio Commentary with Bert I. Gordon – Sleepy, but still somewhat interesting, commentary with the legendary schlock filmmaker moderated by Kevin Sean Michaels
Photo Gallery (3:12)
Radio Spot (1:00)
Original Theatrical Trailer (2:19) 
Jaws of Satan
Original Theatrical Trailer (1:51) 
FINAL THOUGHTS
Neither of these films are very good, let's get that out of the way upfront. But the joy and the fun found inside of Empire of the Ants is undeniable, the unabashed whacked-out silliness of it all making it one of director Bert I. Gordon's "better" (and I use that word loosely) cinematic achievements. As for the even stranger Jaws of Satan, it's sadly useful as a curiosity piece and little more, the movie not so much so-bad-it's-good as so-bad-it's-awful. All-in-all, however, Scream! Factory has put together a nice little package here, and fans of this sort of genre kitsch will want to add this double-feature disc to their collection without hesitation.