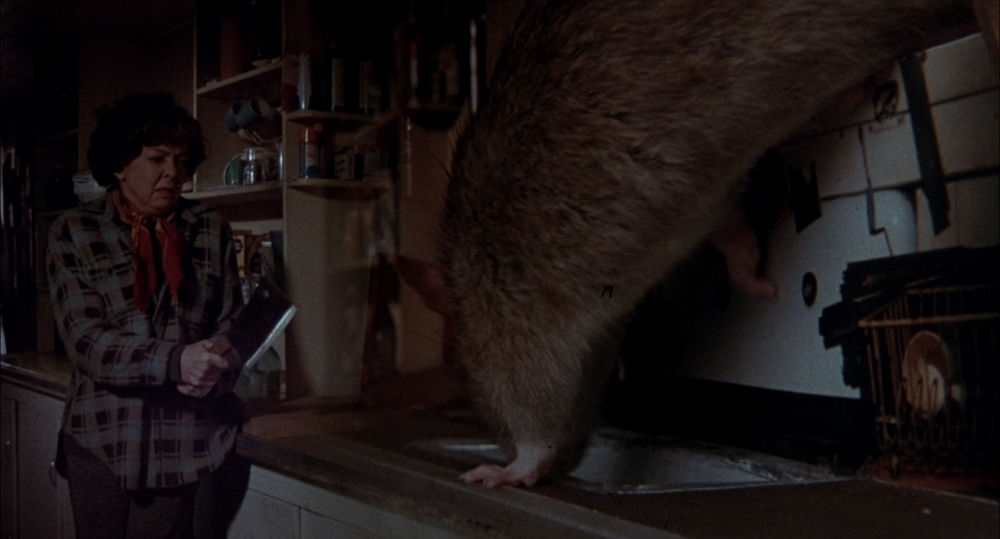 How does the Blu-ray/DVD Disc stack up? (all ratings out of 10.)
Movie
Video
Audio
Extras
Overall
SYNOPSIS
Food of the Gods
When farmers Mr. and Mrs. Skinner (John McLiam, Ida Lupino) luck into a miracle food bubbling from a crack in the earth on their land they use it as miracle food to feed their chicken and fertilize their crops. Professional football player Morgan (Marjoe Gortner) and his best friend Brian (Jon Cypher) find themselves stranded with Mrs. Skinner, along with a small gaggle of others including food company executives Bensington (Ralph Meeker) and Lorna (Pamela Franklin), on the secluded island, fighting off a horde of giant wasps and a colony of bloodthirsty rats all of whom have had a taste of this mystery food. (4/10)
Frogs
Nature photographer Pickett Smith (Sam Elliott) finds himself trapped on the secluded island plantation of Jason Crockett (Ray Milland), a wealthy recluse confined to a wheelchair currently celebrating his birthday with his entire extended family, including eldest daughter Karen (Joan Van Ark). Things are going relatively fine until everyone there for the party starts mysteriously disappearing one by one, the amphibian, reptile and arachnid residents who make the island their home not exactly pleased with all the pesticides and chemicals the Crocketts have been hammering them with for years in an attempt to decimate their collective populations. Soon Pickett is fighting for his life, helping Karen save who they can in a desperate attempt to get across the lake and back to civilization. (5/10)
CRITIQUE
Food of the Gods

From the man who gave us "classics" like Empire of the Ants (also recently released by Scream! Factory to Blu-ray) and Attack of the Puppet People director Bert I. Gordon, Food of the Gods is not too surprisingly a pretty bad film. It's also a heck of a lot more fun than it has any right to be, in large part thanks to its excellent cast as well as its hugely enjoyable giant animal/insect special effects. Are they awesome? No, but they're still pretty darn effective, making many of the death sequences moderately affecting on a pretty visceral level. Besides, there's something grotesquely endearing about seeing an award-winning, legendary screen icon like Lupino battling humongous, and obviously fake, rats, the scene depicting her eventual downfall shockingly unsettling.
Frogs

Frogs is a better film than Food of the Gods. The entire cast is excellent, each of them giving performances (especially Elliott) where they're actually attempting to find something akin to multidimensionality and depth. It's also beautifully, and creepily, shot by Mario Tosi, the veteran cinematographer (known for films like Carrie and The Stunt Man) doing some extraordinary work that deserves to be given plenty of plaudits.
But the film is inherently silly, and the fact the majority of the characters are so remarkably stupid (many of them wander off on their own at random times just to get gruesomely killed by the island's residents) gets old incredibly fast. It's also remarkably slow at times making watching it all start to finish far more difficult than it should be, building to the expected The Birds-like coda that doesn't feel even slightly satisfying. Nowhere near the disaster its rep might indicate, and far more deserving of praise for the things it does get right – a lot of those kills are suitably nasty – than it has gotten over the years, Frogs is still something of a bizarre disappointment, this nature in revolt creature-feature oddly less effective than it oftentimes feels like it should have been.
THE VIDEO
Food of the Gods and Frogs are presented on a dual-layer MPEG-4 AVC 50GB Blu-ray, the former with a 1.85:1 1080p transfer and the latter with a 1.78:1 1080p transfer.
THE AUDIO
This Blu-ray features an English DTS-HD LPCM 2.0 Master Audio soundtrack for both films and comes with optional English SDH subtitles.
THE EXTRAS
Extras here include:
Food of the Gods
Audio Commentary with Bert I. Gordon – Moderated by Kevin Sean Michaels, this is an even more catatonic commentary track by the director, filled with tons of lulls. But there is still some interesting info to be found here, especially for fans of the film, and as such the right person is definitely going to want to give this a lesson even with all the dry spots.
Interview with Actress Brenda Balaski (11:36) – Fun interview with the film's pregnant heroine Balaski, the actress having fairly vivid memories of her time working on the motion picture.
Photo Gallery (4:21)
Radio Spot (00:59)
Original Theatrical Trailer (1:00) 
Frogs
Interview with Actress Joan Van Ark (10:08) – Terrific interview with the veteran actress who has plenty of nice things to say about her costar Elliott (as she should).
Photo Gallery (2:49)
Radio Spot (1:01)
Original Theatrical Trailer (2:12) 
FINAL THOUGHTS
Again, much like the Empire of the Ants / Jaws of Satan Blu-ray released the same day, neither Food of the Gods or Frogs are very good films. Same time, they make for a much better – and far more enjoyable – double feature, both having just enough charm for genre fans to want to give them a look. Scream! Factory's presentation is surprisingly strong, while the included extras are excellent.