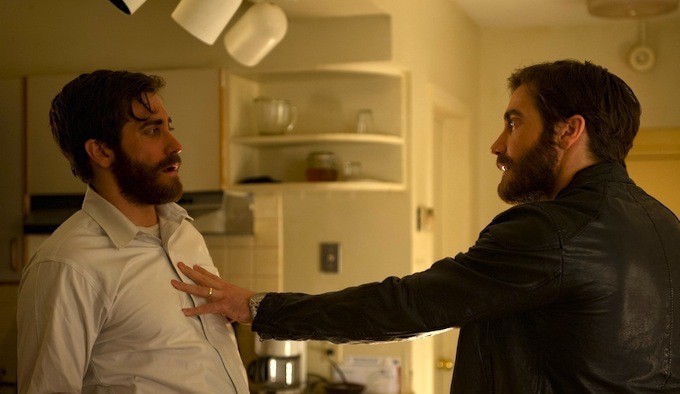 Cryptic Enemy Weaves a Tangled Web
Adam (Jake Gyllenhaal) is a timid, unsure of himself college professor who nonetheless has a gorgeous blonde girlfriend, Mary (Mélanie Laurent), who by all accounts appears to love him flaws and all. Anthony (also Gyllenhaal) is a snarling, self-obsessed actor on the rise married to a gorgeous blonde, Helen (Sarah Gadon), who is pregnant with the couple's first child and seemingly loves him even though he's an insensitive jerk she's certain has stepped out on her a time or two in the past.
By accident and circumstance, Adam learns about Anthony's existence. By investigation and inquiry, he manages to make his doppelgänger's acquaintance. By subterfuge and design, one member of the pair decides to assume the shoes of the other for the night. By newfound confidence and luck, the other takes it upon himself to do the same. Both Adam and Anthony begin to weave a complex web that will soon have both Mary and Helen ensnared within its center, a sinister menace stalking them all none are aware of or would even understand if they were.
I'll give Denis Villeneuve this, as far as crafting astonishing images and creating eerie sonic landscapes are concerned the Prisoners and Incendies director is pretty much second to none. He's up there with Davids Cronenberg and Lynch, maybe even Stanley Kubrick, as far as that front is concerned, the man having an innate ability to come up with sight and sound combination that unsettle near as much as they uncomfortably fascinate.
In some ways Villeneuve's latest Enemy, based on a Spanish novel by José Saramago and working from an adaptation by screenwriter Javier Gullón, is his most audacious visual exploration yet. The film is a cryptic dreamscape that's a little bit Dead Ringers, a smidge Mulholland Dr., a touch Eyes Wide Shut and a whole heaping bushel of "The Twilight Zone," all of it given an idiosyncratic European twist that's undeniable. It is, unsurprisingly, a study in duality, about the cryptic inner workings of the yin and yang, the director diving into metaphoric territories writers, theologians, philosophers and a whole host of others have been waxing poetic about for centuries.
Not that I'm entirely certain Villeneuve knows exactly what he's shooting for or trying to say. The layered mirrored imagery, the arachnoid obsessions, the growing web designs encroaching upon the protagonists throughout, it's all fairly stunning to look at but at the same time doesn't make a lot in the way of sense. It's all so cryptic, so densely interlaced and complicated, it is almost like the movie is a puzzle with pieces that were never designed to fit together into a recognizable mosaic in the first place. Some of the points I assume, it's impossible to know for certain, he and his writer are trying to make are lost along the way, and if anyone can clearly explain to me what is going on and why I'm all ears eager to listen.
Even so, the more I think about Enemy the more I find myself wanting to dive inside its recesses again, eager to revel in its labyrinthine ambiguities in hopes I can unravel some of its more obdurate facets. Villeneuve's deft guidance is augmented by Gyllenhaal's incredible performances, the actor crafting two distinct yet still intimately connected personalities that believably coexist in the same ethereal spectrum. He is remarkable, his work as Adam particularly so, every movement, gesture and sound the actor makes an effortless waltz into the macabre unknown that's as material as it is ephemeral.
A lot of the talk as far as this movie is concerned is going to revolve around the technical side of the equation (as well as Gyllenhaal's performance, of course), and that's perfectly understandable considering cinematographer Nicolas Bolduc (War Witch), editor Matthew Hannam (Antiviral) and sound designer Oriol Tarragó ([Rec]) from top to bottom do dazzling work. Couple their exploits with composers Danny Bensi's and Saunder Jurriaans' (Martha Marcy May Marlene) deeply disquieting score and suddenly there's so much to ponder just as far as these aspects are concerned it's not absurd to think some would choose these elements to debate and forget about the rest.
Hopefully not, because Villeneuve once again shows himself to be a singular filmmaker willing to take risks and mine territories others would be deathly afraid to contemplate let alone attempt to tread into. But with Enemy he does so with cavalier confidence and spectacular self-assurance, and even if I'm not entirely comfortable with every part of his latest endeavor that doesn't make me any less thrilled by its very existence. This is a beautifully made motion picture that asks a lot of the viewer and doesn't particularly care if not everyone who watches it will be up to the challenge. It's weaves a tangled web, one in which I can't wait to become ensnared within again and again many times over at some point in the very near future.
Film Rating: 3 out of 4