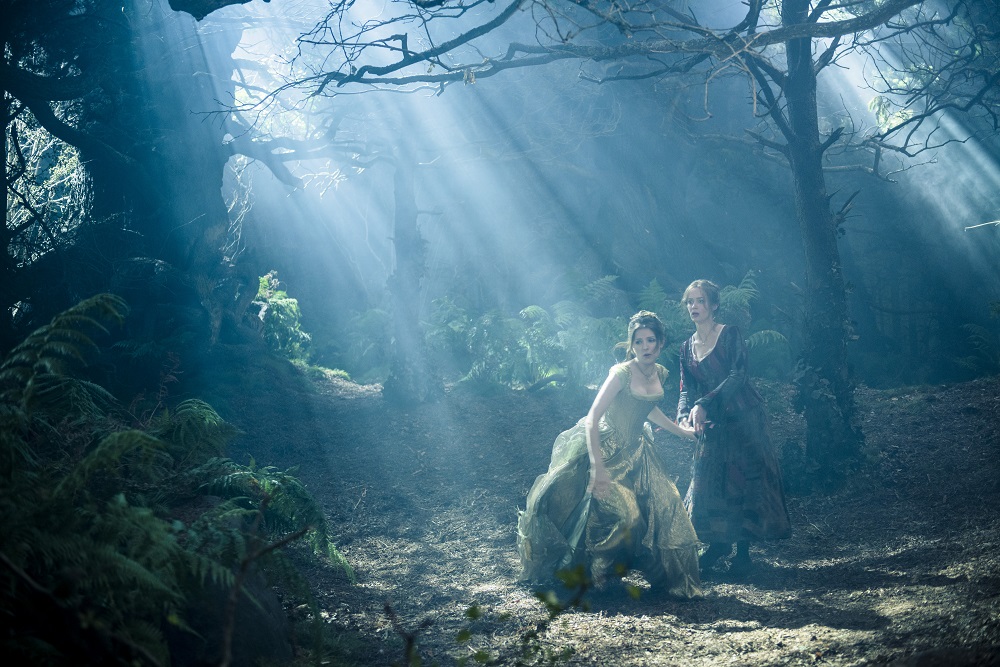 Heading Into the Woods a Worthy Venture
Into the Woods is one of the greatest extravaganzas Stephen Sondheim ever composed the music and wrote the songs for. That's saying something, if you think about it, considering this is the guy behind some of the best Broadway showcases of the 20th century including West Side Story, Sweeney Todd: The Demon Barber of Fleet Street, Gypsy and A Little Night Music. But, when you dive right into it, when you analyze all the pieces, his adaptation and eviscerations of the Grimm Fairy Tale library (working with writer James Lapine) is a rather stunning piece of work, taking these fantastical and magical characters and grounding them in a way that feels bracing, authentic and utterly real.
A movie version has been talked about since the moment the show debuted in 1987. Problem is, this isn't warm and fuzzy stuff, Sondheim and Lapine going to some extremely dark corners of the human condition as they look at wishes wished and the consequences going after them without considering the consequences entailed. It isn't nice, it isn't altogether happy, and while many of the characters are ostensibly in a better place when all things come to their conclusion, none of them are entirely pleased about the price exacted to get them there.
This is one of the things that makes it moderately shocking that Walt Disney Pictures, of all Hollywood studios, would feel inclined to allow director Rob Marshall (Chicago, Nine) to tackle the adaptation. Granted, it's not like the Mouse House has been reticent about reinventing their cinematic fairy tale library, both Alice and Wonderland and Maleficent (for all their few plusses and numerous minuses) are ample proof on that front. Still, this feels like an even further reach in many ways, and other than continuing the studio's dubiously rich tradition in regards to mothers and their collective mortality rates, the darkness that invades the later third of this tale is hardly heartwarming.
Yet that climax is also what makes this musical extraordinary. Not only is the music something entirely and completely out of this world, the story composed by Lapine is also a thing of exquisite, intimately detailed beauty. Marshall, embracing all of this and more, goes right for the jugular, never flinching, never stepping back, making the revelations of the final act all the more destructive, yet also enlightening and empowering, in the process.
The Baker (James Corden) and his Wife (Emily Blunt) want a child. The Witch (Meryl Streep) living next door reveals to them she is the reason they cannot conceive, the hideous older woman putting a curse on the man's father years prior for stealing some of her magic beans. For reasons entirely her own, she wants the pair to end the spell, and all that is required is a red cloak, a golden shoe, hair the color of corn, a milky white cow, all of the items hiding in the mystical, ominous woods just on the edge of town.
Thus the adventure begins, the Baker and his Wife on a three-day adventure to find all the items running into the likes of Red Riding Hood (Lilla Crawford), young country boy Jack (Daniel Huttlestone), the lovely maid Cinderella (Anna Kendrick) and her dashing Prince Charming (Chris Pine) in the process. They learn many things about themselves as well as all they come in contact with, each pining for a better, more fulfilling life, yet none not certain the path they've magically found themselves on is one they should be traipsing down so eagerly.
The movie is a bouncy revelation, a beauteous adaptation of the Broadway stunner that gets better and better as it moves along towards its shattering conclusion. The first half is light and sunshine, mixed messages and missed opportunities obscured by the potential for a better tomorrow and a future steeped in bounty. Then things go off the rails, because just when everyone thinks they've gotten exactly what they've always wanted the bill comes due, proving that success without strife, sacrifice and a whole heck of a lot of hard work isn't worth achieving.
Marshall keeps things moving, the film flying by in what feels like an instant. His control over the tonal changes is stunning, and by the time a second Giant comes lumbering down to earth thanks to an unplanned beanstalk stretching to the heavens, I was completely and totally captivated by all taking place up on the screen. He allows his actors to craft full-bodied, richly defined characters that are oftentimes surprising in their depth, at the same time granting a cavalcade of supremely talented character actors (including Tracey Ullman, Christine Baranski, Lucy Punch and a creepily pedophiliac Johnny Depp) freedom to make the most of their limited screen time in ways that are magnetic.
It's easy to laud Streep, who once again proves she could have made one heck of a singer had she set her mind to it back when she was first starting out; and while she is wonderful, I can't she does anything that is revelatory. The same cannot be said for either Corden, Blunt or especially Kendrick, all three soaring to astonishing heights. They are exceptional, all three of them, each going places and doing things that continually kept me off my guard, eager to discover what they were going to do and where they were going to go next.
A triumph of production design, costuming and cinematography, the movie ends up being as sensational as it is in large part thanks to Marshall's deft staging and handling of the material. While changes have been made, most notably as things apply to the Baker's Wife and to Cinderella's Prince, they end up not having any sort of corrosive effect on all that Sondheim and Lapine are aiming to achieve. Into the Woods is a marvelous, dexterously passionate miracle, the film a fairy tale delight where magic isn't always good and wishes oftentimes should not come true.
Review reprinted courtesy of the SGN in Seattle
Film Rating: 3½ (out of 4)