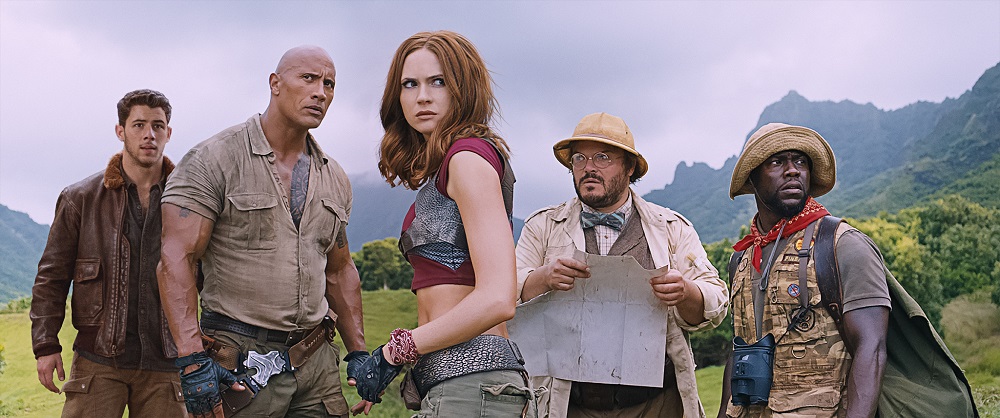 New Jumanji a Game Well Worth Playing
After being sent to detention, Spencer (Alex Wolff), a brainy nerd with a sensitive side who's lacking in confidence, Fridge (Ser'Darius Blain), a football star who feels it more important to maintain a tough guy reputation than mingle with less popular fellow students he used to be friends with, Bethany (Madison Iseman), an Instagram junkie who has been bamboozled into thinking all anyone cares about are her looks and nothing else, and Martha (Morgan Turner), a quick-witted loner who focuses entirely upon her studies as she's more comfortable having her nose in a book than she is interacting with others, are forced to clean out a massive storage unit containing all sorts of bric-a-brac. While searching through the various shelves and boxes, the group discovers a video game entitled "Jumanji." With nothing better to do, and not wanting to do any actual work, they decide to give the game a go, each picking a character they believe will be most representative of their various personalities.
Next thing each knows they've all been transported inside the game itself, forced to play Jumanji for real with each of them stuck in the body of the character they had picked to portray. Spencer is famed explorer Dr. Smolder Bravestone (Dwayne Johnson), a fearless adventurer with no known weaknesses. Fridge is now Franklin "Moose" Finbar (Kevin Hart), a noted zoologist serving as Bravestone's weapons valet who happens to have an explosive aversion to cake. Bethany finds herself transformed into crack cartographer Dr. Shelly Oberon (Jack Black), the svelte high school beauty queen not at all certain how she's supposed to cope with being middle-aged, overweight and decidedly male. As for erudite Martha, she's Ruby Roundhouse (Karen Gillan), a martial arts expert and vaunted killer of men who also just happens to be a deadly dance fighter. They all have to learn how to work together as a team while also getting used to these new bodies. It's a fight for survival inside a jungle where almost everything is out to kill them, and if they can't finish the quest before exhausting all three of their lives, it's likely they'll be stuck inside Jumanji forever.
Inspired by Chris Van Allsburg's best-selling children's book and something of a sequel to director Joe Johnston's 1995 hit Jumanji, the decades-in-the-making Jumanji: Welcome to the Jungle is that odd duck of a second chapter in a potential series that no one asked for yet still happens to be far superior to the motion picture that proceeded it. Fast, funny and unexpectedly clever, director Jake Kasdan's (Zero Effect) latest is somewhat impressive. Not only is the script (credited to four writers) lighter on its feet than anticipated, it also proves to be refreshingly honest with how it assesses Spencer, Fridge, Bethany and Martha, assembling this quartet into a cohesive unit who will learn from their mistakes while they embrace one another's differences as they make their way through each of the increasingly difficult (and lethal) tasks the game forces them to accomplish with unforeseen ease.
Black steals the show. At first, his performance looks like it will be nothing more than a frustratingly effete caricature. But slowly I came to realize just how deep he was going. Black does a shockingly magnificent job channeling Bethany's interior conflicts, showing how this apparently self-centered prima donna has been beaten and bowed by various pressures, many of them self-imposed, to become the petty, selfish brat others see her as. He allows her transformation to be cagily empowering, the empathy and selflessness the character ultimately exudes so touchingly genuine I couldn't help but be amazed.
Gillan is also terrific, and I loved the way she visualizes Martha's wonderment as she learns to embrace all sides of her personality and not just the ones that have turned the young brainiac into a closed-off hermit unwilling, maybe even unable, to develop friendships with anyone other than herself. As for Johnson and Hart, they're as good here as they were in Central Intelligence, the pair's comedic chemistry arguably even stronger in this than it was in that 2016 hit. Best of all might just be pop superstar Nick Jonas, his mid-movie arrival welcome infusion of spunk, enthusiasm, hesitation and heart that helps augment the emotional stakes driving the narrative significantly.
I love me some Joe Johnston, and I'll go to bat every day of the week to fight for the glories of The Rocketeer, October Sky and Captain America: The First Avenger. But even with the late, great Robin Williams throwing himself into things, even with the likes of Bonnie Hunt, Kirsten Dunst, Bebe Neuwirth, David Alan Grier and Jonathan Hyde going above and beyond to add support, the original Jumanji is nothing more than a frenetic mess. It confuses chaos and confusion with character-driven storytelling, the picture so obsessed with delivering magnificent sights of rampaging animals crashing through quiet small town utopia that it forgets to craft anything close to resembling a story worth caring even the faintest bit about.
It's as if Kasdan and his team studying Johnston's feature and realized where it both went wrong as well as what potentially might have allowed it to work. By focusing on the characters more than it does the spectacle, by creating a wild and wacky Indian Jones meets John Hughes aesthetic that feels slightly more original than it probably is, the filmmaker has elevated this sequel-slash-reboot in a way that had me grinning for almost every second of the almost two-hour running time. Only during the last third does the film start to begin to wear out its welcome, the routine action dynamics as tired as they are uninspiring. But Kasdan brings things full circle during the denouement in a manner that is tenderly authentic, giving the characters a moment of familial togetherness that's honestly kind of priceless. Jumanji: Welcome to the Jungle might not be a great movie, but sure as heck it's an entertaining one, and unlike its forerunner this is one kid-friendly action spectacular I wouldn't mind watching again.
– Review reprinted courtesy of the SGN in Seattle
Film Rating: 2½ (out of 4)