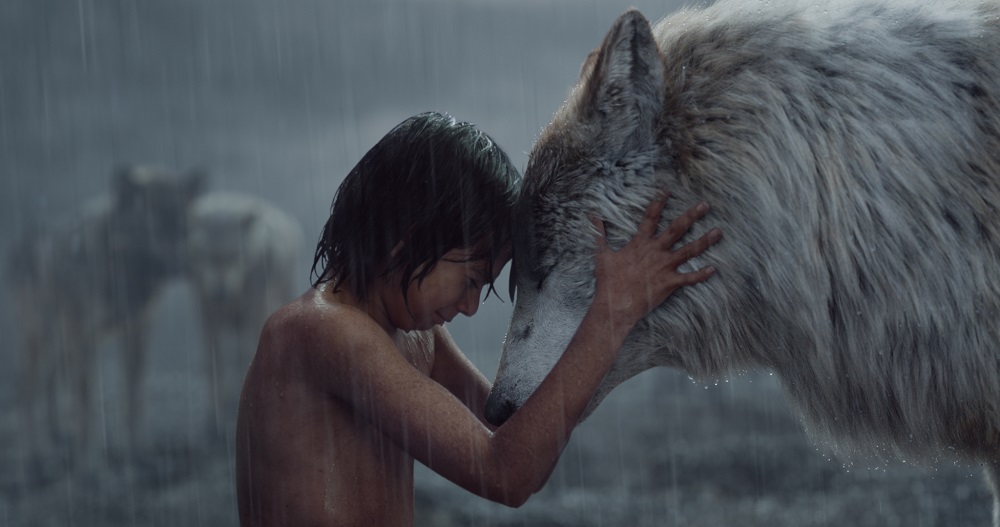 Disney's Return to Kipling's Jungle an Entertainment Necessity
Director Jon Favreau's (Iron Man, Chef) and screenwriter Justin Marks' (Street Fighter: The Legend of Chun-Li) take on The Jungle Book represents Disney's third time putting their theatrical bucket in Rudyard Kipling's literary well. The first, of course, was the studio's classic 1967 animated version featuring the great Phil Harris as the voice of Baloo the Bear and the Academy Award-nominated song "The Bare Necessities" written by Terry Gilkyson (with the remainder of the catchy tunes penned by veterans Richard and Robert Sherman). The second, and sadly less well-known (even though it's kind of excellent), is a 1994 live action version directed by a pre-The Mummy remake Stephen Sommers and starring Jason Scott Lee as the adult "Man Cub" Mowgli.
This new interpretation of the Kipling stories and characters is a crafty mix of the two prior versions, one that leans heavily on the '67 animated film while at the same time employing more than a few of the same live action tactics of the '94 effort. It's a storybook adventure where a young Mowgli (newcomer Neel Sethi) can literally talk to the animals and they, in turn, can communicate back with him, allowing the so-called Man Cub to have a familial relationship with wolf mother Raksha (voiced by Lupita Nyong'o), panther protector Bagheera (Ben Kingsley) and newfound friend the giant bear Baloo (Bill Murray). A combination of motion capture, CGI, animated compositing, puppet work and practical effects, the film is a somewhat seamless visual marvel unlike little I have seen before, all of it pulsating to a jaunty beat that utilizes the songs and music of the Sherman brothers and fellow songwriter Gilkyson rather beautifully.
Thankfully, Marks' script is not a straightforward, beat-for-beat remake of the '67 version. Instead, he draws upon elements from both the film as well as Kipling's source material while also updating certain segments of the story for modern palates. He makes Mowgli less moody and self-destructive, not quite the petulant little brat he could be in the animated version. He also makes him something of a jungle MacGyver, able to engineer complex mechanisms allowing him to dangle from cliffs and save elephant pups from massive sinkholes, all with an excitable energetic eagerness that's both delightful and, at random times, slightly annoying. All-in-all, though, his screenplay allows the kid to evolve and mature in ways that are wonderfully believable, and as such allows the film's climax to sparkle with a mature eloquence children of all ages are almost certain to thrill to.
The basics as they pertain to the animated version remain more or less the same. Orphan Mowgli is taken by Bagheera to a pack of wolves to be raised as one of their own so that he'll survive in the wilds of the jungle. As he grows older, lethal tiger Shere Khan (Idris Elba) decides the Man Cub cannot be allowed to live, sending word he will kill any creature that keeps him from digging his claws into the boy's flesh. To protect him, Bagheera decides to take Mowgli to the man village. Along the way, the kid meets a variety of jungle creatures including the tricky snake Kaa (Scarlett Johansson), monkey leader King Louie (Christopher Walken) and, of course, the fun-loving Baloo. Through it all, Shere Khan remains fixated on Mowgli, everything leading to a face-off between the two only one of them will walk away from.
The pointless nature of the 3-D aside, visually this new The Jungle Book is a constant stunner. Awesomely shot by Bill Pope (The Matrix, The World's End), featuring visual effects that constantly astonish and amaze, the film itself has a look and a feel that allows its storybook narrative to come to life with mesmerizing genius. Favreau orchestrates things with a kinetic gracefulness that's absolutely outstanding. In fact, of all the films he's stepped behind the camera to lead, this one might be his most fully-formed, supremely confident outing, not a single facet failing to fit with those surrounding it, each piece fitting together with confident ease.
Which is not to mean every episode in this tale is as big a joy to watch as some of the others prove to be. While Mowgli's encounter with Kaa is suitably hypnotic, his encounter with King Louie – a deft Apocalypse Now joke notwithstanding – isn't nearly as divine. This initial encounter with Baloo is close to perfect, as is a sequence at a watering hole used by the jungle inhabitants in times of extreme drought, both sequences sparkling with a sublime fizziness where comedy, drama, suspense and action elements all combine magnificently. But a later moment between Shere Khan and the wolf pack after Mowgli has left for the man village isn't as scary or as shocking as I felt it should have been. While reasonably well staged, in order to not jeopardize the PG rating its restraint means the moment doesn't have the power it needs to trigger the intended emotional reaction on the part of the viewer, the whole sequence coming to an end so quickly it's almost as if it didn't even happen at all.
But the voice work throughout is first-rate, especially on the parts of Murray, Kingsley and Nyong'o. But it is Elba who makes the biggest impression, the veteran actor inhabiting Shere Khan with an unsettling sincerity that got under my skin in ways that had me squirming in my seat. There is a moment around the midpoint where he's telling a story to a few of Raksha's captivated cubs that is all kinds of scary, while an earlier one at the watering hole where he addresses the jungle creatures is grippingly taut. Elba is on fire, doing something here that goes above and beyond the prior animated version, making one almost forget the character as he existed in the '67 film, and without a doubt this tiger will go down as one of the absolute best villains to hit cinema screens this entire year.
I cannot say any other single element will do the same, Disney's animated version of Kipling's stories still as memorable and timeless a classic now as it has ever been at any point during the past 49 years. At the same time, Favreau's take on The Jungle Book is a revelation certain to thrill audiences for many decades to come, and trust in me when I say the bare necessity is to stroll right into town and be like the other ticket buyers tired of monkeying around with subpar cinematic options. No worry. No strife. Just glorious entertainment the whole family is virtually guaranteed to enjoy.
Review reprinted courtesy of the SGN in Seattle
Film Rating: 3 (out of 4)