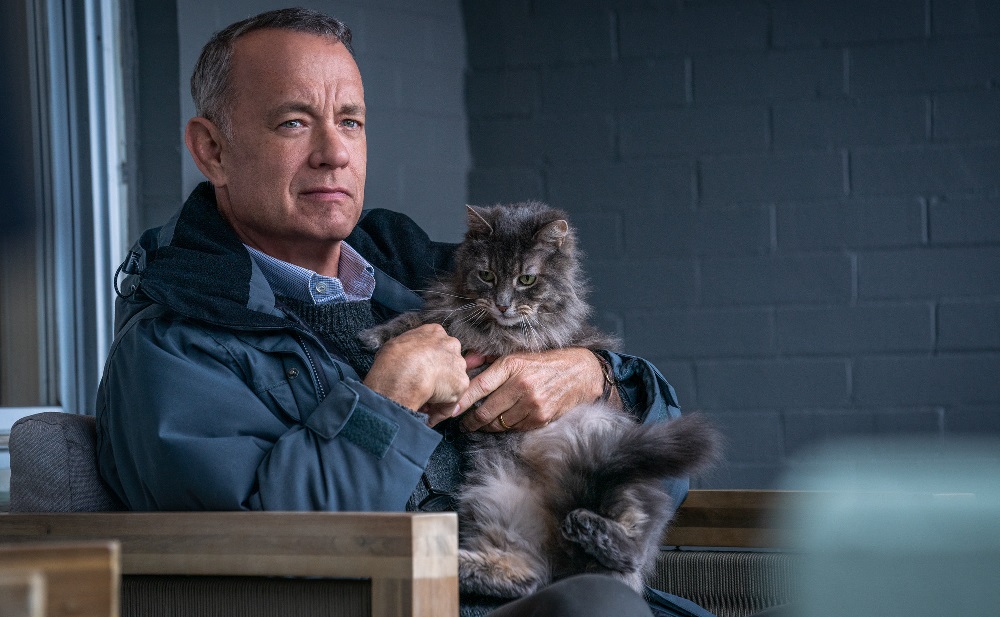 Entertaining Otto a Serviceably Pleasant Showcase for Hanks
The primary sin director Marc Forster's A Man Called Otto makes is that doesn't live up to either author Fredrik Backman's source material A Man Called Ove or the excellent 2015 Swedish adaptation directed by Hannes Holm and starring Rolf Lassgård. Otherwise, it's hard to get too worked up about this English-language remake. Tom Hanks is terrific. Actress Mariana Treviño is memorably sublime in support. David Magee's efficient screenplay doesn't sand away all of the book's darker, sharply unsettling edges.
These are all good things, and Forster is an astute enough filmmaker to heavily lean into all of them. He keeps the pace moving and doesn't layer on the syrup, save for one notable, mind-blowingly obnoxious flashback sequence (more on that later). The drama is superbly shot by cinematographer Matthias Koenigswieser (Christopher Robin), and the suitably melancholic score by Thomas Newman (1917) is unsurprisingly excellent. All in all, A Man Called Otto is an easy (if still moderately forgettable) watch, but as the last motion picture I got a look at in 2022, I have few major complaints.
Widower Otto Anderson (Hanks) lives in a small gated community that condo developers have been itching to get their hands on for quite some time. He walks around the neighborhood every morning, verifying that every resident's parking permit is up to date, garbage has been picked up, and recycling has been properly sorted. His cantankerous personality could easily rub some the wrong way, but most of his neighbors are accepting, even forgiving, of his irritably unpleasant quirks.
On the day Otto has made some rather permanent plans regarding his future, newcomers Tommy (Manuel Garcia-Rulfo), his pregnant wife Marisol (Treviño), and their two children (Christiana Montoya, Alessandra Perez) rent one of the homes in the neighborhood. Otto initially doesn't think this will change anything, but Marisol has other plans. She basically forces herself into his life, making him homemade Mexican snacks and prodding him into giving her driving lessons. She even convinces him to babysit.
It's pretty standard stuff. Forster and Magee last collaborated on 2004's Finding Neverland, and it's not like the pair has ever been known for digging too deeply into the nastier recesses of the human condition. To their credit, they don't entirely cop out with this adaptation. Backman's novel gets pretty bleak in places and dives headfirst into several uncomfortable truths. The filmmakers keep much of this material relatively intact, and I'm happy an entire subplot involving Otto's desire to end things and join his late wife in the hereafter has not been excised.
Making comedy out of potential suicide isn't easy, and I can't say Forster has the chops to completely pull it off. The director has some trouble balancing tone, and the shifts from straight drama to wacky physical schtick to pitch-black social commentary are far from seamless. Some of the transitions are jarring, so much that they were almost like blinking neon lights that took me right out of the movie and muted much of the emotional impact.
But Hanks does know how to do this sort of thing — take a look at Punchline, Nothing in Common, Joe vs. the Volcano, and especially The 'Burbs for grandly pleasurable verification on that front — and, even better, can make it look easy. Every time Marisol came knocking at Otto's front door at the most inopportune times, the actor's reactions are so precise, so authentically agitated, I couldn't have stopped myself from happily chuckling even had I wanted to try.
There is another key misstep, and sadly it's a doozy. While the filtering of frequent flashbacks chronicling Otto's courtship and eventual marriage are mostly well executed, there is an exasperating exception. A pivotal bus trip the pair took as they returned home from their honeymoon and the personal tragedy that transpired is so maudlin, so heavy-handed, I wanted to grab any nearby item and angrily throw it at the screen. Forster gives in to his melodramatic, baser instincts and hammers home emotions that don't require any embellishment. I hated this whole sequence.
But Hanks, Treviño, some powerful scenes immediately after this one, and an ending that felt authentic and well earned restored a smile to my face. Forster gets things back on track, and as contrived as the climax may be, I liked all of these characters just enough that this didn't bother me. While far from the near-brilliance of Backman's novel, A Man Called Otto is a nice adaptation with strong performances that kept me pleasantly entertained for most of its running time. Where's the sin in that?
– Review reprinted courtesy of the SGN in Seattle
Film Rating: 2½ (out of 4)