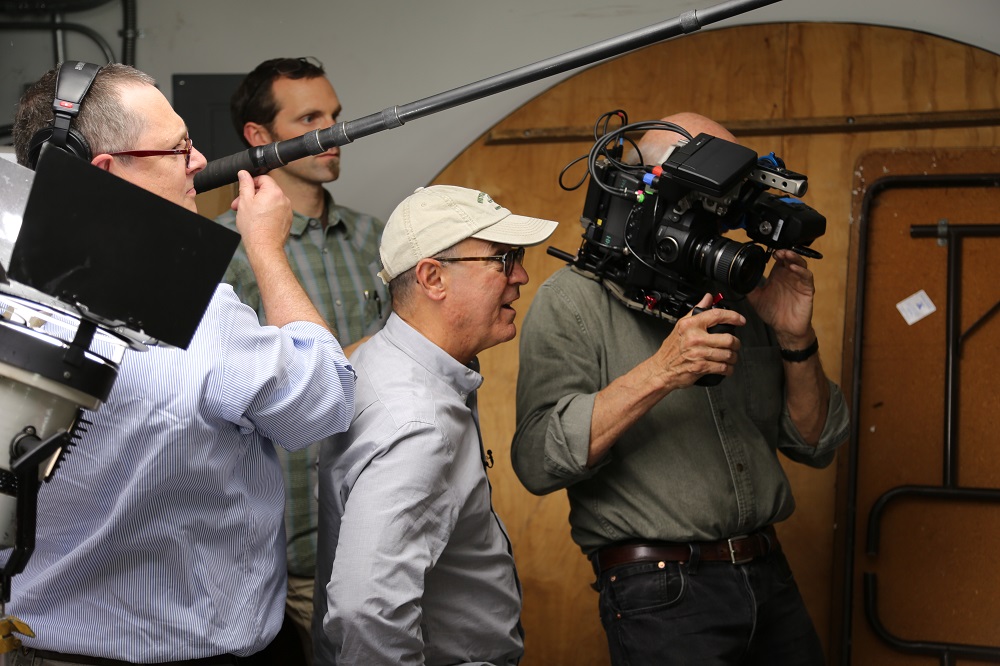 Optimism in the Face of Doubt
Robert Kenner on Climate Change, Spin Doctoring and Finding Truth within an Avalanche of Lies
Robert Kenner's (Food, Inc.) latest documentary Merchants of Doubt doesn't tell the viewer anything that they probably already did not know. Not about the case against Big Tobacco. Not about Climate Change. And especially in regards to what this insightful, thought-provoking, resourceful and, most of all, entertaining doc is really about, and that's the art of political spin doctoring. Verbal subterfuge and boisterous propaganda is an art worthy of a Las Vegas main stage magician, those working to gin up resentment, vitriol and political inaction doing it so well large swaths of people look at proven science as fallacy and outlandish fiction as cold, hard fact.
Hitting Blu-ray and DVD this week, Merchants of Doubt is essential home viewing. Kenner assembles a variety of principals to talk about his chosen subject, mixing in those from Left, Right and the Dead-Center to explain how Spin is constructed and what it is used for. While his opinion on the matter is never in doubt, especially as it concerns the side topic of Climate Change and Global Warming, the director still does a fine job of allowing competing voices to speak for themselves without any side commentary from him. This has the effect of allowing the film to resonate on a far more personal level than it ever could have otherwise, giving the documentary added weight, making it all the more compelling in the process.
Less than 24-hours before the film hit store shelves I had the chance to speak with Kenner about Merchants of Doubt. Here are some highlights from that conversation.
Sara Michelle Fetters: I honestly can't believe it's been five years since we talked about Food, Inc.
Robert Kenner: I know? Right? This one took a little longer than expected. Hopefully, we won't have to wait as long before we get the chance to talk about the next one.
Sara Michelle Fetters: When you read Naomi Oreskes and Erik Conway's book [Merchants of Doubt], how did that inspire you? What did that get you thinking about? How did you make the leap from the source material to a documentary using its themes and ideas, but one that was still entirely its own original animal?
Robert Kenner: Even before that happened, before I had read Naomi and Erik's book, I went to a summit on whether or not to label genetically modified meat. When I went to that hearing, someone from the meat industry stood up and said they didn't think it was in the interest of the consumer to give them the information of what they are eating because it might be too confusing for them. And I thought, wow, that is really tricky. Then I looked into it a little more, found an organization calling itself the "Center for Consumer Freedom," and they were the ones doing this work for the meat industry stopping you from being able to know what was in your food, doing it under the mask of being this pro-consumer non-profit that had the public's best interests at heart. It was like this Orwellian thing, a group saying it was created to fight for consumer freedom but in reality was financed and working for the very industry it was supposed to be keeping watch over.
I was wondering, who are these people that are doing this? It was my entry into the world of obfuscation and thus being led to Naomi and Erik's book and realizing it's the same small group of people doing this for a variety of corporate interests. [The book] was more a framework of a story, but it wasn't the story I was wanting to explore. It was the inspiration for the film, without question, the two creating a major piece of work. It's vitally important. But it wasn't a movie, at least, not necessarily; and for me the trick to making it one was to talk with the voices responsible for all of this spin and propaganda we are constantly sifting through.
Sara Michelle Fetters: That's what kind of kills me. Watching Marc Morano [founder of ClimateDepot.com, part of the Committee for a Constructive Tomorrow, financed by Exxon, Chevron and the Scaife Foundations (amongst many other fossil fuel giants)], listening to him talk, he's practically joyous about what it is that he does. More than that, he doesn't hide who he is and what it is that he's doing one little bit.
Robert Kenner: I have to say, there were times during our interviews where I almost wished I had him working for me. He enjoys his job. He's very funny. Very smart. On some levels he's incredibly honest. He's not really hiding anything. [Marc] saw the film and said he enjoyed being portrayed as such a magician. He liked that I saw the real craftsmanship behind what it is that he does.
But they all sort of felt that way. Fred Singer [physicist, distinguished research professor at George Mason University, director of the Science and Environmental Policy Project, and critic of the climate change consensus among scientists] was going to sue me and then, after watching the movie, he wrote me to say just how well done he thought it was. He now wants me to make a movie about him. Go figure.
I guess, there's just some sort of disconnect. It just gets really strange about what it is they are doing.
Sara Michelle Fetters: And then you close the film with a story about how Exxon is actually able to make money off of Climate Change, even though they're funding organizations charged with denying it exists, by making deals with Russia to drill for oil in the Arctic.
Robert Kenner: Exactly. I just got off the phone with the head of Citibank, and there are businesses interested in doing the right thing [in regards to Climate Change]. But then there are those who are interested in protecting their bottom lines right now at this moment than they are in protecting the planet for future generations, doing all they can to make people believe Climate Change isn't really taking place. More, they're making deals allowing them to make even more money thanks to what's happening in regards to the global climate. The irony is so thick it's practically comical.
Exxon, other companies, they could change. They really could. They just don't know how to walk away from the oil that's in the ground. It's a lot of money. Thing is, there are other ways to make money besides killing the planet for your grandchildren.
Sara Michelle Fetters: As part of that, much like with Marc Morano and Fred Singer, I like the way you go out of your way to speak with voices as a viewer I wouldn't necessarily initially think I'd want to hear from. I would imagine Bob Inglis [former Republican congressman from South Carolina's 4th District] would disagree on 98% of just about everything, yet at the same time I can't imagine this film being nearly as impactful as it was had I not taken the time to listen to what it is he has to say.
Robert Kenner: It's interesting. When we started interviewing him he asked us if there was any way we could get him to see the Koch Brothers [Charles G. Koch and David H. Koch, the two brothers running Koch Industries and affiliated with the Koch family foundations]. I was like, wow, I really don't want to over-represent myself. I mean, if the film has villains, they're it. But even after they funded his opponent during the last election, Bob really, truly believed he could change the Koch's minds if they'd only take the time to speak with him.
But, I think what's important here is that there are Conservatives out there like Bob. Men and women who are out there trying to figure out how we stop this [Climate Change] from being an ideological issue and return it to being one based upon the science and upon the facts. Bob is as conservative as they come but that doesn't mean he doesn't believe in science. How this became an ideological issue and not a scientific one is the genius of what these spin masters and all of their propaganda has done to the conversation. It's become a political argument and not a scientific one.
Sara Michelle Fetters: And that's the crux of the film, right? It's politics, not science. You could have made this movie about a multitude of issues, not just Climate Change, and the outcome would have been the same.
Robert Kenner: Exactly. It could have been anything. It's just that Climate Change is the ultimate issue. We're destroying the planet and yet that's not the conversation we're having thanks to all of this spin.
Sara Michelle Fetters: It's like Elmer Gantry, preaching to his flock but doing so for personal gain, but on a much larger, and far less fictional, scale. 
Robert Kenner: Yes. Without question. That's a good analogy. I really want people to understand, you cannot call these people stupid who are muddying these debates. They're not stupid. They're very, very smart, and that's why they can get away with telling all of these falsehoods and outright lies. They're very good at what they do.
Why do they do it? There's a multitude of reasons, profit being the most obvious, but there are many others that go beyond that. But I truly believe we do ourselves a disservice if we even allow ourselves for even a second to believe any of these people are stupid. That's a big mistake. I think that's one of the reasons the Pope has started to make this a morality issue. When Climate Change is made a morality issue, and it's made by the Pope, I think people are going to have to start listening.
Sara Michelle Fetters: Why do you say that?
Robert Kenner: Well, all the attackers that are in our film, they're starting to go after the Pope, and I'm not sure your arguments can stick against someone like that. The idea that people like Jeb Bush are telling the Pope to leave the science to the scientists when he is a scientist, a chemical technician who worked in the food industry, it makes it kind of hard to attack him using that sort of thinking. Also, just by being the Pope, I think he is going to win over a portion of the public that otherwise might not have been sympathetic to the issue.
Sara Michelle Fetters: Can you take this subterfuge and propaganda out of the political process? Can it be done? Or have we just gone too far down that particular rabbit hole?
Robert Kenner: I think it will turn. It just takes time. Problem is, we just don't have a lot of time as it pertains to the issue of Climate Change.
But, look at Gay Marriage. In 2008 Obama was against it, Republicans were certainly against the issue but so was the President. But these things turn. People can reevaluate their positions and admit they were wrong. Now thanks to the landmark Supreme Court ruling Gay Marriage is the law of the land; it was just time for that to finally happen.
With Climate Change, we're talking a massive change of lifestyle for everyone everywhere. That's a massive inconvenience. It's hard to do. I mean, the person who changed me was George Shultz [former Secretary of State under Ronald Reagan]. He's installed solar panels in his house and drives an electric car. How is that not an inspiration to us all? So, I do believe it can turn around. It will be difficult, but I do think it can be done.
Sara Michelle Fetters: Don't we have to be optimistic, though? Optimistic for our own kids? Our grandchildren? Our nieces? Our nephews? If we fall to pessimism, if we choose to give up, aren't we then just more or less throwing in the towel on them?
Robert Kenner: Right. You can't do that. You have to remain optimistic. It used to be the Earth is "Man's domain." It was "Man's dominion." As I was stating earlier, now the Pope is out there saying it is Man's responsibility to preserve the planet. That's a major change, if you think about. Colossal. With George Shultz as an inspiration, I put solar panels up in my own house. Now I'm 100-percent carbon neutral as it pertains to my home. It was a lot of work, yes, but as far as the bigger picture is concerned it also wasn't that hard and the benefit to doing it was immediately apparent.
So, I am optimistic. You have to be optimistic. The peril of not being optimistic is just too massive to comprehend.
This interview also appears in the July 10, 2015 edition of the SGN