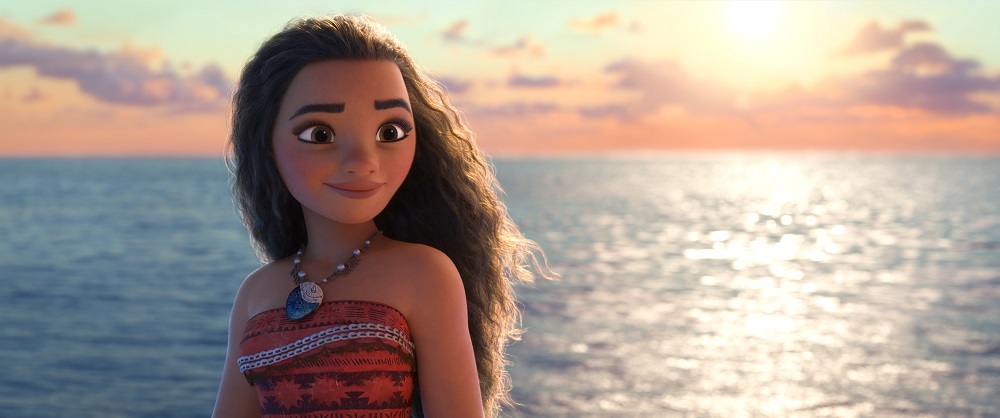 Joyful Moana a Musically Inspired Animated Gem
On the isle of Motunui, the beloved Chief Tui (voiced by Temuera Morrison) prepares his headstrong 16-year-old daughter Moana (newcomer Auli'i Cravalho in a spectacular debut) to follow in his footsteps. He preaches the safety of staying on the island, of keeping their people in one place and never moving beyond the reef that leads into the vast expanse of the ocean.
But spurred on by rich, magical stories spun by her wise Gramma Tala (Rachel House), and seeing the creeping disease and rot that's beginning to work its way onto Motunui's shores, Moana defies her father and takes it upon herself to sail beyond the reef into the unknown. Once there, she will follow the stars and heed the ocean's call as she looks for the fallen demigod Maui (Dwayne Johnson), because only with his help can the teenager right what is wrong with the world and save her people from almost certain ruin.
Disney's latest CG animated marvel Moana is gorgeous. It is colorfully imaginative, showcasing its Pacific Island and ancient Polynesian landscapes with eye-popping majesty. The film is also overflowing in signature, show-stopping musical numbers courtesy of Hamilton auteur Lin-Manuel Miranda, veteran composer Mark Mancina (August Rush, Twister) and New Zealand singer/songwriter Opetaia Foa'i, their work here just about perfect. Most of all, this is as culturally rich and fascinatingly distinctive as any film, animated or live action, that has ever come out of the studio, and the second time this year (Queen of Katwe being the first) Disney has a universally accessible story fit for the entire family's consumption without nary a prominent Caucasian character to be found.
Even so, it should also be noted that, for as pleasurable as the movie might be, the story that has been crafted does come off as something of a Walt Disney Pictures animated features greatest hits collection, at least as far as the story and screenplay are concerned. Elements of Beauty and the Beast, The Lion King, Aladdin, Hercules, Tangled and Frozen can be found in spades, and while Jared Bush's (Zootopia) screenplay is refreshingly economical, that doesn't make a number of the internal story beats fresh or original. But with seven people, including directors Ron Clements and John Musker (The Little Mermaid) as well as their co-directors Don Hall and Chris Williams (Big Hero 6), given a story credit, it's no wonder this can often feel like a narrative constructed via committee, all of which makes the been there, done that quotient unreasonably high.
Be that as it may, Moana is still supremely entertaining. There are a number of sublime set pieces, not the least of which is a confrontation between the plucky heroine, Maui and a gigantic crustacean named Tamatoa (amusingly voiced by Jemaine Clement) inside the underwater realm of monsters that's out of this world. There's also a marvelous, energetic escape from a deranged gaggle of sentient coconut pirates (it makes sense inside the film), while continued sight gags involving a mentally unbalanced chicken named Hei Hei build to an effective coda of friendship and understanding that's beautifully understated.
Best of all is the climactic sequence where Moana discovers the hero she's been searching for to save her people and return balance to the oceans has been lurking inside of her all along. This moment is overflowing in warmth, a tsunami of emotional ebullience and tenacity filling the screen as she calmly, confidently makes the decision to do what she believes is right. It's a tremendous moment showcasing a number of life lessons viewers of every age, ethnicity and background could use to take heed of, all of it leading to a thrilling turn of events that had my heart bursting in joyful glee.
Let's not go crazy. Moana isn't Disney at their best. It rarely rocks the boat and continually offers up ideas and scenarios that have been part of numerous animated adventures made by the studio over the past 80 years. But this world is stunning, the characters, especially the titular heroine, are marvelous and the music is out of this world. Even if it isn't exactly unique, that doesn't make the movie any less rapturously entertaining, the fun I had watching it manufacturing a sense of comforting bliss I honestly didn't want to see come to an end.
– Review reprinted courtesy of the SGN in Seattle
Film Rating: 3 (out of 4)