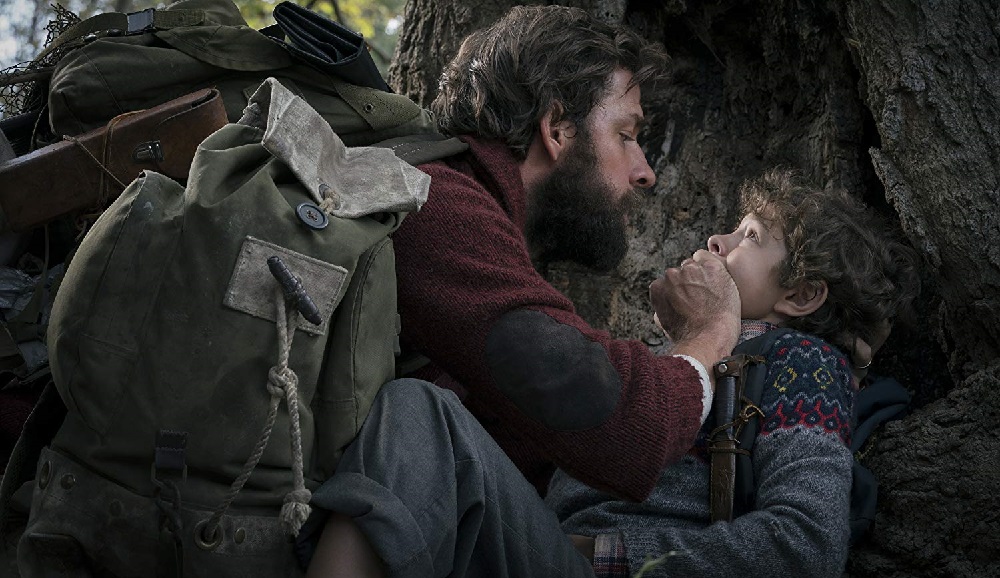 Unbearably Tense Place Monstrously Entertaining
A secluded farm somewhere in America's heartland. Lee Abbott (John Krasinski) is hard at work augmenting his gigantic ham radio setup, hoping he can amplify the signal to the point he can converse with every corner of the globe if the need were to arise. His wife Evelyn (Emily Blunt) does their laundry almost entirely by hand, hanging the wet clothes out to dry, wary that an unseen evil might be lurking somewhere in the cornfield. Their deaf daughter Regan (Millicent Simmonds) and her younger brother Marcus (Noah Jupe) play their nightly board games on the floor, rolling dice on a cushioned rug and utilizing a variety of stuffed and cloth-covered tokens as playing pieces instead of utilizing anything made of a more solid material.
Running around barefoot, creating pathways of softened sand to cushion their feet and to avoid the inadvertent rustling of leaves or the shuffling of gravel, removing most of the doors from the buildings on their property, they've done just about everything humanly possible to reduce the sounds they might make to next to nothing. Why? Something is hunting, not just them, but all of humanity. Something drawn to sound. Something that, if it were to find them, would devour them, and as this is a family of fighters each member is determined to do whatever it takes for all of them to survive.
Krasinski's sophomore directorial outing after the little-seen comedy-drama hybrid The Hollars, the unsettling creature feature A Quiet Place is a superlative genre gem that held me nervously spellbound for each second of its 90-minute running time. Reveling in silence, utilizing an uncomforting sound design mix that puts the viewer right into the center of the action, featuring a crackerjack score from veteran composer Marco Beltrami (Logan) that's just as much a character inside the movie as any one of the Abbotts prove to be, this is a spectacularly tense adventure that ratchets up the suspense with Hitchcockian confidence. Krasinski hasn't just hit it out of the park, he's made a science fiction-based horror opus that's the best thing to hit screens since 10 Cloverfield Lane snuck into theatres back in 2016. This is a strong, imaginatively spine-chilling shocker, and the less one knows about what is going transpire before watching the greater their enjoyment is likely to be.
As such, I'm not going to say a heck of a lot more. I will add that the acting is terrific across the board, especially from Blunt and Simmonds. The former has long been a magnetic talent who always seems to have an uncanny ability to make any movie she's appearing in hers with what feels like very little effort. Blunt mines emotional territories that are voluminous in their breadth and scope, Evelyn's saga a never-ending series of protectively maternal highs and lows that revolves around her unceasing desire to see her children survive this surreal, monster-infested apocalypse. It's a masterful tour de force that ferociously builds in intensity as the story progresses, the actress holding things together in a manner that's divine.
Then there is Simmonds. After making her stunning debut in Todd Haynes' Wonderstruck just last year, the young newcomer once again amazes. The deaf actress conveys so much through her eyes and body language it was impossible for me to take my eyes off of her. The level of rage building inside of Regan, the regret, the shame, the feeling that she is not worthy of the love her parents proclaim they are sending her direction, all of that and more comes through with startling clarity. But when the time comes for this little dynamo of courage to become a hero, it's never a question that she will rise to the occasion, especially as it pertains to protecting Marcus. Simmonds makes all of this feel genuine in a way that's heartrending, this performance a thing of beauty I was constantly captivated by.
Krasinski never lets up, his directorial hand moving various pieces this way and that as he plays his little cat and mouse most dangerous game with skillful virtuosity. He allows Bryan Woods and Scott Beck's scenario the freedom it needs to breathe and grow, rarely allowing his fingerprint to feel heavy or authoritarian in a manner that might dilute the constant stress the scenario overflows in. Krasinski also does marvelous things with both Charlotte Bruus Christensen's (Molly's Game) eerily sumptuous cinematography and Jeffrey Beecroft's (Dances with Wolves) suitably weathered production design, the visual allure of this opus every bit as important as the sound design and complex character development. A Quiet Place is close to perfect, this monstrously entertaining chiller a nightmare-inducing smash I'm going to be screaming the praises of for many years to come.
Film Rating: 3½ (out of 4)