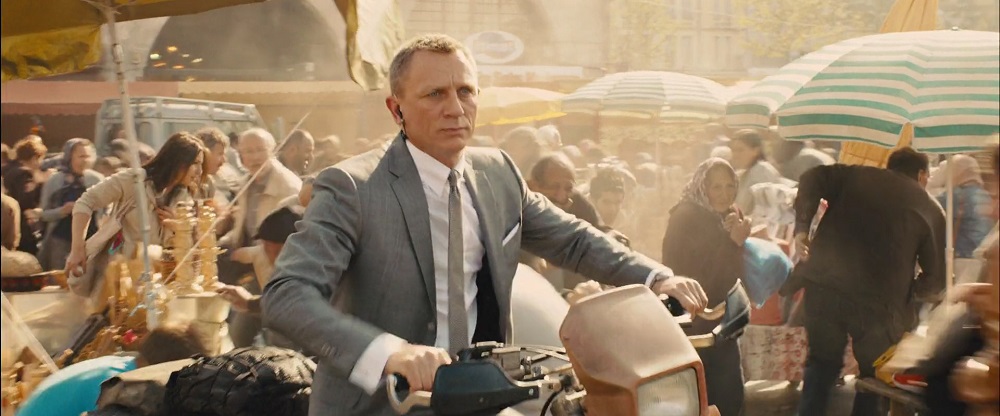 Explosive Skyfall Features a Bruised and Battered Bond
After a four year hiatus, Daniel Craig returns as Ian Fleming's iconic British superspy James Bond 007 in Skyfall. Directed by Academy Award-winner Sam Mendes (American Beauty) and with a script partially written by John Logan (Gladiator, Hugo), the movie celebrates the fiftieth anniversary of the franchise while also confidently launching it into a potentially intriguing future. The film pays homage to the cinematic and cultural significance of the series while also moving things in a modern direction, the picture achieving an emotional significance few other Bond entries (mainly On Her Majesty's Secret Service) can claim.
The story begins with a bruised and battered Bond, weary from service and unsure if MI6 still has his – and England's – best interests at heart, apparently plunging to his death after his efforts to retrieve a top-secret encrypted list of undercover agents goes awry. But when the man behind the theft, a psychotic cybercriminal calling himself Silva (Javier Bardem), challenges M (Judi Dench) to a sadistic game of cat and mouse, 007 returns to fight what he hopes is still the good fight.
The plot is way more convoluted than that, Bond traipsing around the globe getting into various scrapes, uncovering clues, and meeting a bevy of sexy women. Chief amongst them is the seductive Sévérine, portrayed with stoically fragile elegance by French actress Bérénice Marlohe. But that's all to be expected and isn't what makes Skyfall significant. Taking a page out of The Dark Knight playbook, Bond's overarching story and his complicated relationship with M stand in direct opposition to Silva, a Joker-like adversary who wants nothing more than to see the world burn.
I love the film's many layers, the way it bounces between its characters and their conflicting emotional states. There is a poignant authenticity to Bond, his job, and those he comes into contact with that is undeniably fascinating. The fiery finale taps into the soul of Fleming's creation I don't think any other iteration of 007 ever has before, and as someone who has watched all 22 previous features multiple times (even the so-called "bad" ones like Moonraker, A View to a Kill, and Die Another Day), I feel secure in that assessment.
Thankfully, Mendes does remember he is making an action flick. As such, he litters the picture with the type of adrenaline-fueled theatrics this series is renowned for. A motorcycle chase across the rooftops of Istanbul is heart-stopping, while a mid-movie pursuit through the streets and subways of London is a pulse-pounding treat. Mendes stages the climax's bullet-riddled pyrotechnics with confidence, never losing sight of the endgame.
I should also say that this Bond entry looks and sounds like none before it. Mendes brings in technical heavyweights like cinematographer Roger Deakins (True Grit), editor Stuart Baird (The Fugitive), and composer Thomas Newman (Flesh and Bone). Deakins' work is particularly downright awesome, his camera burrowing into corners of the frame that are mesmerizingly immersive. He gives things a consistently seductive shimmer, the cinematographer's visual aesthetic an intoxicating mélange of substance and style that works with the story and never overshadows it.
At almost 150 minutes, Bond's latest is a little long. Some of the callbacks to the previous films, while amusing, aren't altogether necessary. Silva's intentions, when stripped down to their basics, are admittedly somewhat silly, and the complexity of his plan would become moderately laughable if it were closely examined.
Yet none of this is a very big deal. Everything that transpires is character-driven, even the action sequences, and all the pieces propelling Bond forward feel essential, none of these elements pointless fodder added just for show. While Craig will never erase the ghost of Sean Connery, it's clear he's grown into the role rather nicely, and I was undeniably taken by the psychological brooding intensity he brings to the character for this outing.
Does any of this make 007's latest adventure the greatest one yet? Probably not, but it's too early to be definitive on that front. From Russia with Love, Goldfinger, On Her Majesty's Secret Service, and For Your Eyes Only still top the list in my opinion, and 2006's first Craig effort Casino Royale would like to remind everyone that it's fairly close to perfect.
But Mendes does bring the character full circle like no other filmmaker before him has. For 50 years James Bond's thrilling escapades have stirred imaginations and kept audiences glued to the edge of their theater seats eager to discover what was going to happen next. Based on Skyfall, it wouldn't surprise me if the British spy keeps on doing it better than anyone else for 50 more.
– Review reprinted courtesy of the SGN in Seattle
Film Rating: 3½ (out of 4)