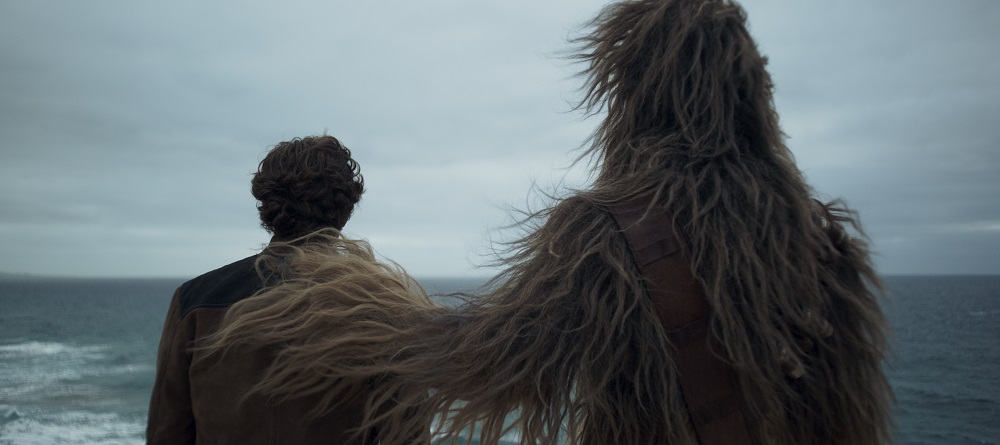 Roguish Solo an Enjoyable Star Wars Lark
The world likely didn't need a Han Solo origin movie. Even with the character, as portrayed by Harrison Ford, being my personal favorite of the original trilogy (not to mention 2015's Star Wars: The Force Awakens), I can't say I needed to know how he and Chewbacca met, where he got his blaster or when he won the Millennium Falcon from Lando Calrissian. I didn't need to know about his early loves that came before he met Leia Organa or his first smuggling jobs that set him on the path to becoming the roguish rascal who was introduced in 1977's Star Wars. I honestly didn't need any of these things, the way in which originator George Lucas composed the character and the fashion in which Ford chose to portray him more than enough to keep me satisfied all by themselves.
None of which thankfully makes Solo: A Star Wars Story any less entertaining. The second entry after 2016's Rogue One: A Star Wars Story in LucasFilm's anthology efforts set in Lucas' Star Wars universe, this film takes place long before Han met Luke and the two joined forces to raid the Death Star in order to free Princess Leia Organa from the clutches of Darth Vader. Instead, we first meet our hero, now played by Hail, Caesar!, Beautiful Creatures and Stoker heartthrob Alden Ehrenreich, as a downtrodden street urchin leading an oppressive Oliver Twist existence who harbors dreams of fleeing his situation and becoming one of the universe's best pilots. But while he does manage to escape he's also forced to leave girlfriend Qi'ra (Emilia Clarke) behind, an unanticipated turn of events that leaves him emotionally devastated.
Three years and a brief stint fighting for the Imperial Empire later, Solo makes the acquaintance of professional thief and all around cad Beckett (Woody Harrelson), finagling his way onto the criminal's tight-knit crew with plans of making some quick cash so he can return to Qi'ra and free her from her bonds. He is joined by the massive Wookie Chewbacca (Joonas Suotamo), the pair becoming quick friends after they engineer an escape from an Imperial prison. But when the heist goes tragically south, all three find themselves beholden to ruthless crime boss Dryden Vos (Paul Bettany). In order to make amends for their failure, he tasks Beckett, Han and Chewbacca to pull off the impossible if they value their lives, and he's going to send his most trusted lieutenant along to keep an eye on them to make sure nothing goes wrong: Qi'ra.
Written by Star Wars stalwart Lawrence Kasdan (The Empire Strikes Back, Star Wars: The Force Awakens) and his filmmaker son Jonathan Kasdan (The First Time, In the Land of Women), there is a sense of good-natured whimsy and wholesome ebullience to this tale that's reminiscent of Lucas' 1977 original. I'm honestly not sure what earned the movie a PG-13 rating, as the violence level is kept to a relative minimum, the sexual content is more of the chaste lip-locking variety and there's hardly an uncouth element to be found anywhere along Han Solo's journey. While things get a tad more serious as the narrative propels forward towards a climax, this is all still more akin to a John Sturges Western or WWII thriller (like The Magnificent Seven or The Great Escape) than it is a Michael Bay sci-fi action epic (Transformers this thankfully isn't), and that's just fine as far as I'm concerned.
Granted, with Oscar-winner Ron Howard (Apollo 13, Rush) picking up the reins of the project after original directors Phil Lord and Christopher Miller (21 Jump Street, The LEGO Movie) were forced to depart halfway through filming it isn't a surprise the tone of the finished film doesn't exactly push the genre envelope. Howard is an old school craftsman who emulates the greats of decades past, his more formalistic style hardly similar to the scattershot, comedy-heavy theatrics Lord and Miller are known for. He likes elongated takes that keep the action centralized towards the middle of the frame, eschewing quick cuts and crazy camera moves the majority of the time.
Not that Solo is visually laidback or lazy. Far from it. Veteran cinematographer Bradford Young (Arrival) paints some exquisite pictures, his visual aesthetic for this foray into the Star Wars universe utterly unique. There is a colorfully meticulous vibrancy to the motion picture that's often thrilling, Neil Lamont's production every bit as vivacious and lived-in as his work on Rogue One was two years ago. Best of all might just be David Crossman and Glyn Dillon's costumes, the pair's collection of ravishing capes all worn to perfection by both Clarke and Donald Glover, portraying a young Lando Calrissian, almost worth the price of a matinee ticket all by themselves.
Speaking of Glover, the "Atlanta" auteur and Childish Gambino musician is mesmerizing as Calrissian. From his first introduction to his final appearance, I found it practically impossible to take my eyes off of the talented actor. He makes Calrissian his own, paying deft homage to the character that Billy Dee Williams originated in The Empire Strikes Back while at the same time finding crafty and creative ways to make this smuggler and cardsharp his own. If anything, the movie doesn't do quite enough with him, he and his unruly suffragette of a robot L3-37 (a sublime Phoebe Waller-Bridge) stealing every scene they're a part of with seemingly little to no effort at all.
Ehrenreich won't make anyone forget about Ford, but he still acquits himself handsomely as the titular character. His relaxed back and forth chemistry with both Harrelson and especially Clarke is noteworthy, and it's easy to see him making the character his own in the future if LucasFilm decides to follow this story up with a sequel (which is likely). Even so, I do wish the movie wasn't so cluttered with moments and characters unnecessary to get the protagonists to where they need to be by the time of the climax, while a third act twist, as crowd-pleasing as it might be for some, left me decidedly underwhelmed.
Even with that being the case, I still had a great deal of fun watching Solo. The moment when Han and Chewbacca take control of the Millennium Falcon for the first time and John Williams' classic themes are introduced into composer John Powell's (The Bourne Identity) energetically boisterous score had me wanting to rise up from my theatre seat and cheer, the whole sequence a dizzyingly effervescent spectacle that reminded me precisely why I fell in love with Star Wars as a child. While nowhere near the superlative achievement The Force Awakens, Rogue One and Star Wars: The Last Jedi proved to be, this latest anthology effort is nonetheless easy to enjoy, the joyful exuberance of this Han Solo origin story difficult to rebel against.
– Review reprinted courtesy of the SGN in Seattle
Film Rating: 3 (out of 4)