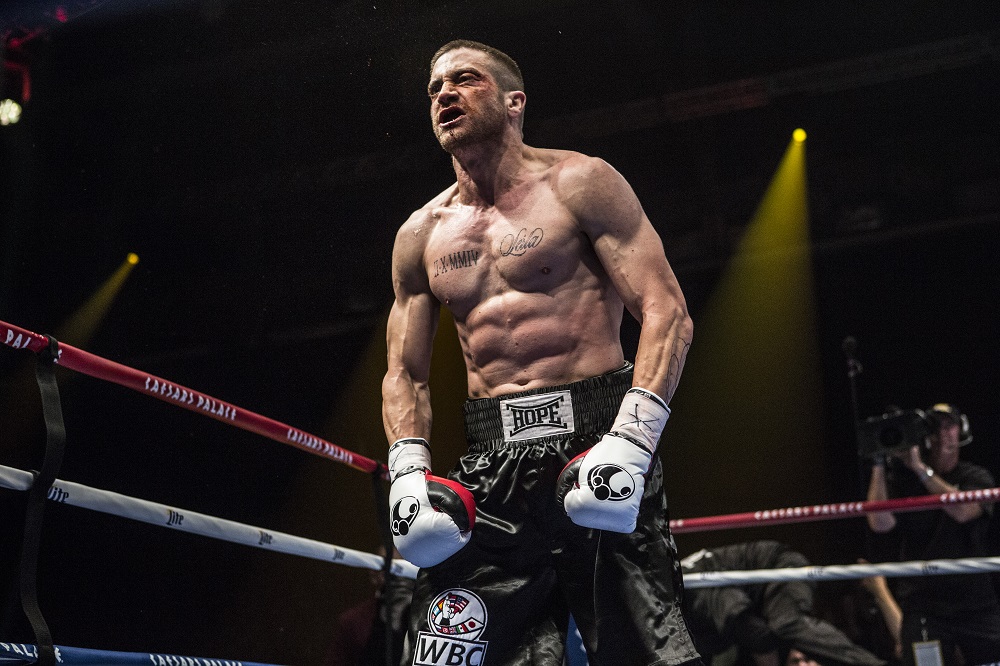 Superbly Acted Southpaw an Emotionally Manipulative Rope-a-Dope
Boxer Billy Hope (Jake Gyllenhaal) has built a life for himself, his loving wife Maureen (Rachel McAdams) and their spunky daughter Leila (Oona Laurence) with his two jaw-shattering hands and his ability to stand in the middle of a ring and take unimaginable punishment almost as if he were begging for it. He is the reigning Light Heavyweight Boxing Champion of the World, and in his professional career he's faced 43 men all of whom have tasted defeat after touching his gloves.
He uses childhood traumas to fuel him, to make him stronger than his opponent, allows himself to become their punching bag until the rage takes over and he's ready to retaliate, and it's an ability that Maureen both recognizes as integral to her husband's success but also a potential instrument which could facilitate his destruction. Just as she has him convinced to retire, raw emotion comes spilling out when his wife is viciously ridiculed by a fellow boxer during a charity event. During the ensuing melee, shots are fired and the woman he loves falls to the ground gasping for breath.
Directed by Antoine Fuqua (The Equalizer, Training Day), written by television veteran Kurt Sutter ("Sons of Anarchy," "The Shield"), Southpaw is a 'Kitchen Sink' boxing melodrama that has no idea when to quit. Featuring a number of exemplary performances, not the least of which is Gyllenhaal's haggard ferocity in the lead role, filled with a number of stripped-down, nakedly raw emotional beats that take the breath away, the film is nonetheless an over-stuffed muddle that embraces every cliché the genre has ever known. It throws in so much stuff that one can't help but want to throw in the towel and end things halfway through, the body of the viewer nearly as battered, bruised and bloodied as Billy Hope's is by the time the climactic fight has reached its conclusion.
The list of dramaturgic drivel is a long one. Dead wife? Check. Lost fortune? Check. Lost motivation to fight? Check. Loss of daughter to Child Protective Services? Check. Teaming up with an old rival (a superb Forest Whitaker, giving his best performance in years) in order to get mojo back? Check. Inner-city kids looking up to the former champion for inspiration? Check. Tragedy revolving around one of said inner-city kids? Check. Old promoter (played with easygoing brio by Curtis "50 Cent" Jackson) returning to give his former client another shot at the title he ignominiously lost? Check. Daughter finding newfound respect for daddy in the wake of so much tragedy while insisting she be there for his supposed final fight? Check. Utilization of his dead wife's unsolved case to promote said fight? Check. It just goes on and on and on and on and on and on seemingly without end, the head-scratching lunacy of all this melodramatic hokum potentially humorous if it wasn't so infuriating.
At the same time, Gyllenhaal is magnificent, McAdams is spellbinding in her brief few minutes as the truth-telling Maureen and little Laurence is a beguiling, effervescent presence who manages to hold her own with her far more famous costar one-on-one on a number of mesmeric occasions. As stated, Whitaker is excellent, digging into the cracks and crevices of his tired boxing trainer making something magnificent out of the most tiresome of wearily rote narrative excesses, while the boxing sequences have a carnal ferocity that's aggressively spellbinding.
On a positive note, this is arguably the most restrained, stripped-down film in Fuqua's visually frenetic career, and I'm hard-pressed to find another title in his filmography that comes close to it on that front. Other than the requisite freneticism of the training montage right before Hope's final fight, more often than not the director allows the performances to do the talking for him. The late James Horner's (Aliens, Titanic) score is eerily simple, augmenting the on-screen dramatics never overshadowing them. As for Mauro Fiore's (Avatar) pugnacious cinematography, it's suitably down and dirty, achieving a level of bird's-eye intimacy during the fights that's spectacular.
Yet the movie remains an uneven slog. Great scenes, like a moonlit conversation between Gyllenhaal and Whitaker in an empty gym, only come about thanks to the most agonizing of script contrivances, each of them slamming the viewer in the face like a continual uppercut thrown by one of Mattel's Rock'em Sock'em Robots. Boxing movies are a rich part of Hollywood lore, yes, and pulling from the best of them isn't in and of itself a bad idea. But it's almost as if Fuqua and Sutter are pulling from all of them each at the exact same time, the rocky emotional terrain on which Southpaw travels making me feel like a raging bull being rope-a-doped into frustrated exasperation.
Review reprinted courtesy of the SGN in Seattle
Film Rating: 2½ (out of 4)