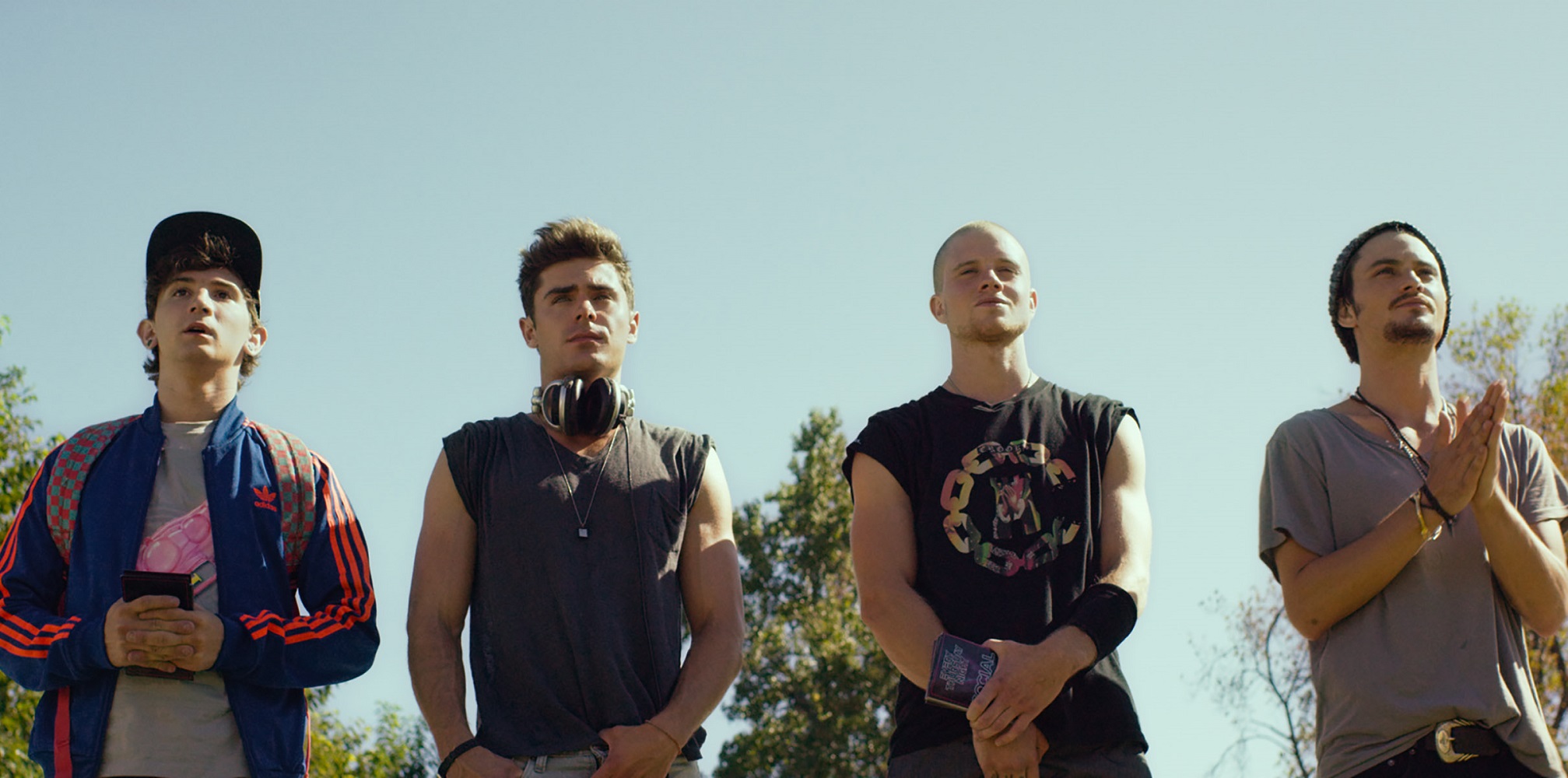 We Are Not Your Friends an Energetic Music-Driven Cliché
Cole Carter (Zac Efron) and his best friends Mason (Jonny Weston), Ollie (Shiloh Fernandez) and Squirrel (Alex Shaffer) don't live in Hollywood, but by being in the San Fernando Valley right next door they're all close enough to allow themselves to have dreams of stardom and fame they know deep down probably will not come true. They go through their days, subsisting as best they can, partying and playing from sundown to sunup making pacts to stick together no matter what the future holds.
Cole is the most talented member of the foursome. He's a DJ, an EDM (Electronic Dance Music) fanatic who plays his music every Thursday night a local Hollywood club. For some unknown reason having nothing to do with music, veteran superstar James Reed (Wes Bentley) finds himself taking a liking to the kid, introducing him to his world, and to his live-in girlfriend and assistant Sophie (Emily Ratajkowski), with nonchalant friendliness. Things are looking up for Cole, and as long as he can keep his head straight and find the inspiration to create that one killer track that will get everyone dancing the sky's the limit as to where he'll go from here.
There's not a lot to director Max Joseph's We Are Your Friends. Working from a story by Richard Silverman, co-writing the script with Meaghan Oppenheimer, the man behind MTV's "Catfish: The TV Show" hasn't exactly come up with a coming-of-age looking-to-find-stardom scenario anyone, anywhere likely hasn't seen before. It's A Star is Born for the Under the Electric Sky generation, a hallucinogenic sojourn into electronic dance music craziness given a Millennial twist if only in somewhat patronizing fashion.
Be that as it may, Joseph's debut isn't a waste of time, mostly because Efron is terrific in the central role and Bentley comes close to matching him as the drunken, downtrodden music superstar reveling in past glories unable to come up with anything new. There's also a manic energy to the motion picture, especially early on, that hints at the devil-may-care saga of excess and inspiration that all of this potentially might have been, an early sequence of Cole tripping out on PCP having a Ralph Bakshi meets James Toback vibe that's exhilarating.
Yet, make no mistake, the filmmaker slathers on the melodrama all-too thickly. The fractured bromance of the central quartet goes exactly where you think it will, Cole's making goo-goo-eyes at Sophie has the expected repercussions and a third act tragedy is so inelegantly crammed into the proceedings it's almost offensive. A subplot concerning a seedy real estate broker (smarmily plated by Jon Bernthal) adds virtually nothing save setting up a mid-credits coda engineered solely to tug at a few heartstrings, while the climactic concert sequence isn't anywhere near as inspiring as it needs to be. Clichés run rampant throughout and while some of the supporting performances make up for this (most notably Weston's, who's catastrophically ferocious as the group's live-in-the-now ringleader), others sadly do not (Ratajkowski, in particular, fails to rise to the occasion making her part in a budding love triangle oddly forgettable).
At the very least, the movie looks and sounds terrific. Stunningly shot by Brett Pawlak (Short Term 12) and edited with a manic intensity by Terel Gibson (The D Train) and David Diliberto (No Country for Old Men) that fits the proceedings perfectly, the real standout element is the picture's sound design, the sonic atmosphere augmenting the on-screen drama nicely. I also like the fact that, for as familiar as all of this might be, as lacking in any real surprises as it is, the film is never boring, Joseph doing a fine job keeping the pace hopping and the pulse racing as he moves all his characters to their preordained place on the EDM chessboard.
It's a backhanded compliment stating that We Are Your Friends isn't half bad yet I find that's about the best statement I can come up with to encapsulate my feelings towards the music-driven drama. Efron continues to grow as an actor, while Bentley has rebounded nicely these past few years becoming a solid character actor after washing out as a supposed "next big thing" after American Beauty came out back in 1999. If only the script that Joseph and company came up with wasn't so blandly melodramatic, so prone to lapsing into tired cliché, then maybe this could have been something of a rejuvenating surprise. As it is, the movie isn't without its merits; there's just not enough of them to make seeing it at the theater worthy of the ticket price.
Film Rating: 2½ (out of 4)