Burton's Shadows a Macabre March into Gothic Satire
I wasn't sure what to expect walking into director Tim Burton and actor Johnny Depp's latest collaboration, a big budget Hollywood adaptation of creator Dan Curtis' late 1960's gothic television soap opera Dark Shadows. Would it be another Ed Wood or Edward Scissorhands? Would it be a gargantuan Charlie and the Chocolate Factory or Alice in Wonderland misfire? Or would it be more akin to Sleepy Hollow or Sweeney Todd: The Demon Barber of Fleet Street, a nastily gruesome comedic enterprise willing to push the boundaries of taste and go places most Hollywood productions would normally fear to tread?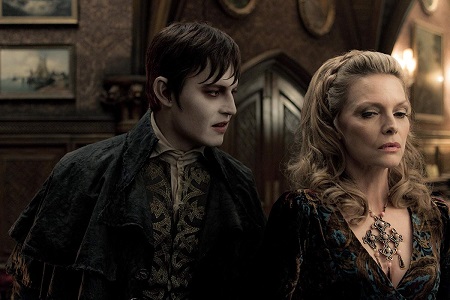 After watching the film, an odd, somewhat disjointed comedic drama about family and sacrifice set to Burton's own macabre cinematic beat, I'm not quite sure what to call this new take on the venerable property. His Dark Shadows is an odd duck, never really finding solid footing yet still offering up plenty of laughs, some of them the biggest the director has crafted since Beetlejuice. It goes to some highly intriguing places and isn't afraid to slow dance across a blood-red floor. Yet Burton reins himself in at places you'd normally expect him to go straight for the jugular, ultimately crafting a disjointed satire of modernity that frequently recalls Robert Zemeckis' Death Becomes Her more than it does anything original or unique.
Not that I have a problem with that, mainly because I think Zemeckis' 1992 comedy about stardom, beauty and aging is an underrated gem that only gets better as time passes, a trait I hope Burton's Dark Shadows might eventually emulate (although I'm not holding my breath). The stuff that clicks, the pieces of screenwriter Seth Grahame-Smith's (the upcoming Abraham Lincoln: Vampire Hunter) satire I liked do so magnificently, his and John August's (Go) story mocking a status quo that is undeniably current even within the confines of the film's 1970s setting.
It's hard to go into the plot without spoiling crucial elements while at the same time not making it all sound like the most absurd piece of trash ever screened inside a multiplex. The basics concern Barnabas Collins (Depp), an 18th century gentleman cursed by witch Angelique Bouchard (Eva Green) to become a vampire and be trapped inside a coffin for nearly 200 years after he callously spurned her advances. Waking up in 1972, he's horrified to discover that the Collins' family name has deteriorated to nothing, returning to the family mansion to discover those residing there are just going through the motions of life and not reveling in its warm-blooded bliss as they should.
Michelle Pfeiffer, Helena Bonham Carter, Chloë Grace Moretz, Jackie Earle Haley, Jonny Lee Miller, Bella Heathcote and Gulliver McGrath fill out the remainder of the cast, each of them a piece of the Collins mystery whose motivations for seeing the family thrive and Barnabas succeed changes person to person. Each has a key part to play and has a secret Barnabas must unlock, and figuring out how it is going to happen and whether or not they'll survive through the carnage-filled climax the central question mark Burton and company want the audience to believe is all that matters.
Truthfully, none of it does matter, at least not as much as it initially appears. Burton is more interested in riffing on society in general, the complicated dynamics of family in particular and specifically how times have not changed over the last four decades as much as most would like to think it has. He plays with the everyday mores many take comfort in, subverting them idiosyncratically uncouth ways and in the process delivers up scandalous bits of innuendo that might have to be heard multiple times to be fully appreciated for how just delectably awful, yet uncomfortably truthful, they oftentimes are.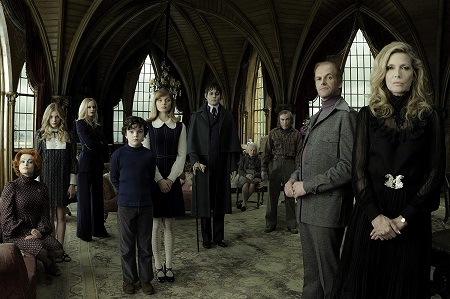 If only the movie knew what to do with itself during its climactic stretch. I got the feeling that Burton and Grahame-Smith weren't entirely sure how things should end. They amp up the violence, pile on the surprises, allow certain characters to rise to the occasion while others showcase skills they never exhibited previously. It all becomes nothing more than chaotic tedium, the level of unmitigated nonsense diluting the gory, sexually-charged dynamics the majority of the film had taken so much pleasure reveling in up to that point.
I'm still willing to give Dark Shadows a mild toothy smile of approval. I even feel that when I undoubtedly watch it again in a year or so said smile might turn into a broadly euphoric grin, all the layers of what Burton has dug up becoming more apparent with the passage of time. I enjoyed sinking my teeth into this gothic satire and I drank happily from its pulsating jugular, and even if the last taste was frustratingly bitter the sweetness of that first sip of its ruby-red plasma still kept me happily satiated for most of the film's 113-minute running time.
– Review reprinted courtesy of the SGN in Seattle
Film Rating: 2½ (out of 4)