Burton's Frankenweenie a Monstrously Delightful Resurrection
Frankenweenie isn't so much an extended version of director Tim Burton's famed 1984 short film of the same name as it is a reinvention of it. Taking the idea of the original (young boy loses his dog in a tragic accident only to bring him back to life Mary Shelley-style), this new version, written by frequent Burton collaborator John August (Dark Shadows, Big Fish, Corpse Bride), considerably expands upon it in a variety of inventive ways. While the images are gothic and the creatures extreme, the story maintains its inherently childlike view of life, love and death, and in that way it as old school Disney as anything the studio has produced over the past couple decades.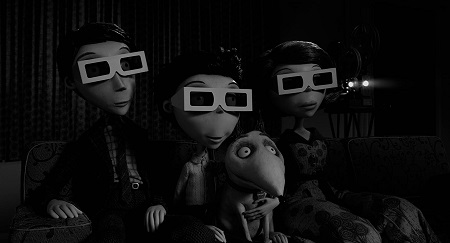 The plot concerns brilliant young New Holland inventor Victor Frankenstein (voiced by Charlie Tahan), beloved son to adoring parents Mr. and Mrs. Frankenstein (Martin Short, Catherine O'Hara) and devoted student to eccentric science teacher Mr. Rzykruski (Martin Landau). Something of a loner, he shares a familial kinship with his happy-go-lucky dog Sparky, the pair never taking a single solitary second of their time together for granted.
A ball bounces into the street. An automobile screeches to a deafening halt. New Holland townsfolk look on in horror. Sparky is gone. Victor is heartbroken. The boy's one and only friend is no longer a part of his life. Or is he? One thing leads to another and low and behold Victor lives up to his namesake and uses the forces of nature and his scientific acumen to bring Sparky back from the grave.
But audiences know that much going in. It's what happens next that gives Frankenweenie its gleefully macabre kick. Using Universal horror movies of the 1930s and '40s as inspiration, this stop-motion marvel delivers upon its promise in all of the ways that matter, its cast of unusual characters forced to come together as one to stop New Holland from being stomped into the ground by an undead menace unlike any they could have imagined.
The funny thing is, for all the carnage, for all the gentle winks paying homage to everything from Frankenstein to Creature from the Black Lagoon to Godzilla to even Miguel de Cervantes y Saavedra's enduring tales of Don Quixote, the movie never loses sight of what matters most. August's screenplay keeps its heart in the right place, maintaining focus on Victor and Sparky's undying love, their relationship a gentle reminder that the cures for disenfranchised and societal malaise can sometimes be found in the simplest, most authentically heartfelt of places.
It's all understandably thin, and while I know August and Burton are using many of the stereotypes they present as satirical fodder, not all of what they're attempting to say resonated with me in the same way ParaNorman (which covers somewhat similar thematic ground) did back in August. There is an obviousness to what transpires that's moderately surprising consider the subject matter and the style of animation, and because of that my attention did wander now and then to matters far afield from the story that the filmmakers were so passionately presenting.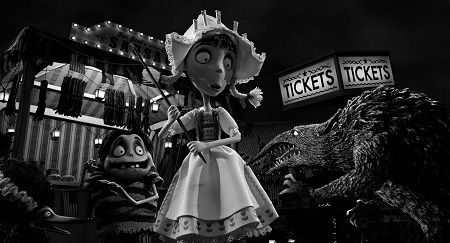 Yet the animation is beautiful throughout, while the vocal work is top-notch all the way around. I especially loved actress Winona Ryder's return to Burton's darkly comic world, her supporting performance as Victor's next-door neighbor Elsa Van Helsing a beauteous revelation reminiscent of her work in Beetlejuice and Edward Scissorhands. As for that animation, from a purely visual standpoint the movie is consistently divine. A finale concerning a flaming windmill and a bat-cat hybrid a thrilling exercise in visual storytelling dynamics, the sheer eye-popping perfection of this sequence joyfully undeniable.
In a year where we get one Tim Burton film, Dark Shadows, where it felt like the director lost interest in the project roughly two-thirds of the way through, now we have another effort from the iconoclastic auteur based on a 28-year-old animated short. But instead of phoning the project in, Frankenweenie seems to have reenergized Burton. His black and white extravaganza builds momentum as it goes along, planting a smile on my face that only grew over the course of the running time. While I can't say this is a great movie it is still a very, very good one, the electric jolt it delivers an invigorating surge of pleasure almost certain to please viewers young and old alike.
Film Rating: 3 (out of 4)