Amusing Pitch Sings in Almost Perfect Harmony
Beca (Anna Kendrick) is Barden University's newest freshman. She's there under protest, the wannabe DJ specializing in unique arrangements of popular tunes spanning the genre spectrum aspiring to head to Los Angeles and get a job in the music industry. But she's here right now, and Becca plans on making the most of it, and if she does it on her own that's okay, the self-confident loner not one for striking up new friendships at the drop of a beat.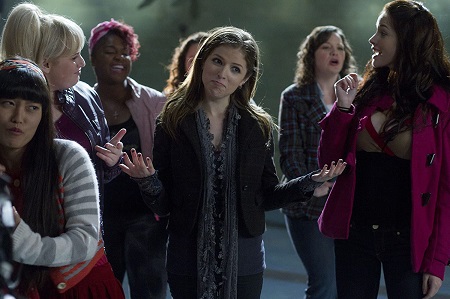 Enter the Barden Bella's, the university's all-female a cappella group. They're looking for new members, and while leader Aubrey (Anna Camp) isn't sure Beca can make the grade, her second-in-command Chloe (Brittany Snow) is certain she's the one for them. Throw in a bunch of fellow misfit newcomers, including the grandstanding self-proclaimed 'Fat' Amy (Rebel Wilson), these ladies are sure to make an impression in the collegiate a cappella community, their arch-rivals the all-male The Treblemakers also working overtime to make the Bella's lives as difficult as possible.
It's not like Pitch Perfect does almost anything new that many out there haven't seen before. Seeing as we're working in the world of music mash-ups, this movie is your basic Rocky meets Bring It On meets Stomp the Yard meets Best in Show meets "Glee" hybrid, and to say it does one unexpected thing would border on being a lie. Beca will be the outsider, frigid to the young women eager to befriend her. While conflict will initially keep them all apart, by the time all the chips are on the table and first prize is on the line she'll discover the Bella's friendship is the most important thing that could make college life worthwhile.
I haven't given anything away, and hopefully that's apparent from the film's commercials and trailers. If it isn't, I suggest viewers start broadening their cinematic watch list. The surprise is that Pitch Perfect, much like Bring It On, is shockingly entertaining, filling itself with enough winning moments, nicely drawn characters, energetic performances and solid laughs to make the inherent predictability of the scenario barely an issue. It's just a lot of fun to watch, nothing more, and certainly nothing less, and to say I was pleasantly entertained the majority of the way through is as shocking to me as it likely is to many reading this review.
Working from Mickey Rapkin's best-selling book, "30 Rock" staff writer Kay Cannon's script follows the familiar playbook from A-sharp to G-flat. But she does so with imagination and flair, allowing the characters to say and do the unexpected. Becca and the rest of the Bellas are a constantly interesting group of young women, each of them moving in their own unique direction that kept a smile on my face.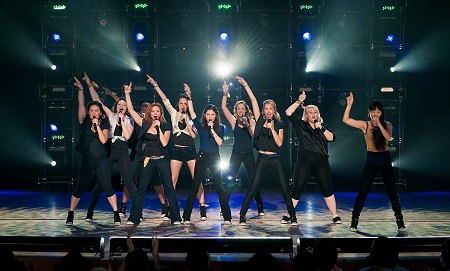 The entire cast is pretty great, especially Kendrick and Snow, the two sharing a shower scene that's as embarrassing as it is hysterical. But the show belongs to Wilson, and without her I'm not sure my enthusiasm for the picture would be as high as it is. She steals scenes with ease, a few of her one-liners and extended monologues so hysterical they had me unintentionally spitting up Diet Coke with suitably mortified shame. As solid as she's been in films like Bachelorette, Bridesmaids and What to Expect When You're Expecting, that's nothing compared to what she does here as Amy. This is her showcase, and if I had one solid complaint it would be that she's not around enough for my satisfaction.
Jason Moore makes the jump from directing Broadway's Avenue Q to the world of Hollywood features a smooth one, delivering all of the ups and downs of this journey with skillful confidence. As for the musical arrangements, the majority are solid, some close to outstanding, and I imagine sales of the soundtrack are going to be rather brisk. Pitch Perfect hits most of the right notes, and because of this ends up being as smoothly enjoyable as anything currently playing in theatres at this moment.
Film Rating: 3 (out of 4)