Gothic Terror The Sonata a Symphony of Suspense
Celebrated London classical violinist Rose Fisher (Freya Tingley) has just learned of the death of her reclusive composer father Richard Marlowe (Rutger Hauer). She couldn't care less. The pair weren't close, Rose leaving home at a young age to be looked after by her coach, manager and friend Charles Vernais (Simon Abkarian). Nevertheless, the young woman still feels she must travel to Marlowe's secluded French estate and put his affairs in order before attempting to sell the house. Maybe while there she'll find something to creatively inspire her as well.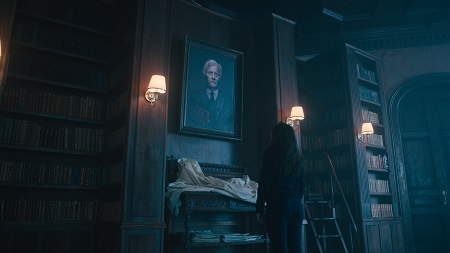 What Rose unearths is Marlowe's final work, a secret sonata for the violin that appears to have been written for her and her alone to play. But there are a number of peculiar notations and symbols that make it virtually impossible to make sense of which order the pages and musical passages are supposed to be played in. With Charles' assistance, she slowly begins to piece together the mystery of this sonata, discovering clues littered throughout her father's estate that give hints as to how everything fits together. But as the music's brilliance becomes increasingly clear, so does its demonic intent, and soon Rose is wondering whether it should ever be played in its entirety.
Andrew Desmond's feature-length narrative debut The Sonata is a literate, methodically paced throwback thriller that plays a little like a Hammer production from the mid-to-late 1960s that would have starred Peter Cushing and Christopher Lee in the two primary male roles. It is a musically-driven gothic nightmare that agreeably crescendos during the climax, delivering a frightening, character-driven coda that fits the overall tale (written by the director and fellow screenwriter Arthur Morin) quite nicely. The film also features a pair of wonderful performances from Tingley and veteran character actor Abkarian, while the late, great Hauer makes the most of his precious few scenes in what would sadly be one of his final roles.
Don't read too much into my praise. Desmond doesn't do anything overly original or inventive with the material, unleashing a bevy of creepy ghostly children, sinister specters and candlelit shadows slinking into the darkened recesses of Marlowe's mansion. Rose tiptoes around the grounds, usually in a billowing nightgown, discovering a bevy of portentous signs that by all rights should have had her bolting back to London immediately, while Charles goes increasingly mad as he obsesses over the late composer's sonata hoping that he'll garner untold fame for assisting in its discovery. The music's secrets and why it is only Marlowe's estranged daughter who can play it are equally obvious, and because of that the full emotional impact of the final scenes are sadly lessened, if not significantly, just enough to be noticeable.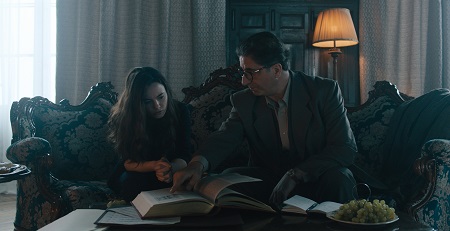 But The Sonata is agreeably shot with menacing layers of light and shadow by Janis Eglitis, the cinematographer achieving a visual aesthetic that recalls the likes of Jean Cocteau's influential 1946 take on Beauty and the Beast and almost any of Hammer's Dracula efforts, most notably 1970's Scars of Dracula. I also found Tingley's performance to artfully grow on me as it went along. She makes Rose a more intelligently prescient character than she initially appears to be. This allows her transformation in the last scene to have an unnerving allure akin to Mia Farrow's chilling grin staring down at her demonic child in Rosemary's Baby, the shivers bouncing up and down my spine continuing to tingle long after the film had come to an end.
But the key ingredient that helps make this tiny little gothic terror work as well as it does is likely composer Alexis Maingaud's all-important score. His composition for Marlowe's final work is well worth the wait to hear it played in its entirety, and while I'm not sure it is as devilishly insidious as it is supposed to be that doesn't make this piece of music any less masterful. Coupled with the strong performances of the two primary actors, Eglitis' lush cinematography and Desmond's deft pacing of his story, Maingaud's superlative additions to the material are essential. Without his score's ominous refrains it's doubtful I'd have found The Sonata to be as memorable as I ultimately did.
Film Rating: 3 (out of 4)