A Movie of Her Own
Writer/Director Chanya Button on breathing romantic life into Vita & Virginia
According to the production notes for Vita & Virginia, actress Gemma Arterton and filmmaker Chanya Button were on holiday together when the former asked the latter what she thought of making a movie about the relationship between early 20th century friends, confidants, rivals, authors and lovers Vita Sackville-West and Virginia Woolf. "Well, it didn't go quite like that," quietly laughs Button. "It was a little more involved, the process of our collaborating on making a movie about Vita and Virginia."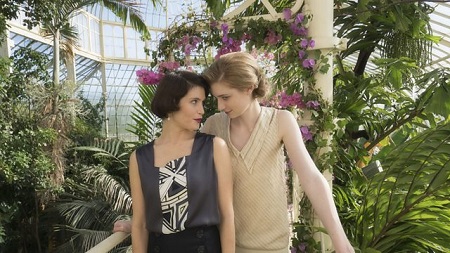 Speaking to the Vita & Virginia writer/director on the phone while she was sitting on the train to London, our connection precipitously wavering in and out for the 15-minute duration of our chat, we attempted to dive into some of went into this marvelous historical drama's creation. Featuring Arterton as Vita Sackville-West and a luminous Elizbeth Debicki as Virginia Woolf, the movie revolves around the pair's tumultuous friendship and love affair, their time together ultimately spawning one of the latter's greatest literary triumphs, the gender-bending and convention-shattering novel Orlando: A Biography published in 1928.
"We were on holiday," says Button, "but my getting involved with the film was far more involved than just a brief conversation between Gemma and I. She did initially bring the project to me. Gemma knew Virginia was my favorite author. She let me get a look at the play Eileen [actress and playwright Eileen Atkins] had written and I was immediately inspired.
"But the process of fashioning that play into a movie was a collaborative effort. Eileen agreed to work with me on the screenplay and we sat together for the entire summer so I could pick her brain in regards to her play. I also received input from other sources as well, especially from Gemma and Elizabeth. They really helped in the crafting of these two characters and with giving me additional insight as to the best way to tell their respective stories. These were incredible, intelligent women. They are both so complex. We all wanted to make sure that we did their story justice."
All of which made going to work each day a joy for the filmmaker. Woolf isn't just Button's favorite writer, she also wrote her college dissertation about her, so bringing her love, affection, and most of all knowledge to a project that is to a large extent centered around the literary icon was nothing less than a dream come true. "Absolutely," proclaims the director. "Each day was a challenge, but it was also really exciting. I was getting to spend time with Virginia Woolf. What could be better than that?"
One of the great challenges of the project was to ensure that Vita Sackville-West was an equal presence to her more historically revered fellow author. "That was a challenge," admits Button, "but it was a challenge I think we were all excited to meet. I wanted to make sure this film was more than just a dry biographical history lesson. We needed Vita to be her own woman and not just a bunch of footnotes describing her historical importance. She was a strong, intelligent woman who was, like Virginia, well ahead of her time. She was a wife. She was a mother. She had her own domineering mother who made life oftentimes difficult. She freely walked amongst a wide variety of social circles and had numerous lovers. I think Gemma was thrilled at the challenge of bringing Vita to life. We worked very hard to make sure she was a three-dimensional woman.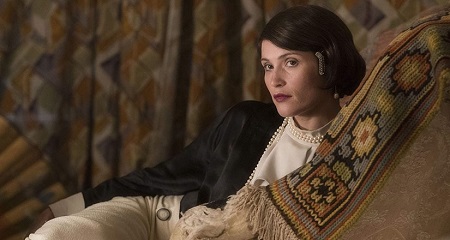 "But you are right. Virginia is the more historically well-known figure. What people do not know is that, during this period of the 1920s, Vita was the best-selling author. Virginia was the underdog. I think this movie and this story, they provide the perfect opportunity to educate the public on just who these women were and what the world at that time was like for both of them."
While Arterton was always going to be playing Vita, the actor that would share the screen with her as Virginia was initially something of a question mark. "It took a little time to find our Virginia," says Button. "But once Elizabeth came aboard, she grabbed the character with both hands and then refused to let go. She's just so bold and brilliant. I found myself captivated by her fearlessness."
What is most striking about Debicki's performance is the transformative physicality of it. There are moments where Woolf towers above everyone in the film, her imposing presence feeling as if it is filling the entirety of the frame. But then there are other instances where it is like she dissolves into something akin to invisible insignificance. There is a constant fluctuation in power that happens between Debicki and Arterton that's close to extraordinary, and as such it is difficult not to wonder who the two were able to make these transitions appear to so naturally effortless.
"You'd have to ask Gemma and Elizabeth about how they were able to do that," says Button. "They are both just so incredibly skilled. Their physicality is so different. The standards of conventional beauty that people use to define them are as equally different. But they refuse to bow to any sort of convention. They defy it. They are beautiful and smart in their own unique way, both inside and out. It's fascinating to watch two incredible women with so different energies work together with such passionate conviction. They were always so conscious of what the other was bringing to the movie. I think it shows in their performances."
Performances that, at least in the case of Virginia Woolf, were not augmented by prosthetic makeup effects as they oftentimes have been in previous films about the author, pictures like 2002's The Hours which won Nicole Kidman an Academy Award for Best Actress. "I'm not a fan of prosthetics," states the director emphatically. "Under most circumstances, I'm not a fan of physically changing or augmenting and actor for a role. This is their interpretation of a character. I don't want impersonation. I want to give the actor the permission to act. And I knew Elizabeth could play Virginia without my slapping a new nose on her face to allow her to more match historical photographs."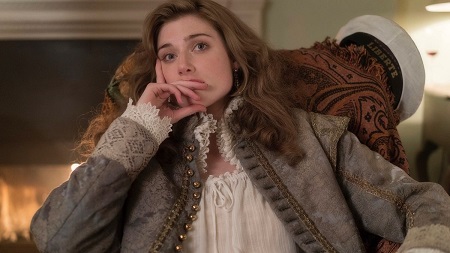 As challenging as the material might be, Button is still excited for general audiences to finally get the opportunity to give Vita & Virginia a look. "I hope they are moved by the film," she says candidly. "These women had a mature and complicated relationship. They were equals, collaborators, friends and lovers. This was a moment in their lives, one that made a massive impression upon both of them.
"For Virginia, their relationship almost overwhelmed her. She was so brilliant. Such a genius. But she was also quite fragile. This is an instance where Virginia was able to overcome the emotional and psychological obstacles that sat in front of her and wrote a work of brilliance that has stood the test of time. I think audiences can relate to that. I think they will be able to relate to a person overcoming these feeling of being emotionally overwhelmed. I find Vita and Virginia's story to be very moving. I hope audiences will feel the same."
– Interview reprinted courtesy of the SGN in Seattle