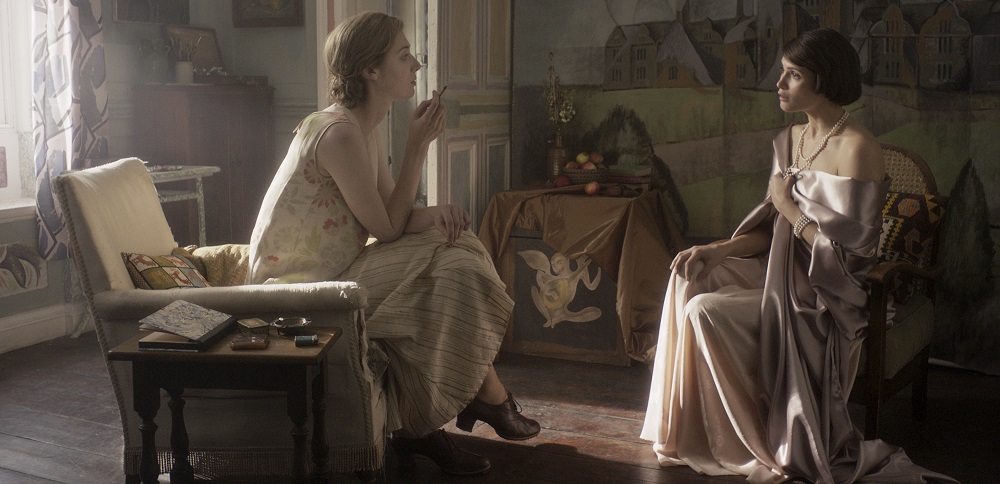 Romantic Vita & Virginia an Empathetic Journey of Understanding
In 1922 popular author, wife of British Ambassador Sir Harold Nicolson (Rupert Penry-Jones) and infamous socialite Vita Sackville-West (Gemma Arterton) heads to a bohemian get-together with the express interest of making the acquaintance of fellow writer Virginia Woolf (Elizabeth Debicki). From that point forward the pair embark on a strange, surreal journey of friendship, camaraderie, antagonism, creative expression and romance. Their affair would lead to Vita writing a novel, Seducers in Ecuador, for Virginia and her husband Leonard Woolf's (Peter Ferdinando) publishing house to help the pair cover their mounting debts. It would also lead to the publication of Woolf's Orlando: A Biography in 1928, a book inspired by the two women's intimately complex relationship.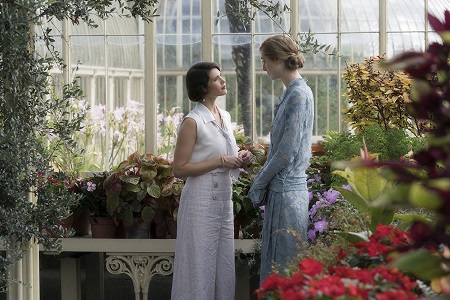 There were moments in director Chanya Button's Vita & Virginia where I felt like she had made this delicate, painfully mesmeric drama just for me. While no Virginia Woolf scholar, many of the author's books, most notably Orlando: A Biography, To the Lighthouse, Mrs. Dalloway and A Room of One's Own, are some of the most poignant, inspirational and inspiring works I've ever had the pleasure to read. While Woolf's tragic life has always moved me to the verge of tears, her exquisite words continually speak directly to the center of my soul no matter how many times I read them, and as such a drama that utilizes them with such effortless elegance is one I was likely going to personally respond to no matter what sort of structural or narrative weaknesses it might otherwise possess.
As it is, Button, who wrote a dissertation on Virginia Woolf, certainly knows the minute ephemeral complexities of this period in the author's life with far more depth than I could ever hope to. Utilizing letters written between the two women as well as vaunted actress Eileen Atkins' (who also wrote the script for 1997's Mrs. Dalloway adaptation) same-titled play as her starting point, the director has crafted an elaborate script that overflows in passionate transient empathy for the authors and their lives. Vita and Virginia are front and center throughout this story, and while the former has a bit more agency, it is the latter who makes the deepest, most profound and decidedly more long-lasting impression.
There is an air of emotional uncertainty that permeates every fiber of this film's muscular membrane. Button fearlessly plays with concepts of sexuality, gender and artistic freedom that are just as valid and vital now as they ever were during these early decades of the 20th century. She deftly parallels modern events with those affecting Vita, Virginia and their respective husbands, each's personal pursuit of individual happiness intricately bound to what might be happening to those closest to their individual emotional circles. Unimaginable scandal that could bring all of their lives crashing down upon the lot of them is a constant harbinger of doom that they try not to worry too much about, each going out of their way to be their own person even if it isn't always possible to do so.
I've never read any of Vita Sackville-West's books, and I can't say I knew a lot about her other than she supposedly had an affair with Virginia Woolf and was the inspiration for Orlando: A Biography. This made the author especially fascinating for me, and I almost wish I could see a film that would revolve around her marriage to Nicholson and relationship to her prim and oh-so-proper mother Lady Sackville (a wickedly judgmental Isabella Rossellini) next. Even without that happening, I could still grasp so much about the woman and her nature thanks to Arterton's splendidly dexterous performance. There is an almost Machiavellian playfulness to what she's doing that's monstrously fascinating, the way she assumes so many masculine and feminine gender stereotypes as Vita pursues her wants and desires continually keeping me on my toes.
Yet as stunning as the Their Finest and Gemma Bovery actress might be, for me the showstopping performance comes from Debicki. So great in films as diverse as The Man from U.N.C.L.E. and Widows, she is nothing less than magnificent as Woolf. Eschewing the prosthetic makeup effects utilized by others in the past (most notably by Nicole Kidman for The Hours), the actress finds a way to slip inside the author's skin through the sheer force of will and little else. There are times where Debicki towers over the narrative with a stoic resolve that had me sitting upright in rapt attention. At others, however, her psychological state becomes more fragmented, more indistinct, this larger-than-life literary titan suddenly shrinking in both stature and bearing to the point she comes perilously close to disappearing entirely. This is unforgettable work on the Debicki's part, and I can guarantee I'll be thinking about the enormity of this performance for the rest of the year.
There are times where Button has her two leading ladies read their letters to one another directly into the camera. This is a little disconcerting, and it does have the unintended consequence of showcasing the film's theatrical roots all-too clearly. But as things progressed I became more and more enamored by these little moments, the emotional nuances of what is being discussed, explored, debated and analyzed fascinating me with a fiercely determined specificity I couldn't help but be drawn to. As for the creation and writing of Orlando: A Biography, that portion of the story is handled magnificently, and by the time the film was over I realized I now saw the novel, one of my all-time favorites, in a brand new way which only made me want to read it again right that very second.
Which, I must admit, I've started doing now. I'm about halfway through and am discovering new components of this tale I'm not sure I knew were initially there. Has this colored my reaction to Vita & Virginia? Am I more open to the movie, as staid and as measured as it might be, because of my affinity for Woolf and my connection to so many of her more enduring novels? Maybe, but I'd like to think I'm a better critic than that. Button's drama is superbly acted by its two leads and features so many sterling moments of compassionate perceptiveness I'm pretty sure I'd have loved it had I never read any of Virginia Woolf's prose. In my opinion this feature's excellence isn't up for debate, and to paraphrase one of the two authors if books are the mirrors of the soul than this motion picture is a looking glass overflowing in unvarnished reason and romantically comprehensive understanding everyone needs to see.
Film Rating: 3 (out of 4)