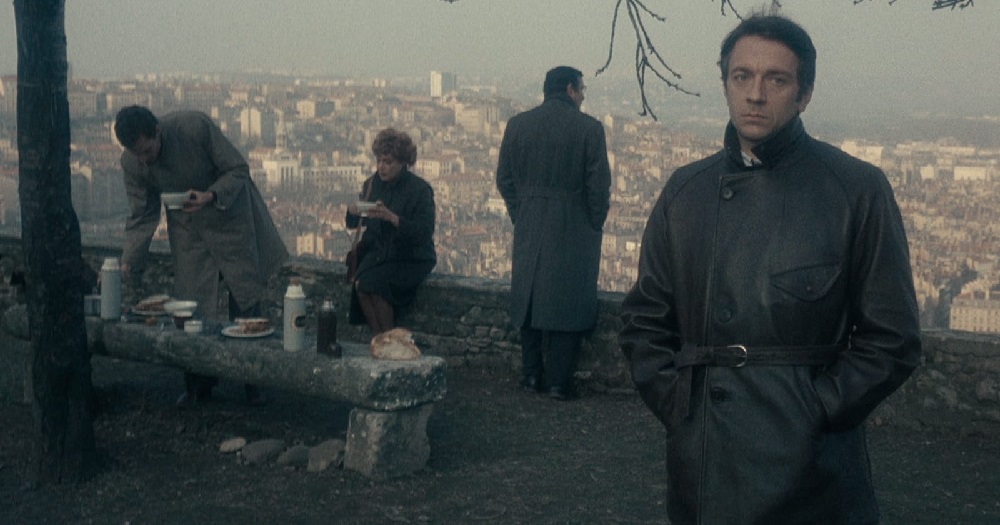 How does the Blu-ray/DVD Disc stack up? (all ratings out of 10.)
Movie
Video
Audio
Extras
Overall
SYNOPSIS
France. 1942. The French Resistance goes up against the German occupation, taking causalities and testing loyalties as they fight to the bitter end.
CRITIQUE
Unreleased in the United States until 2006, Jean-Pierre Melville's Army of Shadows is an awesome, jaw-dropping achievement that breathlessly captivated me all the way up until its tragic, yet still heroic, conclusion. It is the only time I can ever recall where the postscript codas letting the viewer know what happened to the characters they grew over 145 minutes to care so deeply about brought me to tears, these final sentences just as powerful as all of the events skillfully depicted up to that point.
Based on the novel by Joseph Kessel intermixed with memories of his time serving in the French Resistance himself, Melville has constructed an intimately claustrophobic exercise in emotionally-driven suspense. This is a film where silence and what goes unsaid is as important as the orders given from a commander to his foot soldiers. It is a story where failure is par for the course, murder is a requirement for membership and the ability to keep a secret, even from yourself, is paramount.
The basic setup revolves around a cell led by Philippe Gerbier (Lino Ventura). Early on he's captured and interned at a concentration camp, but on his transfer to a facility run by the Germans in Paris he boldly escapes. He reunites with his men, Felix (Paul Crauchet), Le Bison (Christian Barbier) and Le Masque (Claude Mann), and together they deal with the traitor who fed the Germans the information which led to his initial capture.
From there things move in varying directions. A new man, former pilot and French soldier Jean François Jardie (Jean-Pierre Cassel), joins the team, while the quiet, intense and intelligent Mathilde (Simone Signoret) soon becomes essential to their operation, organizing almost all of the cell's activities. People get captured, plans are hatched to retrieve them and death warrants are handed out. Danger is around every corner, while the enigmatic man in charge of it all (a superb Paul Meurisse) attempts to stay in the background until circumstance and honor require him to emerge from the shadows.
Melville is renowned for his gangster classics Bob le Flambeur, Le Deuxieme Souffle, Le Samourai and Le Cercle Rouge. Army of Shadows fits right into this collection in most respects. In other ways, it most definitely does not. While all his pictures tend to revolve around quiet men driven to follow their own personal code of honor, this WWII marvel takes those ideas and places them into a completely different context. These resistance fighters are cut off from everyone around them, forced to live in darkness, fighting for freedoms they're not entirely sure are even achievable.
Beautifully photographed by the great Pierre Lhomme (Cyrano de Bergerac, Camille Claudel), exquisitely scored by Eric De Marsan (Le Cercle Rouge) and fantastically edited by Oscar-winner Françoise Bonnot (Z, Missing), Melville has constructed a spellbinding procedural that knocked me senseless. The film is an emotional maelstrom of tragedy and triumph where victory doesn't come so much from success as it does in the continuing persistence of those who know their own death is the likeliest outcome.
Army of Shadows is a masterpiece.
THE VIDEO
Army of Shadows is presented on a dual-layer 50GB Blu-ray MPEG-4 AVC video with a 1.85:1/1080p widescreen transfer. As stated in the included booklet: "Supervised by director of photography Pierre Lhomme, this high-definition digital transfer was created on a Spirit Datacine from the original 35mm camera negative, restored by Studio Canal. Thousands of instances of dirt, debris, scratches, splices, warps, jitter, and flicker were manually removed using MTI's DRS system and Pixel Farm's PFClean system, while Digital Vision's DVNR system was used for small dirt, grain, and noise reduction."
THE AUDIO
The film is presented in French DTS-HD Master Audio 2.0 (with potions of German and English) and French LPCM 1.0 with optional English SDH subtitles. Again, from the included booklet: "The monaural soundtrack was remastered at 24-bit from the 35mm magnetic tracks. The stereo track was created by Studio Canal from the original stems. Clicks, thumps, hiss, and hum were manually removed using Pro Tools HD. Crackle was attenuated using AudioCube's integrated audio workstation."
THE EXTRAS
All extras are carried over from the previously released 2007 Criterion DVD edition. That does not make any of them less extraordinary. These extras include:
Audio Commentary recorded for the British Film Institute in 2006 by film historian Ginette Vincendeau: A great listen. Vincendeau dives into every aspect of the film talking about the historical significance of what is going on, the French Resistance, Melville's war record, Joseph Kessel's novel and why the reaction to the picture in 1969 was initially so very harsh.  
Jean-Pierre Melville, Filmmaker (5:00): An excerpt from the program "Chroniques de France" directed by Jacques Dupont and featuring Melville discussing why he wanted to make Army of Shadows and the reasons the project had such an extremely long gestation period before going in front of the cameras.
Pierre Lhomme(21:00): Five-part interview with cinematographer Pierre Lhomme, the man responsible for supervising the restoration of the film for its 2006 release in the United States.
Francoise Bonnot(11:00): Interview with Oscar-winning editor Francoise Bonnot recorded in 2006 exclusively for the Criterion Collection.
"L'invite du dimanche"(31:00): Five excerpts from the French program "L'invite du dimanche" aired in 1969. Interview subjects include Jean-Pierre Melville, actors Paul Crauchet, Jean-Pierre Cassel, and Simone Signoret, writer Joseph Kessel and Andre Dewavrin (Colonel Passy).
Melville et "L'armee des ombres (27:00): Six-part documentary featurette produced by Philippe Quinconneau for Studio Canal and featuring interviews with Jean-Pierre Cassel, Francoise Bonnot, Eric Demarsan, Pierre Lhomme, writer and filmmaker Philippe Labro, and acclaimed director Bertrand Tavernier discussing Melville's career and his long-lasting impact on the world of cinema.
The Resistance:
Le journal de la Resistance (35:00): Shot by twelve cameramen in 1944 chronicling the French insurrection in Paris up to and including the German surrender and the subsequent mass celebration.
Simone Signoret and Lucie Aubrac (6:00): Interview excerpts from "Liberation, liberation: Le cinema de l'ombre" featuring Army of Shadows star Simone Signoret and the real French Resistance heroine, Lucie Aubrac, who inspired her character.
"Ouvrez les guillemets" (24:00): Excerpts from the 1973 airing of the popular French television series featuring interviews with former members of the French Resistance.
Theatrical Trailers: Both the original French and the American re-release trailers are presented in high-definition.
Also included is a 44-page Booklet containing Amy Taubin's essay Out of the Shadows, professor Roberto O. Paxton's essay Melville's French Resistance and an interview with Jean-Pierre Melville excerpted from Rui Nogueira's Melville on Melville.
FINAL THOUGHTS
Army of Shadows is a masterpiece. Jean-Pierre Melville's engrossing WWII tale of espionage held me spellbound, events building to an astonishing conclusion that brought tears to my eyes. Criterion's superb Blu-ray is a revelation. Buy it right away.