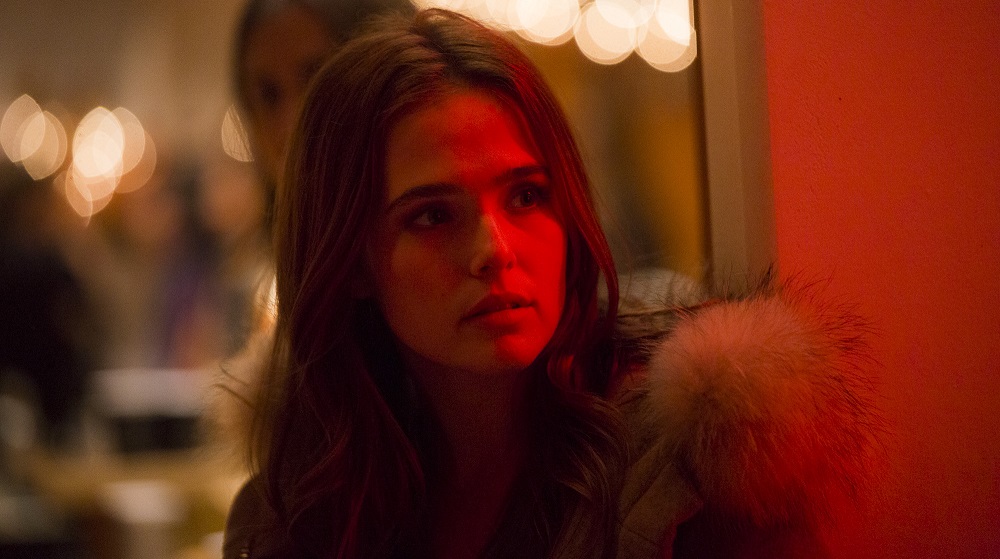 Charming Before I Fall a Teen Groundhog Day
For Pacific Northwest teenager Samantha Kingston (Zoey Deutch), February 12 started as any other regular day. She banters with her mother (Jennifer Beals), is oblivious to her little sister Izzy's (Erica Tremblay) cheerful pleas to be noticed and heads off to school sitting next to best girlfriend Lindsay (Halston Sage). She collects roses from admirers throughout a pre-Valentine's Day school celebration, enjoys lunch surrounded by her friends and heads out that evening to a party being hosted by Kent (Logan Miller), a longtime acquaintance who has a major crush on her.
All is going fine until outcast Juliet (Elena Kampouris) shows up at the party. Not only is she in some sort of angry funk, she's also chosen that moment to tell Samantha, Lindsay and their fellow besties Elody (Medalion Rahimi) and Ally (Cynthy Wu) exactly what she thinks of all four of them. Leaving in an angry huff, the foursome take off into the night. But just as they're all calming down, Lindsay's car is involved in a horrible accident, Samantha sent spiraling into an unconsciousness wondering if she or her friends are going to survive, only to awake in the morning to discover it is once again February 12, and she must start the entire day over from the very beginning.
Based on the best-selling novel by Lauren Oliver, calling Before I Fall a teen-friendly melding of Mean Girls and Groundhog Day is a fairly obvious and unsurprising thing to do. It would also be accurate. The story of a youngster forced to live the same day over and over and over again until she passes some mysterious test, rights an unknown wrong or just learns to be a better person, there's not much going on here that could be construed as unexpected. This is a fairly rudimentary scenario, screenwriter Maria Maggenti (Monte Carlo) keeping things simple and straightforward, while director Ry Russo-Young (Nobody Walks) doesn't add any additional embellishments on her part. No, this is a plain, focused and decidedly unfussy adaptation, and as such is over and done with so quickly the conscientious brevity of it all is a wee bit unsettling.
Yet, as familiar and relatively nondescript as all of this might be, Russo-Young and Maggenti still manage to do just enough with it all to keep things interesting. There is a youthful energy to the proceedings that's invigorating, a dynamic charm that makes all the tedious, overly melodramatic bits sing with melodious enthusiasm that by all accounts shouldn't exist. More, it does a fairly terrific job examining teenage friendship amongst young women in a way few stories take the time to do, and while the truths it reveals are hardly innovative, the fact the filmmakers are attacking them at all with such honest candor is refreshing in and of itself.
But the real reason the movie ends up being as enjoyable as it is has more to do with Deutch's infectious star-turn more than it does anything else. After stealing hearts and opening eyes as pretty much the lone female presence in Richard Linklater's Everybody Wants Some!! (and after being labeled an Ellen Page clone for her performance in Vampire Academy and being wasted entirely in the James Franco / Bryan Cranston gross-out comedy Why Him?), the young actress delivers a statement performance signifying she's a major talent worthy of keeping an eye on. The emotional complexity of her work is stellar, and the way she travels through so many varying dramatic layers as she traverses through the narrative is even more so. Deutch is incredible, and even when the movie comes perilously close to flying off the rails she continually keeps things watchable practically all by herself.
Good thing, too, because there are a number of points here where, were she not so talented, were the actress' performance not so superlative, I might have given up on the film and let my mind wander someplace else. There is a layer of superficiality to some of the sequences that is fairly annoying, while some of the montages depicting Samantha's daily travails aren't near as inspired or as interesting as I felt they needed to be. There is a subplot involving what appears to be the high school's lone lesbian student that barely registers as anything more than sophomoric pandering, while some revelations involving Lindsay and Juliet as children aren't near as edifying or resonate as the filmmakers clearly want them to be. There's also some mixed messaging involved as to what the point of all this magical realism is supposed to be, and I wasn't entirely certain what it was I was supposed to be feeling as I left the theatre and pondered where Samantha's story ended up at.
Even so, Deutch is a revelation, and there were more than enough strong, emotionally authentic moments to dilute the misery caused by some of the film's more egregious missteps. Before I Fall doesn't always rise to the occasion. When it does, though, the end result is something wonderful, and I enjoyed far more of this day-in-the-life stuck on repeat than I imagined I was going to before I was tasked with watching it. I liked this movie, enough so I'd watch it again willingly, and considering I'm no longer the target audience that's probably the highest bit of praise I can throw in its direction.
Film Rating: 3 (out of 4)