a SIFF 2012 review
Brooklyn Brothers a Band on the Run
Brooklyn Brothers Beat the Best is not a movie I initially liked all that much. The opening 10 minutes are strangely off-putting, the introduction of main character Alex (Ryan O'Nan) uncomfortably unrefined. He's isn't a likable guy, and for a moment I was worried I was in for 97-minutes of indie cinema mumblecore tedium I was going to have a lot of trouble attempting to endure.
A magical thing happens, and almost without my realizing it O'Nan's screenwriting and directorial debut comes to life in ways I never anticipated. It burrowed its way under my skin and captivated my senses, its quirky sensibilities filled with cagey emotional nuances I found beguiling. The movie spoke to me, casting a rhapsodic spell I didn't want to see end, and by the time it was over I felt like I'd discovered the American musical equivalent to the superb Swedish import Sound of Noise.
Alex is a struggling New York musician who has been thrown out of more bands than he can count. After losing his gig singing to handicapped kids in a pink moose outfit for beating up one of his listeners, he starts to think he's chosen the wrong profession. On the verge of losing his apartment and with his girlfriend dumping him, it seems time for Alex to head back home to the family abode and spend time with his older brother Brian (Andrew McCarthy) while reassessing his life choices. He's a failure and he knows it, that moose costume in the closet a constant reminder that keeps staring at him straight in the eye.
A charming stranger named Jim (Michael Weston) will have none of that. A self-proclaimed musical prodigy, he likes Alex's bitter songwriting skills and believes the two of them would make a perfect pair. He's so certain of this he's already planned a tour, scheduling gigs spanning the length of the country before finally culminating in a major battle of the bands competition in Los Angeles not too far in the future.
What follows is a road trip movie unlike few others. It is filled with clever insights, many of which struck me right in the heart, O'Nan fearlessly juxtaposing bitter heartbreak with whimsical euphoria with unforeseen conviction. The way friendships evolve and dreams refuse to die, even when the world conspires to shatter them into tiny little pieces, feels wholly genuine throughout. I was breathlessly fascinated by Alex and Jim's journey, their evolving relationship the heart and soul of this rhapsodically sputtering musical engine.
O'Nan's script shows a ruthless fearlessness that's moderately surprising. Light and dark, sour and sweet, all of this and more mixes together with sprightly percussive eloquence. The opening sequences need to be bleak and are purposefully designed to unsettle the viewer. They do this to set things up for the remainder of the story, and it's doubtful I'd have grown to love these characters and what they were up to if Alex hadn't grated on my nerves something fierce during his introduction. As for the songs, they're terrific, each hitting just the right note as they augment the on-screen action rather marvelously.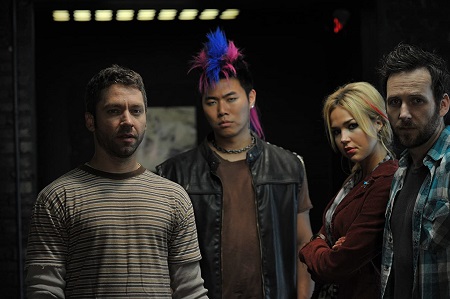 Weston, no stranger to the surreal, steals every scene. His character has a thing for children's musical instruments, and the way he showcases and caresses them is creepily endearing. Yet the pain he manifests as Jim recounts his tale to Alex as they trek across the American backroads hit me in the gut like a sledgehammer. Westin's authenticity is never in question, and while O'Nan is unquestionably this film's star, his co-star is the one I honestly couldn't stop thinking about long after the screen faded to black.
Arielle Kebbel is delightful as the pair's unanticipated third wheel, showcasing the same sort of fire, spunk and tenacity that's made her a fan-favorite in everything from "The Vampire Diaries" to John Tucker Must Die to "Life Unexpected." Even better is former "Brat Pack" member McCarthy, the veteran actor sharing a moment with O'Nan near the end that brought a genuine tear to my eye. Also turning up in key roles are Melissa Leo, Jason Ritter, Wilmer Valderrama and Christopher McDonald, all making a memorable impression even if their collective screen time is brief.
Brooklyn Brothers Beat the Best doesn't travel down the smoothest of roads. It's a bumpy ride, and at times it seemed like O'Nan was doing everything in his power to try and eject me from the car. But the heart of the film, it's soul, all of that is pure, and this allowed me to silently reminisce about my own dreams, both the ones I've sadly let unfulfilled along with a few others I still optimistically hope to someday achieve.
– Review reprinted courtesy of the SGN in Seattle
Film Rating: 3 (out of 4)