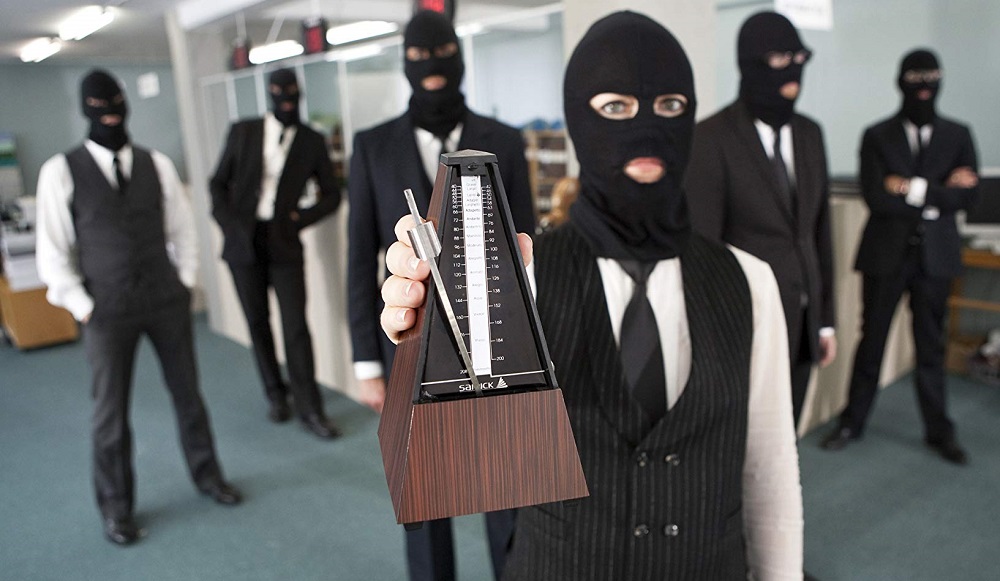 Imaginative Sound of Noise a Melodic Delicacy
For those who say there are no original ideas left in the world (cinematically speaking, of course) I hereby give you directors Ola Simonsson and Johannes Stjärne Nilsson's Sound of Noise. This Swedish import presents itself as a simple little saga of police detective Amadeus Warnebring (Bengt Nilsson) charged with capturing a team of performance artist musical terrorists, but in reality the resulting film is so much more than that. This is nothing short of a cacophony of sound, fury, silence, ingenuity and inspiration, the entire plot revolving around a scenario that's as silly as it is absurd.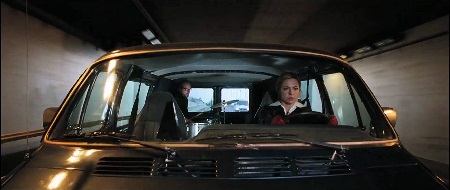 I challenge anyone to take their eyes off of what is happening up on the screen. Amadeus comes from a family of musical impresarios. But he's tone deaf. Because of the pressures put upon him by his parents, as well as the genius exhibited by his younger brother Oscar (Sven Ahlström), he absolutely hates music. All types. All genres. He has no weak space in his heart for anything melodic whatsoever. So when he discovers a ticking metronome masquerading as a bomb sitting in front of an embassy he's positive it is only the beginning, that some sort of musical maelstrom is about to hit and he might be the only one capable of stopping it.
From there, Simonsson and Nilsson let their collective imagination run wild. Led by the fearless Sanna Persson Halapi (essentially playing herself), a team of drummers (Anders Vestergård, Johannes Björk, Fredrik Myhr, Magnus Börjeson and Marcus Haraldson Boij) decide to stage a bit of musical anarchy in four parts, choosing instruments ranging from a television personality's belly, to a bank's money shredder, to an industrial jackhammer, to the city's main electrical grid as their instruments of choice. These moments of symphonic mayhem come out of nowhere, born as if by pure inspiration, all of them having a bewitching property I found impossible to resist.
What makes the movie more than just a bizarre performance art piece is that the filmmakers insist on making Amadeus a complex, three-dimensional character full of his own insecurities and issues who also hides an intense fascination for Sanna, all of which makes him a pitiable figure easy to relate to. The way he goes to a party for his renowned brother with such insecure trepidation, the giddy euphoria he feels when he realizes his own ability to hear music and sounds after each of the group's attacks, all of it, no matter how weird it gets, feels abnormally real.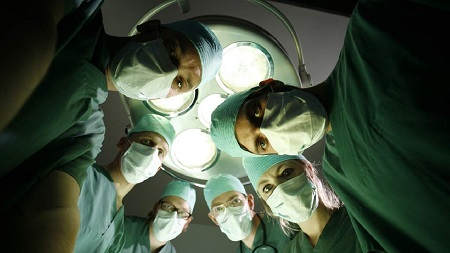 This is a movie about sound, about music, about the joy of creating differing tones on abstract objects that just happens to be equally obsessed with silence. There are sequences of incredible ingenuity, many of them I never would have seen coming even if a picture documenting all of their ins and outs was placed right in front of my face the second before they were going to happen. The directors kept me on my toes and my ears perking, and the first time Amadeus discovered how the aftermath of each attack sparked something melodiously out of this world inside him personally was a sublime treat I wanted to experience more of.
I've never seen Music for One Apartment and Six Drummers, a 2001 short that put this group of musicians and the two directors on the map. After watching Sound of Noise I can't wait to join the millions of others who have viewed it on YouTube. This revelatory import is a shimmering and eloquent symphony of ideas and concepts that I continued to mull over long after it had come to its end, this movie a melodic delicacy I'm positive I'll be humming along happily to the memory of for the remainder of 2012.
Film Rating: 3½ (out of 4)