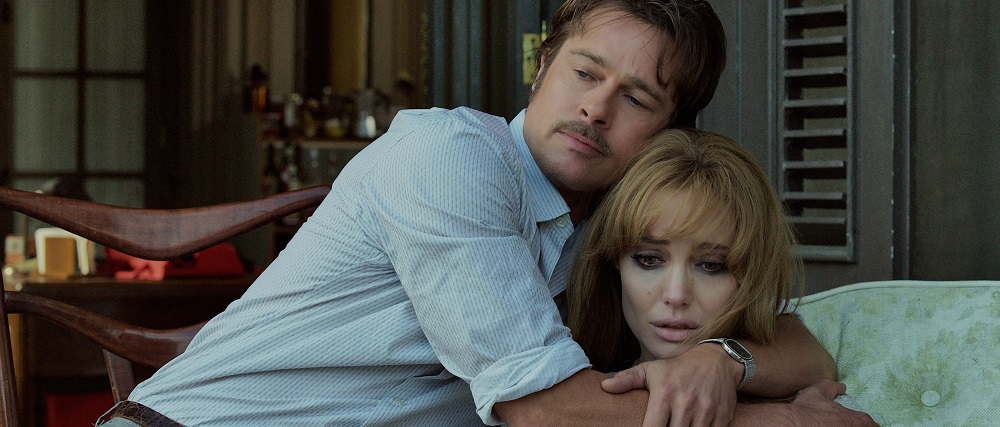 Jolie Pitt's By the Sea a Picturesque Enigma
Into an unnamed picturesque French seaside resort drives writer Roland (Brad Pitt) and his wife of 13 years, ex-dancer Vanessa (Angelina Jolie Pitt). They walk into the local hotel, taking the premier suite with a large terrace overlooking the rocky inlet that leads out into the ocean. Once inside, as if they've done it a million times, they reorganize the living room, moving everything around to maximize the chance Roland will be inspired, potentially crafting a new masterpiece during their stay.
But something is amiss. The passions that once connected the two appears to be missing, Vanessa stares off into the distance as if a piece of her soul has been amputated, looks at Roland as if he personally chopped it off. While he retreats into the bottle, liberally poured by the local restaurateur, Michel (Niels Arestrup), his wife stews in the hotel room, drowning in sorrow while sunning herself on the terrace, a glass of wine her only constant companion.
Then a newlywed couple (Mélanie Laurent, Melvil Poupaud) arrives next door, and suddenly By the Sea takes a turn into the emotionally – and manipulatively – bizarre, writer/director Jolie Pitt embracing the esoteric, psychologically bleak stylings of European filmmakers like Michelangelo Antonioni, Bernardo Bertolucci and Alain Resnais. Following up the hollow theatrics of Unbroken, the Hollywood superstar throws herself and real life husband Pitt into a maelstrom of tears, booze, cigarettes, soaring musical cues and scenic visuals, emulating the masters of the genre yet never finding a way to make any of what transpires feel like nothing more than facile imitation.
Or is it? It took time for Last Year at Marienbad to be considered a masterpiece, same with films like L'Avventura, A Special Day and Marriage Italian Style. Even Last Tango in Paris ruffled more than a few feathers when it made its debut, some looking at Bertolucci's sexual imbroglio as too perverse, too uncomforting to be an instant classic. Granted, it didn't take a lot of time, and those movies weren't exactly dismissed out-of-hand, almost all earning an Academy Award nomination or two while also appearing on quite a few major critics' "Best of Year" lists.
Jolie Pitt's movie is too imperfect, too beholden to emulating the 1960s and '70s motion pictures it is indebted to for that to be the case. It takes too much time and effort for the reasons fueling Roland and Vanessa's malaise to show their ugly, hurtfully visage. The discussions they do have, at least early on, reek of artifice, and as such becoming involved in what is going on between the pair is tough to do. The movie can feel like nothing more than a picturesque enigma, a perplexing hodgepodge of themes and ideas that can frustrate just as often as they enthrall.
Same time, the introduction of Laurent and Poupaud's newlyweds, while metaphorically obvious, works exceedingly well, especially considering the way Roland and Vanessa clandestinely keep them under surveillance. There is something fascinating about these sequences, about how the longtime marrieds communicate without words by sitting on the floor, sharing a bottle of wine and peering at what potentially could be mirror images of their former selves a decade past through a peephole suspiciously drilled into the wall separating their rooms. It gives the movie energy, ungainly and uncomfortable, but energy all the same, adding purpose and meaning to Roland and Vanessa's travails that was not there beforehand.
Then there are the author's conversations with the widower Michel. Pitt and Arestrup have superlative chemistry, the way they build their friendship filled with rhythms easy to slip into and luxuriate within. Same goes with Christian Berger's (The White Ribbon) intoxicating camerawork, Ellen Mirojnick's (Need for Speed) gorgeous costumes and especially Jon Hutman's (Rock of Ages) marvelous production design. I was also equally floored by composer Gabriel Yared's (The English Patient) score, his themes echoing throughout with poignant intimacy.
Pitt is in fine form, adding layers to Roland that ebb and flow like the coming of the tide. His enchanting charm after he discovers the peephole and ascertains the value it has for Vanessa is just plain wonderful, while a drunken row with a calm, understanding Arestrup is startling in its primitive intensity. The actor refuses to phone any part of his performance in, losing himself inside the wounded writer with irresistible skill.
The same cannot be said in regards to his Oscar-winning co-star. Once the icy veneer cracks, Jolie Pitt starts to lose her way as Vanessa, relying more upon the false eyelashes, deep black eyeliner and caked-on mascara than on her own emotive talents. While she looks the part, the actress crafting a carnal feminine elegance that recalls the likes of Catherine Deneuve, Sophia Loren and Gina Lollobrigida all rolled into one, her histrionic ticks grow increasingly tiresome, making the climactic revelation not nearly as affecting as it should have been.
Thankfully, Jolie Pitt the director is in much better form; and as ponderous, maybe even pretentious, as some of this might be, there was never a moment where I wanted to look away from the screen. The kinetic cruelty of this matrimonial dysfunction is intriguing, and other than a few oddly placed jump cuts to tragic memories and feelings Vanessa can't allow herself to let go of, as far as the visual journey is concerned there's rarely a misstep to speak of.
Ultimately, only time will reveal how I really feel about By the Sea, whether or not it becomes something meaningful and thought-provoking or if it just remains a facetious facsimile emulating a style of European cinema it reveres yet fails to understand. Either way, I'm tempted to still give Jolie Pitt props, and I have this sneaking suspicion I'll be giving the film a second chance to win me over sooner rather than later.
Film Rating: 2½ (out of 4)