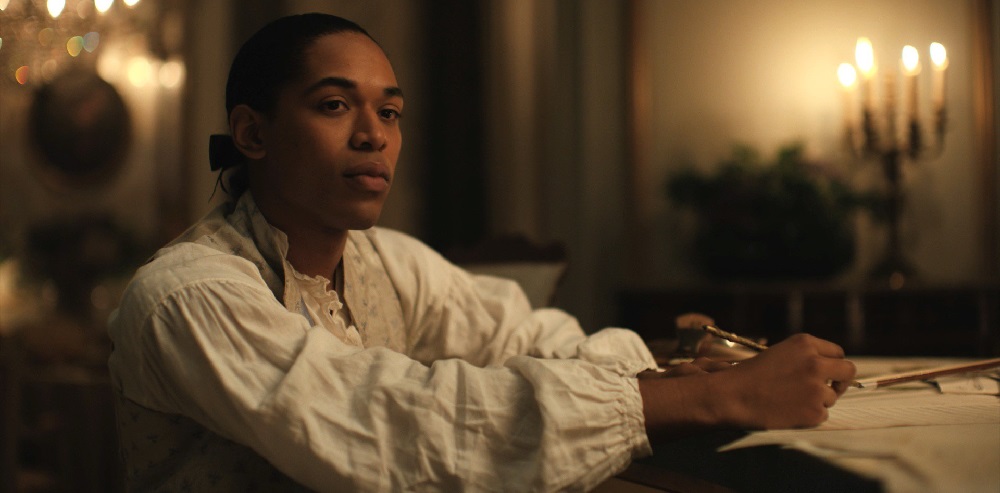 Triumphant Chevalier is an Operatic Historical Resurrection
Joseph Bologne (Kelvin Harrison Jr.) is the son of African slave Nanon (Ronke Adekoluejo) and wealthy Frenchman George Bologne (Jim High), owner of a massive plantation in the Caribbean. Sent away to attend school in France, Joseph is on his own in a racist and classist society determined to see him fail. But he does not allow this to happen.
Joseph quickly makes a name for himself in French society as a virtuoso violinist, accomplished fencer, and master composer. His prowess both as an artist and as a swordsman catches the affectionate eye of none other than the Queen of France, Marie Antoinette (Lucy Boynton). She is so impressed with his accomplishments that she bestows upon Joseph the prestigious title of Chevalier de Saint-Georges. More importantly, she offers him a fighting chance to become the head of the Paris Opera.
I had never heard of the real-life Joseph Bologne, Chevalier de Saint-Georges, before stepping into the theater to watch director Stephen Williams' superbly entertaining drama, Chevalier. And that's a travesty, because Joseph was a man far ahead of his time. His surviving works are extraordinary. His accomplishments before, during, and after the French Revolution were nothing short of flabbergasting. His story should be more widely documented than it is. Here's hoping that after the release of this film, this will be the case.
Historical aspects aside, Williams and screenwriter Stefani Robinson — both making the leap from television, the former best known for directing Watchmen and the latter an Emmy nominee for Atlanta and What We Do in the Shadows — have outdone themselves with this motion picture. While not exactly rewriting the biopic rule book, the pair manage to craft a masterfully entertaining film that moves like lightning and is a sumptuous feast for the senses. This is an emotional, music-filled 18th-century roller-coaster ride, and while watching it, my heart overflowed with pleasure from first frame to last.
The majority of the film revolves around Bologne's pursuit to be the head of the Paris Opera. To do this, the queen commands him and his competitor to write operas, both of which will be judged; the winner will earn the prestigious position each is longing for. Bologne's work leads him to pursue author Madame de Genlis (Sian Clifford) as a benefactor and cast talented unknown Marie-Josephine de Comarieu (Samara Weaving) in the lead role.
Numerous complications arise, not the least of which is the composer's affair with Marie-Josephine. She is the wife of the powerful Marquise de Montalembert (Marton Csokas), whose racist and patriarchal beliefs are hardly a secret. Also muddying the water is the arrival of Bologne's mother Nanon, recently freed from bondage upon the untimely death of his father. Then there is the slight matter of the growing social unrest that will eventually lead to the French Revolution, a slowly rising wave that will build into a full-blown tsunami.
Robinson's playfully lithe screenplay is unsurprisingly well researched. But rarely does any facet come across as professorial or overly journalistic. Robinson has written these characters as if she has known them all her life. It's almost autobiographical, with Bologne standing center stage, directing the various encounters he has as if he were conducting his orchestra.
This gives the proceedings an electrifying vitality that's wonderful. I felt immediately connected to Bologne, Marie-Josephine, Nanon, and even Marie Antoinette and the despicable Marquise de Montalembert. These relationships leap off the screen. I could almost feel each character sitting next to me as events progressed. Robinson presents every moment of this section of Bologne's life as a personal conversation and not some sort of dry, sumptuously mounted costume-drama sermon delivered by a somber, dispassionate lecturer.
Harrison is magnificent. This is a thrilling performance, with the actor showcasing a limber physicality that perfectly suits the character. But there is also an interior component that's even more impressive. The complexity of Harrison's portrait is mesmerizing, and whether it is Joseph's verbal jousts with Marie Antoinette, his heartfelt passions for Marie-Josephine, or his unexpected familial tenderness with Nanon, every note rings true.
But while Bologne is understandably the central figure, Robinson and Williams do not forget about the women. Even though there have been numerous cinematic portraits of Marie Antoinette, Boynton still does a fine job of making the queen come alive in a variety of memorably novel ways. Adekoluejo and Clifford are equally outstanding, both making the most of every moment they appear on the screen. Also standing out is Minnie Driver as the grande dame of the Paris Opera, La Guimard, and while her part is relatively small, the effect her character has on the proceedings is titanic.
Best of all is Weaving. She's delivered a bevy of strong performances in films as diverse as Ready or Not, Mayhem, the Picnic at Hanging Rock limited series, and even Bill & Ted Face the Music, but I think her work here as Marie-Josephine tops everything she's done up to now. The emotional ride her character goes on is something special, pleasure and pain intermixing with euphoria and tragedy with an almost casual grace that's stunning. Weaving's latter scenes with Harrison are shatteringly poignant, the pair achieving a level of charismatic intimacy that held me spellbound even as it broke my heart.
Chevalier doesn't entirely escape biopic conventions, but when things are handled this spectacularly, that's hardly an issue. Joseph Bologne's story is inherently fascinating, and Williams and Robinson tell it with imaginative vitality. Though apparently lost to history, this man's exploits have been triumphantly resurrected, and Bologne's operatic majesty leaves a lasting impression that should never be forgotten.
– Review reprinted courtesy of the SGN in Seattle
Film Rating: 3½ (out of 4)