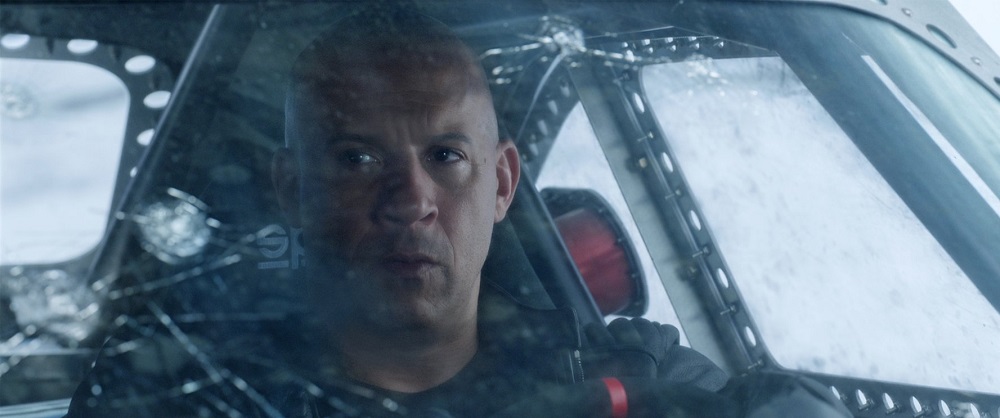 Action-Heavy Fate Furiously Silly
It's hard to know where to start when it comes to talking about a new entry in the Fast and the Furious franchise. Now on their eighth episode, The Fate of the Furious once again builds on the changes the series introduced in 2009's Fast & Furious, audaciously expanded upon in 2011's Fast Five, perfected in 2013's Fast & Furious 6 and sent into animated cartoonish whirlybird enjoyably ludicrous crazy land with the release of 2015's Furious 7. It shows how the minds behind this rebirth, namely screenwriter Chris Morgan (who's been around since 2006's The Fast and Furious: Tokyo Drift and written every sequel since) and producer/star Vin Diesel, have struck upon a template that has brought them monstrous international box office success and moderately surprising critical acclaim. In short, this eighth adventure fits squarely in the if it ain't broke don't fix it model of Hollywood filmmaking, and I have trouble believing everyone involved won't be pleased by the overall reaction coming from those who purchase a ticket.
That does not mean that things aren't starting to grow a little stale. The twists aren't as surprising as they once were, while the constant speechifying as it pertains to "family" and "teamwork" is becoming its own running gag suitable for a sorority house drinking game. The unabashed, over-exuberant machismo is getting stale, and even though all the primary women in this franchise continue to be able to hold their own against all adversaries, no one will ever confuse this series with pictures like Mad Max: Fury Road, Haywire or even an old school chestnut like The Long Kiss Goodnight anytime soon. One wonders if they aren't even trying to make a cohesive movie at this point, just a lot of extended bits with characters jubilantly yapping at one another, everything revolving around an escalating series of car-related action set pieces that get wilder, longer and more ambitious seemingly with every sequel.
This time, former bad boy and vehicular road warrior turned Robin Hood do-gooder, international terrorist hunter and clandestine American hero Dominic Torreto (Diesel), while vacationing with his new wife Letty (Michelle Rodriguez) in Cuba, is contacted by a cold-blooded cyber criminal known only as Cipher (Charlize Theron). For reasons too personal and secretive to share with anyone, she forces him to go back to his criminal roots and betray his close-knit crew, all of whom he considers family. Not only does this mean Dom is turning his back on Letty, he's also once again made an enemy out of DSS Agent Hobbs (Dwayne Johnson), a fact made even worse because this clandestine double-cross happened on foreign soil, thus meaning the U.S. Government had to disavow their ace operative in order to maintain diplomatic relations with Germany.
Aided by the still secretive Mr. Nobody (Kurt Russell), Hobbs makes it a priority to get back his good name by nailing his former friend for the crime. To do it, not only must he utilize the core members of Dom's team, namely Letty, Tej (Chris 'Ludacris' Bridges), Roman (Tyrese Gibson) and Ramsey (Nathalie Emmanuel), but he'll also be forced to enlist the services of former British S.A.S. operative turned bad guy Deckard (Jason Statham), the crack killer willing to put his anger towards the group on hold if it means he's going to get a shot at Cipher. She was responsible for transforming his younger brother Owen (Luke Evans) into a crook, so for him going after her is decidedly personal. As for Dom, he's got a few cards of his own still to play, and by the time he lays down his hand he can only hope everyone will understand his reasons for going rogue and making enemies of those he loves.
For a film as elaborate as this one, there are virtually no surprises, and even when Helen Mirren pops up in a key supporting role it takes about half-a-second for the audience to figure out who she is as well as her connection to the larger story. Morgan's script is flimsy, the device utilized to bring Dom's dark side to the forefront as melodramatically silly as anything this series has ever offered up for evaluation, and that includes Letty's resurrection and bout with amnesia just two films back. It's another opportunity for a departed character to be suddenly resurrected if only to be later discarded in brutal fashion, erasing a still existing love triangle in way that both solves a narrative problem created by the earlier sequels yet also feels needlessly heartless at the same time.
Even so, these characters remain a ton of fun to see in action, especially Hobbs and Deckard, the movie worth the price of a matinee ticket just to watch Johnson and Statham play whimsically belligerent verbal whack-a-mole with one another as they lob insults back and forth with virtuoso impropriety. As for Theron, she manically gobbles up the screen, gleefully gorging on Morgan's insanely dippy dialogue as if it were a gourmet meal served up to her by a Michelin Star chef. While I might personally prefer her wicked turns as the Evil Queen in Snow White and the Huntsman and The Huntsman: Winter's War, the Oscar-winning actress still revels in Cipher's madness, the sheer joy she finds in portraying these types of villains proving to be nothing short of glorious.
Director F. Gary Gray, fresh off his success handling the N.W.A. biopic Straight Outta Compton, returns to his action roots, and there are moments where it feels like the filmmaker is having a heck of a time delivering a handful of inspired set pieces. Primarily two of them, one involving Hobbs and Deckard escaping from a maximum security prison during a riot, the other on the streets of New York where every vehicle fit with modern self-drive technology becomes a battering ram utilized to move a mark into a position where Dom can steal a suitcase filled with Russian military secrets. Both are extraordinary, eye-popping in their attention to detail and overflowing in bracing, freewheeling excitement. Gray orchestrates the action with a maestro's touch, each of these sequences so terrific I almost forgot just how dumb and comically overblown all of this brazenly is.
It all runs out of steam. The actual climax, a superb fight sequence aboard a plane involving a baby reminiscent of John Woo's Hard-Boiled notwithstanding, isn't nearly as awesome. Truth comes into the light. Dom makes his move. An assault on a rundown Russian military base in the frozen tundra of Siberia overrun by terrorists is put into action. A nuclear submarine is stolen. As impressive as all of that sounds, it's hard not to feel like we've seen it all before. A few nicely staged explosions aside, there's just no tension here, while the blatant loose end left at the finale that sets up the reported next two sequels is close to being downright laughable.
Not that anyone will care. The Fate of the Furious will appease longtime fans of the series, the sequel just well made enough that the fact this franchise's tank is starting to get perilously close to empty doesn't feel as big a problem as it honestly should. Personally, I am getting a little tired of it all, and while I appreciated and thrilled to a number of moments, and while I'd honestly love to see a spin-off adventure featuring Johnson and Statham and no one else, I just as genuinely am not so certain I'm up for two more of these films. But they're coming, make no mistake, and I can already hear the engine revving as Diesel and company gear up for the next installment right this very second.
– Review reprinted courtesy of the SGN in Seattle
Film Rating: 2½ (out of 4)