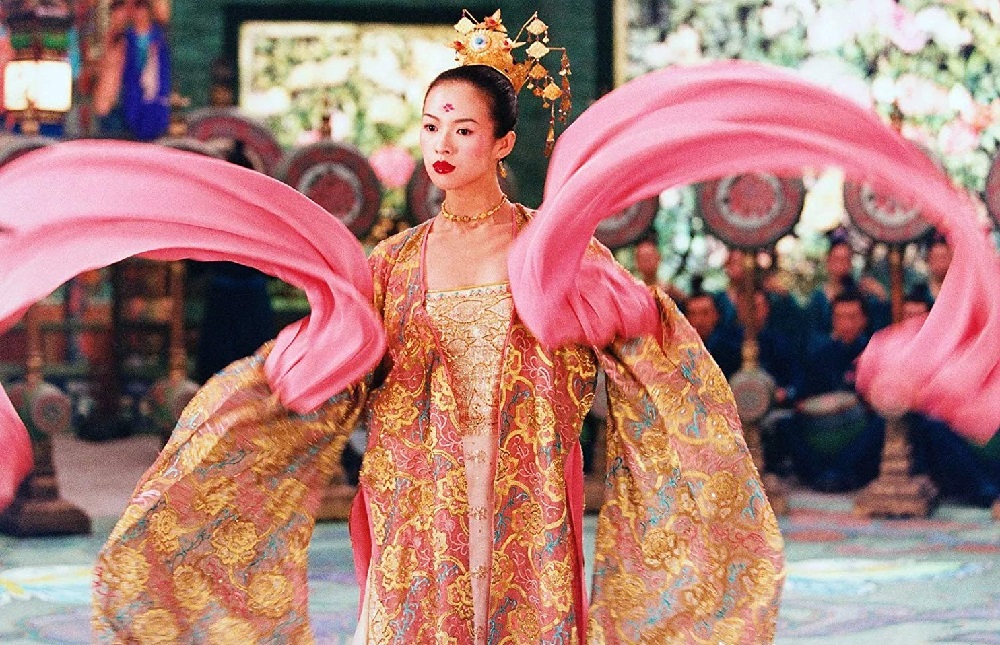 Poetic House a Dagger to the Heart
It is clear Chinese director Zhang Yimou is a living master. Like Hitchcock, Wilder, Hawks, Kurosawa, et al, he has an innate ability to make whatever genre he's working in distinctly his own. Comedy, drama, historical epic, tragic romance; they can all be found on Yimou's extensive and essential cinematic resume.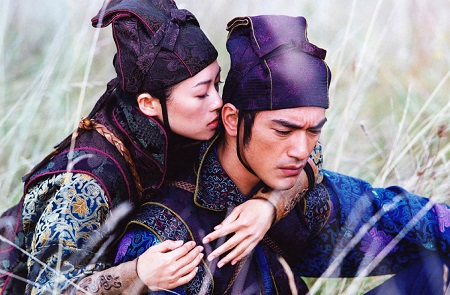 Action was added to that list with the domestic release of Hero earlier this year, a pageantry of sight, color and sound that instantly became one of my personal favorites. Now, Yimou follows that triumph up with an even more ambitious tale, the martial arts love story House of Flying Daggers and, in my opinion, is nothing less than perfect.
It is 859AD. The Tang Dynasty is in decline. Corruption and incompetence run rampant across the land, rebel armies rising everywhere to try and right the wrongs committed in the government's name. The largest and most feared of these armies is "The House of Flying Daggers," the group's secret base of operations located near the Imperial Capital.
It is the mission of all local deputies to find and kill the House's leadership. Two such captains, Leo (Andy Lau) and Jin (Takeshi Kaneshiro), think they have the perfect plan to bring the Flying Daggers to their knees. They suspect recently arrested showgirl Mei (Zhang Ziyi) is actually the blind daughter of an executed rebel leader come to exact her vengeance. Sending Jin undercover as her savior, the pair hope she will lead them to the House's hidden forest lair, allowing them to kill the new leader and thus bring glory and honor to their names.
Things work just as planned save for one small problem: Jin falls in love with the headstrong girl. Worse, a local general has learned of the pair's plan and has decided to litter the path with soldiers to recapture Mei and force her to take them to the Flying Daggers so they can attack in force. But what no one knows or suspects, not even Jin who believes he has earned her full trust and confidence, is that this beautiful young blind woman is hiding her own secrets, and she'll kill to keep them that way.
In some ways this is an exceedingly traditional Chinese epic. Star-crossed lovers, hidden agendas and identities, warring clans, jilted lovers, stupendous sword fights, blistering martial arts action; it's all here. Yimou shows an innate gift for the genre, mixing bits and pieces of time-honored plot mechanics with his own subtle kinetic twists. The story constructed by the director and fellow writers Wang Bin and Li Feng is even more intricately layered than the one for Hero was, this plot folding back in on itself in intricate circles revealing a majestic puzzle box full of heartache, tragedy and love.
Always an astonishing visual craftsman, House of Flying Daggers is as impressive as anything Yimou's ever done. The shifting colors and landscapes flow in and out of one another like a dreamy netherworld, while the tiniest woodland sounds sparkle and hum with the majesty of a symphonic orchestra. The costumes change with the scenery, each emulating the landscape which helps bring to life all the intense interpersonal anguishes, heartaches and romantic longings that are bubbling just beneath the surface in electrifyingly vibrant detail.
As good as the action is, and it is spectacular, the movie wouldn't be anything without the talented trio at the core. Lau has made a career in Hong Kong playing the jilted and/or conflicted lover, and as potent as ever as Leo. His final moments, shivering in a snowstorm, blood trickling down his cheek, are heartrending, the actor effortlessly selling them to a spellbound audience. Kaneshiro is even better. Not only is he ferociously sexy in his fiery carnal splendor, he also had the tortured charisma of a young Clint Eastwood. Watching Jin slowly, irrevocably fall madly in love with Mei took my breath away, his final embrace of her reducing to me a fit of unrelentingly authentic tears.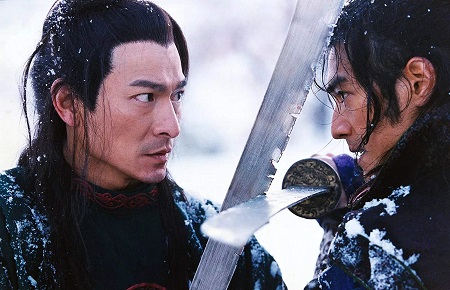 But none of them compare to Ziyi. The star of Crouching Tiger, Hidden Dragon and The Road Home is magnificent. It can be said with certainty that Ziyi is one of the most talented performers of her generation, able to convey a variety of conflicting emotions with the airy batting of an eyelash. She commands this epic adventure, rules it with her iron gaze and wounded heart, the camera reveling in every aspect of her beauteous magnetism. This is a raw, viscerally alive performance and the movie sings because of it, Ziyi's enigmatic allure the picture's single most important element.
House of Flying Daggers is one of the most potently arresting tales of love and woe I've seen in quite some time. Yimou rises to the various challenges the material presents him to overcome, refusing to let any hazards stand in the way of telling a dynamically compelling tale. The director knows what he is doing and it shows, and there was never a moment where I did not believe he was in complete and total control of everything he was choosing to place upon the screen. This is one of the best films of 2004. See it at once.
Film Rating: 4 (out of 4)