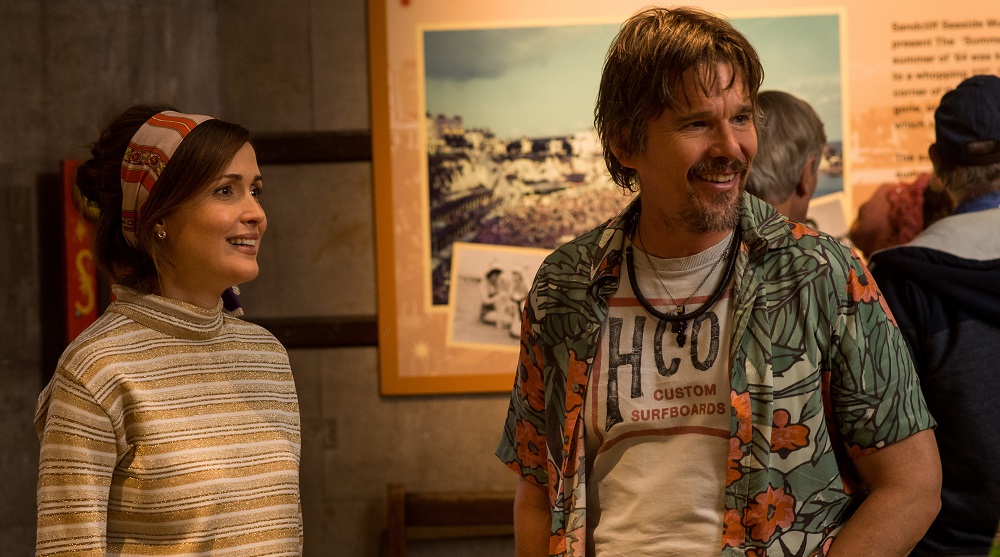 Romantically Infectious Juliet Sings a Charmingly Familiar Tune
Brits Duncan (Chris O'Dowd) and Annie (Rose Byrne) have been together for 15 years. He has slowly become the world's foremost authority on American musician Tucker Crowe (Ethan Hawke), obsessively maintaining a website dedicated to the reclusive rocker. She is the curator of a small seaside museum who puts up with her partner's fixation on the celebrity even though it's becoming increasingly difficult to do so. Nonetheless, they're comfortable with one another, and it's hard to imagine anything, or anyone, that might possibly come between them.
Granted, neither of them ever could have dreamt that the thing that might throw their lives into turmoil would turn out to be Tucker Crowe himself. But that's exactly what happens after Duncan unearths a long-lost demo of the musician's most beloved album, hailing it as a masterpiece on his blog and driving Annie batty as he does so. In a fit of anger, she pens a scathing review that just so happens to catch Tucker's eyes who even more surprisingly agrees with her assessment. One thing leads to another and their secretive online conversations end up leading to an impromptu visit from the American which throws a gigantic crimp into Annie and Duncan's relationship, the resultant triangle its own sort of love song that both embraces and defies sappy clichés with each and every note it plays.
Based on the novel by Nick Hornby, Juliet, Naked is a charming romantic melodrama that's incredibly difficult to resist. Hawke and O'Dowd turn in a pair of funny, emotionally vibrant performances that fit the material nicely. Each actor has an energetic ebullience I connected with, and even if neither is stretching themselves all that much that doesn't make their portrayals of childish masculinity run amok any less lovely.
But this is Byrne's show, and she is the reason I ended up enjoying director Jesse Peretz's (Our Idiot Brother) latest near as much as I did. The veteran actress is wonderful, and much like she's done in films as disparate as Spy, Peter Rabbit, Bridesmaids, Get Him to the Greek and Neighbors she steals scenes left and right from her costars with a comedic grace that's divine. Additionally, Byrne adds a layer of withered humanity that's initially heartbreaking, all of which makes watching Annie reclaim her life an absolute joy as this surreal situation grows more and more bizarre. She has a way of making this story feel naturalistically authentic in manner that caught me by surprise, and I imagine there's no way I'd have enjoyed this movie at all had she not been its star.
As great as all of that may be, I still found Juliet, Naked to be oddly forgettable at times, and as the film came to an end I discovered large swaths of it had vanished from my memory long before the credits had completed their crawl. I'm not sure why it took three screenwriters, Evgenia Peretz (Our Idiot Brother), Jim Taylor (Election, Sideways) and Tamara Jenkins (The Savages), to craft the adaptation as this is one of Hornby's more straightforward narratives. More importantly, it's ruminations on maleness and male-female relationships are hardly revelatory, and unlike High Fidelity, About a Boy or Fever Pitch this tale doesn't dig nearly as deeply into the psyches of its two primary male characters in any way that could ever be construed as being profound.
Still, the movie is nicely shot by Remi Adefarasin (Me Before You), and Peretz does a fine job keeping things moving. Even as familiar as most of this turns out to be there was never an instant I felt like the pace was starting to drag. The last third is especially appealing, the final section bouncing along with a joyful yet empathetic knowingness that grew in depth and in resonance as Annie began to figure out what it was she wanted from the two men vying for her affections. While I can't say Juliet, Naked will be a motion picture I'll be talking about all that vociferously come December, I still enjoyed it a fair amount, and for Byrne's multifaceted effervescence alone I think this musically infectious romantic endeavor is worthy of the purchase of a matinee ticket.
Film Rating: 3 (out of 4)