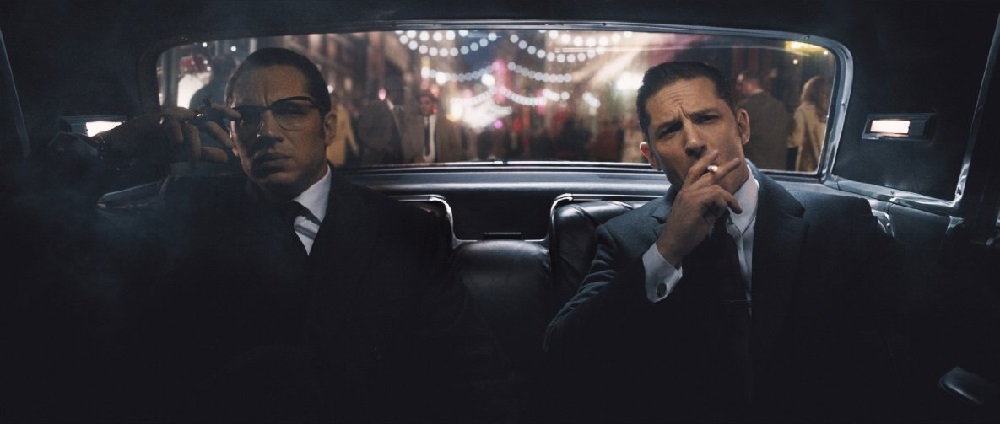 Gangster Melodrama Legend a Forgettable Misfire
Adapted from John Pearson's best-selling The Profession of Violence, writer/director Brian Helgeland's Legend chronicles the rise and fall of notorious London gangsters Ronald and Reggie Kray during the 1960s. The twins are portrayed by Mad Max: Fury Road and Locke star Tom Hardy in a remarkable dual performance, the actor cutting a magnetic swath as he composes two distinct characterizations that are continually easy to tell one from the other. Equally terrific is Emily Browning as Reggie's bride Frances Shea, the beautiful young actress doing a splendid job of holding her own even if the film itself doesn't always know quite what to do with her.
But that is only one of the many problems haunting Helgeland's latest directorial outing, the screenwriter behind masterworks like L.A. Confidential and Mystic River having a terrible time crafting a narrative that's worth maintaining interest in. Far from being an outright disaster like The Order, unlike his last effort, the Jackie Robinson biopic 42, it's hardly noteworthy, either, the movie an oddly routine and rote crime opus that haphazardly follows a standard, Scorsese-esque template without seemingly a desire to do anything innovative with it. The movie is strangely forgettable, and even with someone as talented as Hardy giving all he's got in a dual role there's frustratingly little to get excited about.
The story begins with the even-tempered Reggie manipulating government officials to get his psychologically unbalanced brother Ronald out of a mental institution and then proceeds to follow them as they centralize their growing criminal empire by buying up nightclubs and partnering with the American mafia on casino operations. Through it all they do their best to stay one step ahead of Scotland Yard, most notably obsessed detective Nipper Read (Christopher Eccleston), something that proves increasingly difficult as the years go by.
Intermixed into all of this are a number of subplots, the most important of which is Reggie's courtship of charming East End dynamo Frances. Their relationship is supposed to be the emotional crux around which all else revolves, the beating heart on which the movie generates its energy and momentum from. But, while both Hardy and Browning are good, while they do exhibit a great deal of natural chemistry, the romance itself is tamely monotonous. Even a climactic twist feels forced and false, almost as if it were designed solely to allow the audience to accept Reggie's acts of murderous violence in ways they do not as it pertains to Ronald.
There are some nice moments sprinkled throughout. An uncredited Paul Bettany has a solid cameo as Kray rival Charlie Richardson, a scene where the police pounce upon him while he's watching England in the 1966 World Cup priceless. Even better is the moment when Reggie brings Frances to meet Ronald for the first time, the latter so nonchalant about his homosexuality the whole sequence ends up having a compelling authenticity so much of the rest of the film exasperatingly lacks. The movie is also expertly shot by Dick Pope (Mr. Turner) and magnificently scored by Carter Burwell (Fargo), and from a technical standpoint I can't say Helgeland drops the ball in any noticeable way.
But it doesn't matter. Eccleston is wasted, given so little to do his fixation on the Krays doesn't make any sort of rational sense. David Thewlis, as the brothers' chief financial operator Leslie Payne, is equally underserved by Helgeland's script, and while he's got a couple of nice moments sparing with Hardy (as Ronald) the fact so little is done with him when his character is vitally important to the outcome is maddening to say the least. This is also the second film I've seen in the last week or so that borrows a thematic device from Billy Wilder's Sunset Boulevard only, unlike Joy, fumbles the execution, the reveal not so much a shock as it is just plain stupid. Worse, it devalues Frances, as well as Browning's performance, to nothing short of an afterthought, a thing that would have made me angry had the movie been even slightly more interesting than it actually is.
Hardy deserves better. He's excellent, almost making me want to give the film higher marks based on his efforts alone. But Legend really does waste the majority of its potential, Helgeland never tapping into the story of the Kray brothers in a way that is essential or lasting. The whole thing is more akin to Gangster Melodrama 101 than it is anything else, the upside being it's so unremarkable I'll likely have trouble recollecting in the future just what about it that made me so unhappily disappointed in the first place.
Film Rating: 2 (out of 4)