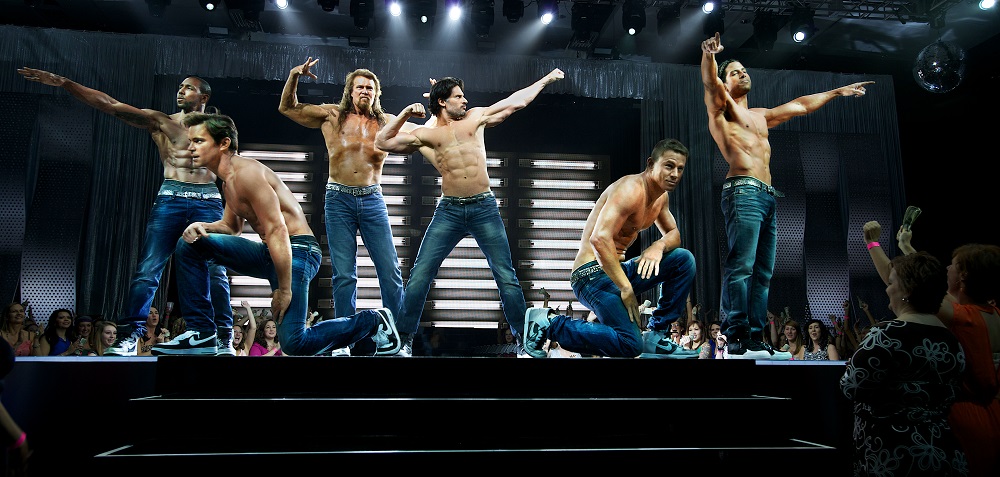 Mike Still Has Plenty of Magic
It's been three years since Mike (Channing Tatum) hung up his thong, left the Kings of Tampa, and gave up life as a well-paid male stripper to go into business for himself as a furniture designer. While the business is doing okay – not thriving, not bringing in big bucks, but well enough he can at least contemplate opening a retail storefront – that doesn't mean he isn't at a crossroads, something notable missing even if he can't pinpoint exactly what that is.
All of which makes it perfect that the remaining Kings of Tampa have dropped into town on their way to the annual male stripper convention in Myrtle Beach, SC. Ken (Matt Bomer), Richie (Joe Manganiello), Tarzan (Kevin Nash), Tito (Adam Rodriguez) and Tobias (Gabriel Iglesias) find themselves cast adrift and on their own, so heading to the convention for one final ride only seems practical. Mike, eager for a few days off, takes their arrival as a sign, making up his mind to hit the road with them in order to re-solidify old friendships while also reigniting the creative spark within that's been absent for longer than he'd care to admit.
There's not a lot of actual plot in Magic Mike XXL, the sequel to 2012's surprise summertime smash Magic Mike. The movie is a random excuse to get the band back together, jettisoning what some (not me) considered the weak links (actors Alex Pettyfer and Cody Horn) instead choosing to focus instead on the bro-centric camaraderie of the returning sextet to the exclusion of almost everything else. Returning screenwriter Reid Carolin and new director Gregory Jacobs (Wind Chill) don't try to go above and beyond, but that doesn't mean they still haven't constructed something interesting, vital and most of all fun. Make no mistake, this is a good movie, and in all the ways that matter an even better sequel.
If anything, and go with me here, the movie is akin to an odd, hedonistic melding of Hal Ashby's 1973 classic The Last Detail and Jack Kerouac's landmark 1957 classic On the Road, a virtually plotless examination of self where the vignettes and what transpires during them is more important than the actual destination itself. There's maybe 20 minutes of plot, and that's stretching things, Carolin and Jacobs more interested in the people Mike and his group encounter on their way to Myrtle Beach than they are with anything analogous to narrative complexity.
And it works. It works because no one, especially Tatum, takes themselves too seriously, no matter how silly or over the top things become. It works, because the homoerotic underpinnings never devolve into camp but are played with lucid, existential authenticity. It works, because the six guys at the center of all of this have magnificent chemistry, each playing off the other as if they've been doing it since they were children cavorting on the playground. It works, because, let's face it, the dance-slash-stripping sequences are extraordinary, bristling with an electricity and an excitement that permeates through every fiber of this film's very being.
But, most of all, and somewhat strangely, it works because of how it treats women. It's kind of odd that, in a film with few primary female characters (there are two notable ones: one that is extraordinary, the other who is sadly anything but), and a film where the screaming throngs who are here by the dozens are stripped to as lewdly and as suggestively as possible, the film would end up making so many proudly feminist statements. The script doesn't so much put women on a pedestal as it treats them as fiery queens worthy of respect, a trait that struck me with surprise. More than that, though, it refuses to belittle them, their stories – both told as well as left to the viewer's imagination to figure out on their own – are almost always poignant, thought-provoking and emotionally complex.
Which leads me to where I was going in regards to the film's best character, which just so happens to be one of its few female ones. An important figure from Mike's past, the fiery, ferociously confident Rome runs a club where fantasy is reality and every woman who enters is treated like royalty. As portrayed by Jada Pinkett Smith, this woman is a rolling thunderbolt of femininity. She has no illusions about what it is she is selling yet at the same time isn't about to apologize for it, doing what she wants to when she wants to, never allowing a man even a passing chance to order her to do otherwise.
Smith steals the show. Her delivery is stupendous, the way she examines and analyzes what's going on mesmerizing. Rome's introductions to both the acts in her club and, later on, to the Kings of Tampa during the convention are hypnotic, the veteran actress slinking through the film with a carnal savagery that's unique. Smith rules every moment, and even when a dancer is bumping and grinding right next to her there's something about the performance that makes her an irresistible force of nature.
It's not all smooth sailing. A subplot involving Amber Heard (made up and dressed to look almost exactly like the departed Horn, which honestly is just plain bizarre) as beautiful loner Zoe goes nowhere. She's mainly around to allow Mike to get over his lost love, mending his broken heart as they meet periodically over the weekend's jaunt to South Carolina. She's the only absolutely useless character in the entire film, and considering how well the remainder of the women in this story are treated that's about as lamentable and frustrating a fact as any.
That the sequel doesn't suffer more due to this misstep is rather incredible. That it manages to soar to heights similar, if not quite equal, to its predecessor even more so. Jacobs, taking over for departed director Steven Soderbergh (whose presence is still nonetheless felt as he remains as executive producer, editor and director of photography), does a fine job maintaining momentum. More, he manages to manufacture a sense of merriment mixed with a sense of purpose that's sensational, building things to their stripper-ific conclusion with vigorous dynamism. He also melds newcomers Donald Glover and Stephen 'tWitch' Boss into the proceedings with ease, the latter joining Tatum in a spectacular dual production number that brings the Myrtle Beach convention to its climax.
For those who were put off by the 1970s character-driven, angst-riddled spirit of the first film, sorry to say you're unlikely going to be pleased by this one, either. Same time, Magic Mike XXL isn't above playing around in the cravenly sexual sensationalism inherent to a story like this, having a jovial spirit that's infectious right from the start. The film is a blast, an animated shot of bare-chested adrenaline that's easy to drink and even more satisfying to savor, the sequel stripping inhibitions to the point they vanish leaving only pleasure behind.
Review reprinted courtesy of the SGN in Seattle
Film Rating: 3 (out of 4)