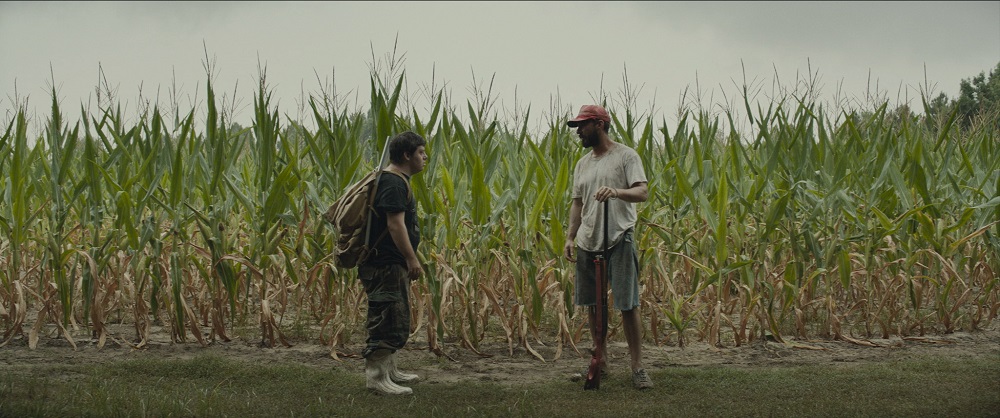 Heartfelt Peanut Butter Falcon a Distinctly American Fable
With dreams of becoming a professional wrestler, with the aid of his roommate Carl (Bruce Dern) baby-faced Zak (Zack Gottsagen) escapes from a senior care facility and hits the open road. The young man has Down syndrome and has been a ward of the facility for a number of years mainly because government officials didn't know what else to do with him after he was orphaned, and even though none of the residence's supervisors believe he belongs there they all agree he's better off with them than entombed and forgotten in some state-run mental institution. At least, that's what those in charge believed before he slipped silently into the night right out from under their nose. Now the powers that be are ready to ship him to an institution once they find out where he's gone, and unless resident aid Eleanor (Dakota Johnson) can find him quickly that's exactly what her bosses are going to do.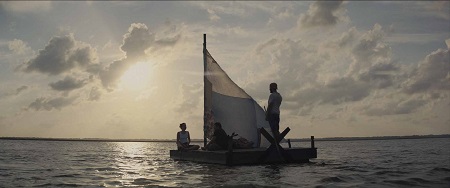 Tyler (Shia LaBeouf) is a North Carolina crab fisherman who has lost his way, spiraling into depression, anger and alcohol abuse after the death of his brother. Now he steals the catches of others to survive, snagging a handful of their traps here and there whenever he can. But after his latest escapades lead to him getting beat up by one of his brother's former workmates, Duncan (John Hawkes), and some of his thugs, in a fit of anger Tyler does something that inadvertently causes $12,000 worth of destruction to a local dock. His boat destroyed, with no one to blame for his misfortunes but himself, he decides to hit the open road and hightail it to Florida before those most aggrieved by his actions catch up to him.
What happens next is an inspiring odd couple road trip (and eventually boat trip) comedy-drama that's so incredibly entertaining I think the smile I had plastered on my face for the duration of The Peanut Butter Falcon stayed there long after the film had come to an end. Tyler and Zak end up making one another's acquaintance, the former agreeing to help the latter get to a wrestling school supposedly run by a man calling himself The Salt Water Redneck (Thomas Haden Church) just as long as the latter doesn't slow him down. One thing leads to another and the pair form a surprisingly multifaceted friendship, Tyler showing Zak his disability does not mean he should give up on any of his dreams. In turn, Zak makes Tyler understand that grief is not an excuse for his recent bouts of awful behavior and that if he wants to make a good life for himself he's going to have to take responsibility for his actions.
I'm not sure what portions of Tyler Nilson and Mike Schwartz's feature-length debut I loved more. The early sections where Zak and Tyler hit the road together and begin to bond are captivatingly priceless. But so are the middle pieces where their friendship takes root and the flowers born from it blossom. As for the latter third, when the pair hit the high seas on a homemade raft straight out of The Adventures of Huckleberry Finn and Eleanor arrives to make their duo a trio? It's nothing less than stupendous, everything culminating in a manner that's as energetically hypnotizing as it is cathartically heartfelt. It all works, every beat and every note, and as contrived and as obvious as emotionally specific as much of this drama might be, it still captivated me body and soul for every second of its melodiously paced 93 minutes.
The find here is young Gottsagen. Nilson and Schwartz wrote the character specifically for him, the resulting movie confirmation of their belief he would be able to carry it without any sort of strain whatsoever. The pair met him at a camp for actors with disabilities and were immediately blown away. After watching what Gottsagen does here it's easy to see how that could have been the case. This is a complex, multifaceted performance overflowing in emotional nuance. The youngster makes Zak leap off the screen, and as debuts are concerned his is unquestionably one of the most distinctive and memorable that I've had the pleasure to see this year.
Not to be outdone, this is the best performance former child actor LaBeouf has ever given. As great as he was on films as Lawless, Fury, American Honey and Borg vs McEnroe, he takes things a whole new level here. Mining a multitude of emotional depths that run the gamut from anger to joy to sorrow to fear to contentment to all places in-between, LaBeouf never retreats as Tyler, never does anything doesn't feel authentic. In a movie that so easily could have descended into saccharin pabulum if the actors would have allowed themselves to wallow in the more melodramatic recesses of Nilson and Schwart's script, instead the former Transformers star refuses to let that happen. He brings a knowing melancholic depth to his portrayal of a man in grief-stricken crisis that allows his eventual redemption mean something honest and pure, LaBeouf and Gottsagen sharing effortless chemistry that leaps right off the screen.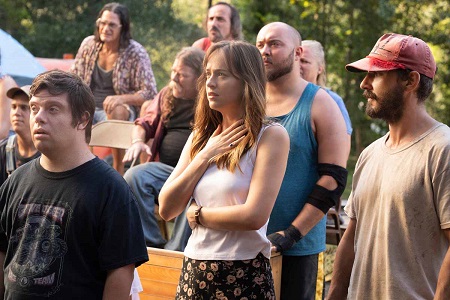 The rest of the cast is equally outstanding, especially Johnson, who after appearing in (and making boatloads of money from) those odious Fifty Shades of Grey motion pictures now seems set to appear in a variety of eccentric, daringly filmmaker-centric productions like this, Luca Guadagnino's Suspiria remake, Drew Goddard's Bad Times at the El Royale or Gabriela Cowperthwaite's upcoming The Friend than she is another big budget Hollywood studio production. As great as they all are, however, I do wish some of them (most notably a somewhat underutilized Hawkes) could have been allowed to play a bit more against type, and as such many of them don't disappear as completely inside this film's intoxicating milieu to quite the same extent the core trio of Gottsagen, LaBeouf and Johnson do.
Not that this matters all that much. There is a literary purity to what Nilson and Schwart have come up with that's difficult to resist. They care about Zak. They treat him with respect. They do not belittle him or utilize his disability to generate a few cheap laughs or a handful of sloppily counterfeit tears. His and Tyler's friendship becomes a brotherly bond that's undeniably genuine, their mutual belief in one another a transcendent lesson in understanding and faith that allows the impossible to feel possible and the miraculous to seem like it should be the status quo. The Peanut Butter Falcon is a distinctly American fable of resilience and perseverance that's nothing less than wonderful, this marvelous riverboat journey one I am not soon to forget.
Film Rating: 3½ (out of 4)