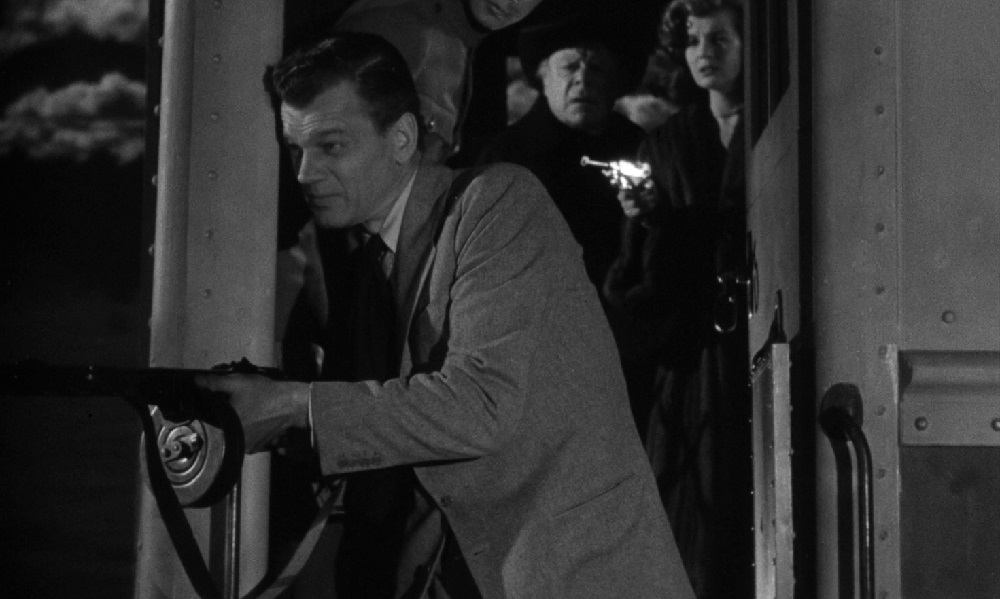 How does the Blu-ray/DVD Disc stack up? (all ratings out of 10.)
Movie
Video
Audio
Extras
Overall
SYNOPSIS
"Well, in a democracy, there's no, no inflexible line, no dogma. But I'm sure that all Americans agree that life without personal freedom would be intolerable."
– Dr. Michael Bachlin
CRITIQUE
Peking Express is a strange one. The second remake of Josef von Sternberg's 1932 classic Shanghai Express starring Marlene Dietrich in one of her signature roles (the first was 1943's Night Plane from Chungking), this version transposes the tale of a collection of international strangers on a train to post-WWII China and uses to have a didactic, unsurprisingly jingoistic discussion on the virtues of capitalism and the dangers of communism. Veteran director William Dieterle (Portrait of Jennie) navigates things as best he can, but with a script this unfocused, muddled, and thematically bludgeoning, to say he meets with limited success is an obvious understatement.
The story follows Worl Health Organization physician Dr. Michael Bachlin (Joseph Cotten) and a ragtag rouges gallery of colorful characters as they travel by train from Shanghai to Peking. Along the way they are stopped by what they initially believe is a gang of outlaws only to learn they are Communist revolutionaries hoping to ransom off some of the passengers for money and get valuable strategic information from some of the others.
The supporting cast is a semi-diverse set of 1950s noir and military picture who's who, including the likes of Oscar-winner Edmund Gwenn, Corinne Calvet, Marvin Miller, and Benson Fong, all of whom are excellent. Fong, a politically radicalized reporter, is particularly outstanding, even as he is forced to navigate a character whose motivations are so ever-changing one almost gets the feeling the filmmakers were making everything concerning him up as filming went along. Still, he brings a charming menace to his performance that's rather startling, and most of the scenes between Fong and Cotten crackle with a magnetic electricity the rest of this ponderous mess sadly lacks.
Production values are high, however, and it isn't like anyone involved with the production is phoning it in. Cotten is forcefully lively, bringing a humanistic urgency to his performance that's frequently captivating. Cinematographer Charles Lang (A Foreign Affair) shoots things with mesmeric vibrancy, and his lush black and white photography adds an aura of intense mystery Dieterle wisely makes the most out of. Best of all is a crackerjack climactic action sequence, much of it so exciting it's almost easy to forget how little of this matters and how strangely forgettable so many of the key moments ultimately prove to be.
Peking Express is likely worthy of a look. Cotten gives a solid performance, Fong gets one of the better, more complex roles of the early portion of his career, and Dieterle does his darndest to mask the script's increasingly obvious shortcomings with some impressive directorial sleight of hand. The film is a mess, but it's at least an interesting one, so climbing aboard for at least a cursory ride isn't the worst decision curious ticket holders could make.
THE VIDEO
Peking Express is presented on a 50GB Blu-ray MPEG-4 AVC Video with a 1.37:1 1080p transfer.
THE AUDIO
This Blu-ray features English & Italian DTS-HD Master Audio 2.0 mono soundtracks and includes optional English SDH subtitles.
THE EXTRAS
Extras here include:
Audio Commentary with film historian Eddy Von Mueller
FINAL THOUGHTS.
Peking Express is a gorgeously shot oddity built on an unstable foundation. The fantastic cast does what they can, Joseph Cotten and Benson Fong in particular, and the climactic action sequence showcases veteran director William Dieterle near the height of his powers. But the film itself is a decidedly mixed bag, and while Kino's Blu-ray presentation is outstanding, interested parties are urged to wait for this release to go on sale before considering a purchase.