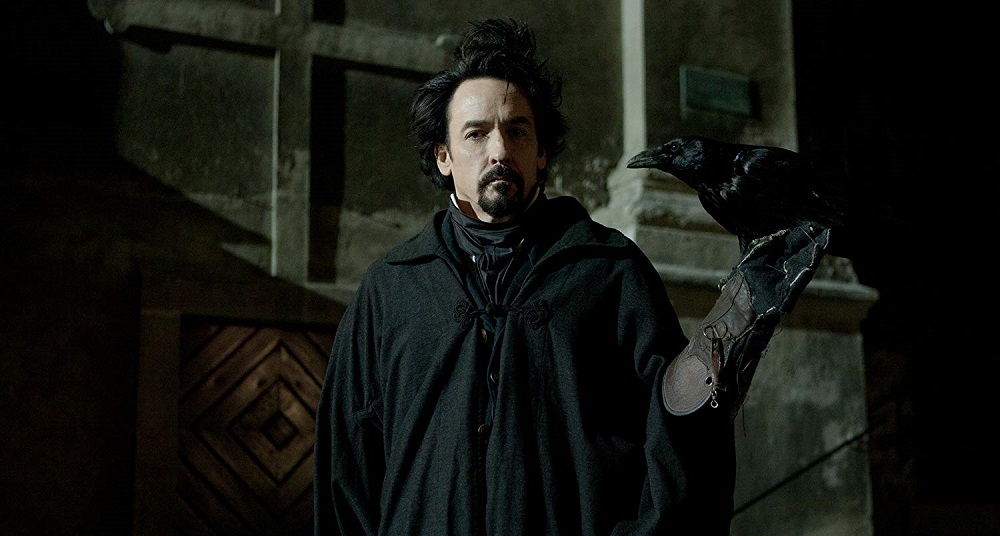 Suitably Grisly Raven Leaves the Heart Wanting
Director James McTeigue's (V for Vendetta) gothic flight of grisly fantasy The Raven is a fictionalized what-if scenario surrounding the final days of legendary author Edgar Allan Poe (John Cusack). Set in 1849 Baltimore, the movie posits that brilliant detective Emmett Fields (Luke Evans) must work in close construct with the macabre writer when a series of brutal murders mirror events depicted in his stories. After Poe's secret love Emily Hamilton (Alice Eve), daughter of societal bigwig Captain Hamilton (Brendan Gleeson), is kidnapped, things become personal, a game of cat-and-mouse pitting the mind behind Murders in the Rue Morgue and The Pit and the Pendulum against the gruesome machinations of his number one fan.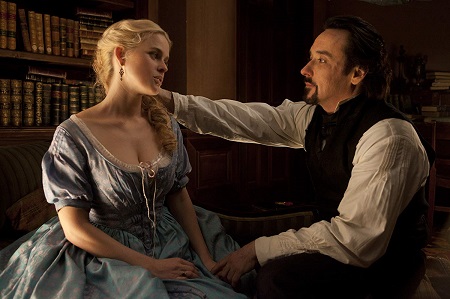 Initially, this whimsically gory puzzle box is rather entertaining. Cusack is great as Poe, portraying the author as an acidic alcoholic still struggling with the death of his first wife from consumption. He bounces off the other actors with a devil-may-care moxie that's engaging, his repartee with Evans a potently giddy verbal chess match I found delightful.
But Ben Livingston and Hannah Shakespeare's script never finds solid footing, and although the early murders are intriguing, as the film goes on they slowly lose their power to startle and perplex. It's almost as if the filmmakers aren't interested in the killings, don't care about supplying actual clues that could help the detectives, let alone the audience, to the identity of the murder, the screenplay seemingly more concerned with trying to figure out how to get Poe on a vacant park bench which historically was the precursor to his eventually lying on his deathbed.
The last sections of The Raven are particularly problematic. They devoid of feeling, absent of heart and feel woefully mechanical in a way that's forced and unnatural. It's as if the filmmakers suddenly remembered they had to solve their mystery, had to get Poe and the killer face-to-face, and because of this they rush to their conclusion with all the passion of a podiatrist playing a lazy round of golf. None of the macabre hunger, that imaginatively melancholic creativity, that is present is so may the author's poems and stories are on display, making the movie a frustrating slog that becomes increasingly tiresome as it goes along.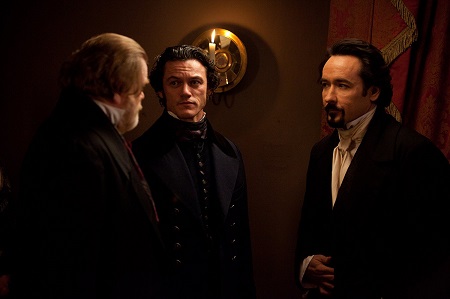 Lovingly designed by Roger Ford (Don't Be Afraid of the Dark), sensationally shot by Danny Ruhlmann (Little Fish), meticulously edited by Niven Howie (Resident Evil: Afterlife) and enthusiastically scored by Lucas Vidal (Vanishing on 7th Street), the movie is technically strong as well. Carlo Poggioli's (Cold Mountain) sumptuously elegant costumes deserve individual mention, the veteran designer's clothes feeling historically accurate while still fitting his director's comic book-like sensibilities.
But it's hard to care about any of that, to put much weight in Cusack's multidimensional performance or in Evans' intensely focused supporting work. If only McTeigue could have maintained the character-driven intensity that is present during the first act there might something here worth crowing about. But the movie doesn't embrace Poe's ideas so much that it is content to toy with them. It doesn't dive into his murky waters of ennui and emotional wreckage with the forcefulness a story like this one requires. McTeigue's thriller is a massive missed opportunity, The Raven leaving my tell-tale-heart wanting and to the idea of ever watching it again in the future I can boil my feelings down to a single word: Nevermore.
Film Rating: 2 (out of 4)