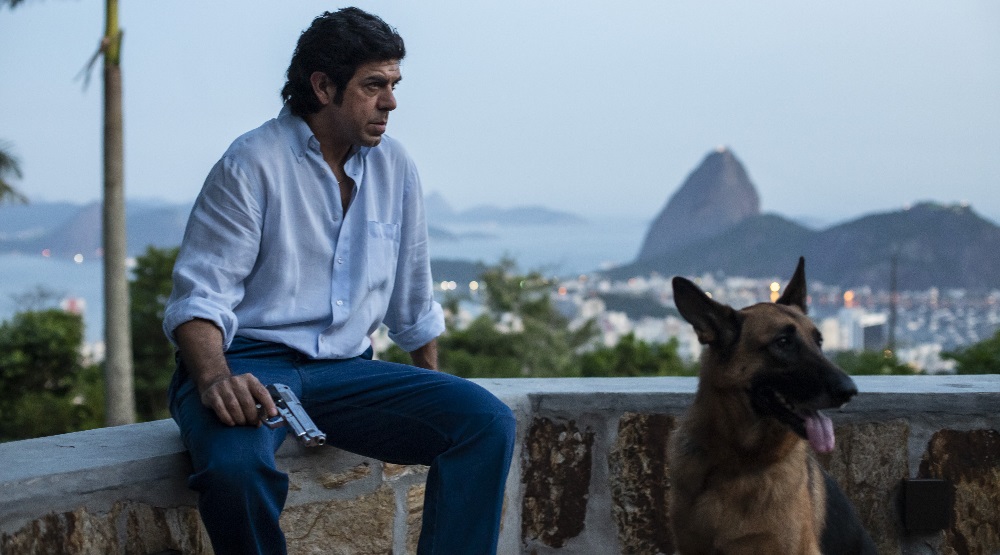 Italy's Cosa Nostra Takes Fire from One of Their Own in The Traitor
Veteran Italian filmmaker Marco Bellocchio (the Seagull, Blood of My Blood) returns with his latest drama, the epic crime procedural The Traitor (Il traditore) chronicling the life of Tommaso Buscetta (Pierfrancesco Favino), the first man to turn informant on the powerful Cosa Nostra during the 1980s. It is a sprawling exposé that covers decades of criminal escapades, all of it seen through the eyes of a man who refuses to consider himself an informer.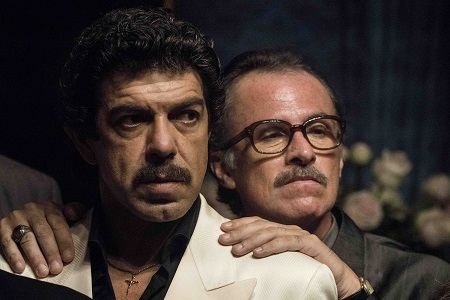 The film begins in the late 1970s at the tail end of a meeting of the entire Italian Cosa Nostra as they negotiate the mechanics of the blossoming heroin trade, trying to ensure there will not be a bloody war that causes havoc throughout Italy. Buscetta, no fan of dealing in hard drugs, takes this as his opportunity to declare his retirement, and while his two adult sons are to remain in Italy, he is planning on moving to Rio de Janeiro with his remaining children and third wife Cristina (Maria Fernanda Cândido) as soon as possible.
A few years later, the Corleonesi, headed by Totò Riina (Nicola Calì), begins to assassinate everyone and anyone who could even potentially become a liability or threaten their profits from the thriving drug trade, including women and children, two groups previously considered off-limits by the strict moral code of the Cosa Nostra. This does not sit well with Buscetta, especially after his own sons are brutally slaughtered.
After being taken into custody by Brazilian authorities, the former mafia enforcer and consigliere does the unthinkable. In exchange for the protection of his wife and children in the United States, he will return to Italy and tell all he knows about Riina and how he and his followers have betrayed all the Cosa Nostra has historically stood for.
There's a lot of material for the film to cover, and even at 145 minutes the narrative still has trouble detailing all aspects of Buscetta's story in a heck of a lot of detail. Instead, Bellocchio focuses more on who this man was as a person, his definition of what the "real Cosa Nostra" was supposed to be and his growing affection and friendship with incorruptible Italian judge Giovanni Falcone (Fausto Russo Alesi). The director also spends ample time analyzing Buscetta's relationship with Cristina and how his adoration of her, along with the murder of his sons at the hand of a former friend, led him to determine he was doing the right thing by testifying.
It's easy to get lost in all of this chaos and craziness. There are so many characters, so many details, so many killings and murders and attempted murders and acts of revenge and nefarious plots to stop the proceedings against Riina ad the other 474 defendants, it's easy to lose count of them all. After the initial trial, there are several leaps in time that aren't entirely clear, and by the time things culminate in the year 2000 I was more than a little shocked to discover Bellocchio's sprawling endeavor covered roughly half a century in Italian mafia history.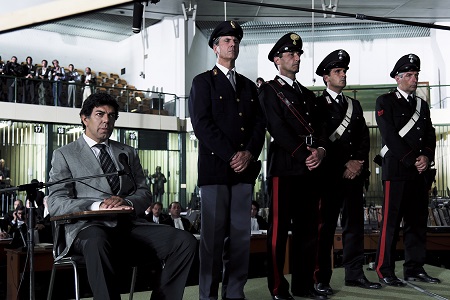 Be that as it may, this is still a fascinatingly entertaining motion picture centered on a performance from Favino that's pretty darn terrific. I couldn't take my eyes off of him, his ruthless, cocksure bravado fitting the character perfectly as he sauntered through the movie. Buscetta is so confidently unapologetic as to how he sees the righteousness of his testimony, his certainty that Riina and the current members of the Cosa Nostra have obliterated its standing in the Italian community with their wholesale slaughter of innocents absolute. Favino makes this man come to life with skillful machismo, and the primary reason Bellocchio's film is as successful as it thanks to him.
There's plenty more I could talk about, not the least of which is a masterful courtroom scene where Buscetta goes head-to-head against one of his primary accusers and most trusted former friends, Pippo Calò (Fabrizio Ferracane), their back-and-forth cross-examination of one another simply extraordinary. Yet I think I'm going to leave my thoughts about The Traitor here. This is a sublime piece of Italian mafia history best experienced knowing as little about the true story (or, at least Buscetta's version of this true story) as possible, Bellocchio crafting a fine procedural that's worthy of a look.
Film Rating: 3 (out of 4)