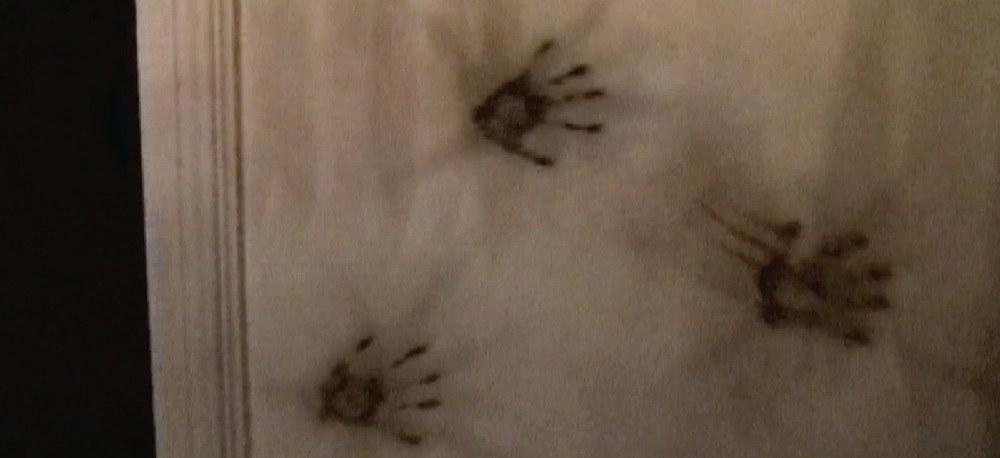 a SIFF 2012 review
Horror Anthology V/H/S a Descent into Found-Footage Madness
A group of hooligans (Calvin Reeder, Lane Hughes, Kentucker Audley and director Adam Wingard) who get off on recording themselves doing all sorts of mayhem are hired to break into the home of an elderly gentleman (Frank Stack) and steal an old VHS tape. Inside the dilapidated abode they discover a treasure trove of recorded material, all of it despicable, each tape featuring a collection of tales revolving around people attempting to evade death.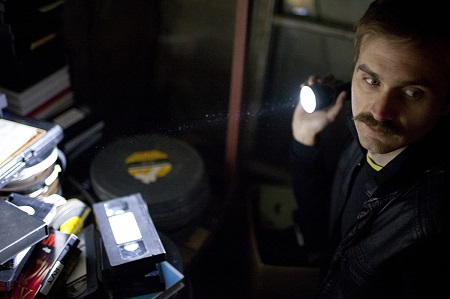 Thus begins the horror anthology V/H/S. Sprung from the minds of six up-and-coming genre directors (including Wingard, who previously helmed festival favorite A Horrible Way to Die), the film is a sporadically terrifying journey into the unknown filled with chaos and carnage of all types. Inspiration for each short runs the gamut from The Shining, to Friday the 13th, to The Texas Chainsaw Massacre, all of it told in first-person fashion with the requisite amount of shaky cam seemingly required for every feature that takes up the found-footage battle cry.
It's as hit-and-miss as I anticipated, some shorts working far better than others, Wingard's umbrella piece sadly the chief misstep. But when the movie connects, when it slaps the center of the bull's eye, this little piece of anthology fear is gruesome fun. I jumped out of my seat several times, grabbing my chair's armrests on more than one occasion. By the time the film was over my knuckles were just as white as I ever could have hoped they were going to be before the film began. While it's a wildly uneven ride, for those willing to take a seat on the rollercoaster the hypnotic horrors found within are undeniably worthy of discovery.
The best shorts come from directors Ti West (The Innkeepers) and Joe Swanberg (Hannah Takes the Stairs). West's revolves around a pair of lovebirds (Swanberg, Sophie Takal) who go on a road trip through the Midwest, videotaping as the go, encountering a strange young woman (Kate Lyn Sheil) who may or may not be stalking them. Swanberg's, written by Simon Barrett (A Horrible Way to Die), involves a woman (Helen Rogers) who enjoys video chatting with a male admirer (Daniel Kaufman) and who also comes to believe abnormal paranormal occurrences are taking place within her seemingly quiet apartment.
Both manage to create a feeling of uneasy dread that had me on the edge of my seat. Better, these shorts build to a spellbinding conclusion I didn't entirely see coming, West's particularly so. Like the best "Twilight Zone" episodes these are pieces of pop entertainment that are as thought-provoking as they are unsettling.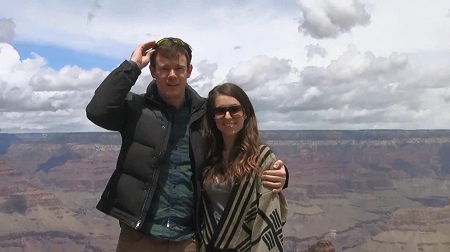 Others, like Glenn McQuaid's (I Sell the Dead) tale "Tuesday the 17th," obviously inspired by every Summer Camp slasher film ever made (along with a gentle nod to A Nightmare on Elm Street and The Ring), starts promisingly enough yet sadly doesn't go anywhere of merit. Still, each of the six shorts, including Wingard's piece which I've already voiced my displeasure of, managed to create just the right mood of fear and despair to keep me interested. I wanted to know what was going to happen next, each director showcasing their particular set of skills within the found-footage confines with confidently ghoulish aplomb.
V/H/S won't be for everyone. It's dark and nasty, pushing its R-rating to its breaking point. But for genre fans, as uneven as these various stories might be, this 116-minute anthology is worthy of a look, the thrills and chills it conjures up almost certain to linger long after the last working VHS cassette has run out of tape.
– Review reprinted courtesy of the SGN in Seattle
Film Rating: 3 (out of 4)