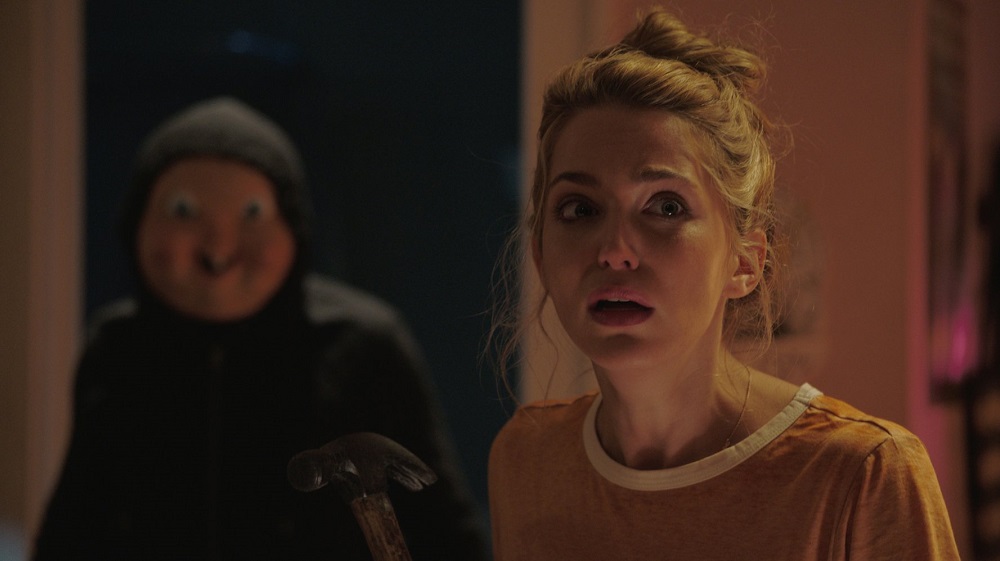 THE TOP 100 MOVIES OF 2017
As in previous years, I slowly tracked everything I watched in 2017, compiling a massive master list of my favorite films, placing them in some rough order of preference as I went along. As of the publication of this article, I'd watched 400 features for the very first time, 222 of which were released to domestic U.S. theatres during the calendar year or are scheduled to get a release during the first quarter of 2018.
With that in mind, here are the Top 100 films of 2017 as I see them. Please note, unlike on previous pages documentaries and releases from previous years that saw U.S. distribution over the past 12 months have not been sorted out. It's all together in one giant bundle. Enjoy sifting through them all.
1. The Florida Project (d. Sean Baker) (Interview with Sean Baker)
2. Frantz (d. François Ozon)
3. Dunkirk (d. Christopher Nolan)
4. Lady Bird (d. Greta Gerwig)
5. Their Finest (d. Lone Scherfig)
6. Logan (d. James Mangold)
7. Polina (d. Valérie Müller, Angelin Preljocaj)
8. mother! (d. Darren Aronofsky)
9. The Post (d. Steven Spielberg)
10. Battle of the Sexes (d. Jonathan Dayton, Valerie Faris)
11. The Devil's Candy (d. Sean Byrne)
12. Personal Shopper (d. Olivier Assayas) (Interview with Olivier Assayas)
13. The Lost City of Z (d. James Gray)
14. Graduation (d. Cristian Mungiu)
15. BPM (Beats Per Minutes) (d. Robin Campillo)
16. War for the Planet of the Apes (d. Matt Reeves)
17. After the Storm (d. Hirokazu Koreeda)
18. Phantom Thread (d. Paul Thomas Anderson)
19. Band Aid (d. Zoe Lister-Jones) (Interview with Zoe Lister-Jones)
20. Faces Places (d. JR, Agnès Varda)
21. Wonderstruck (d. Todd Haynes)
22. Call Me by Your Name (d. Luca Guadagnino)
23. Last Flag Flying (d. Richard Linklater)
24. The Big Sick (d. Michael Showalter)
25. Detroit (d. Kathryn Bigelow)
26. Blade Runner 2049 (d. Denis Villeneuve)
27. In This Corner of the World (d. Sunao Katabuchi)
28. Wonder Woman (d. Patty Jenkins)
29. Step (d. Amanda Lipitz) (Interview with Gari "Coach G" McIntyre)
30. Star Wars: The Last Jedi (d. Rian Johnson)
31. The Red Turtle (d. Michael Dudok de Wit)
32. Only the Brave (d. Joseph Kosinski)
33. Logan Lucky (Steven Soderbergh)
34. Raw (d. Julia Ducournau)
35. The Greatest Showman (d. Michael Gracey)
36. Hostiles (d. Scott Cooper)
37. The Disaster Artist (d. James Franco)
38. The Shape of Water (d. Guillermo del Toro) (Interview with Richard Jenkins)
39. City of Ghosts (d. Matthew Heineman) (Interview with Matthew Heineman)
40. A Ghost Story (d. David Lowery) (Interview with David Lowery)
41. Lady Macbeth (d. William Oldroyd)
42. A Dark Song (d. Liam Gavin)
43. Kedi (d. Ceyda Torun)
44. American Fable (d. Anne Hamilton)
45. The Survivalist (d. Stephen Fingleton)
46. A Cure for Wellness (d. Gore Verbinski)
47. My Life as a Zucchini (d. Claude Barras)
48. Mudbound (d. Dee Rees)
49. Goodbye Christopher Robin (d. Simon Curtis)
50. Okja (d. Bong Joon-ho)
51. The Zookeeper's Wife (d. Niki Caro)
52. Get Out (d. Jordan Peele)
53. John Wick: Chapter 2 (d. Chad Stahelski)
54. Patti Cake$ (d. Geremy Jasper) (Interview with Geremy Jasper)
55. Wind River (d. Taylor Sheridan)
56. Colossal (d. Nacho Vigalondo)
57. Split (d. M. Night Shyamalan)
58. The Killing of a Sacred Deer (d. Yorgos Lanthimos)
59. The Lovers (d. Azazel Jacobs)
60. Gifted (d. Marc Webb)
61. Ex Libris: New York Public Library (d. Frederick Wiseman)
62. Free Fire (d. Ben Wheatley)
63. The Midwife (d. Martin Provost)
64. First They Killed My Father (d. Angelina Jolie)
65. Lost in Paris (d. Fiona Gordon, Dominique Abel)
66. Happy Death Day (d. Christopher Landon)
67. Columbus (d. Kogonada)
68. Three Billboards Outside Ebbing, Missouri (d. Martin McDonagh)
69. Killing Ground (d. Damien Power)
70. Blade of the Immortal (d. Takashi Miike)
71. IT (d. Andy Muschietti)
72. Crown Heights (d. Matt Ruskin)
73. Guardians of the Galaxy Vol. 2 (d. James Gunn)
74. It Comes at Night (d. Trey Edward Shults)
75. Reset (d. Chang)
76. My Cousin Rachel (d. Roger Michell)
77. T2: Trainspotting (d. Danny Boyle) (Interview with Danny Boyle)
78. From the Land of the Moon (d. Nicole Garcia)
79. The Wall (d. Doug Liman)
80. Landline (d. Gillian Robespierre)
(Interview with Gillian Robespierre, Jenny Slate and Abby Quinn)
81. God's Own Country (d. Francis Lee)
82. The Final Year (d. Greg Barker)
83. Molly's Game (d. Aaron Sorkin)
84. Your Name (d. Makoto Shinkai)
85. Annabelle: Creation (d. David F. Sandberg)
86. American Made (d. Doug Liman)
87. The Journey (d. Nick Hamm) (Interview with Nick Hamm)
88. The Little Hours (d. Jeff Baena) (Interview with Aubrey Plaza and Jeff Baena)
89. Captain Underpants: The First Epic Adventure (d. David Soren) (Interview with David Soren)
90. Thor: Ragnarok (d. Taika Waititi)
91. All the Money in the World (d. Ridley Scott)
92. The Ice Cream Truck (d. Megan Freels Johnston)
93. The Man Who Invented Christmas (d. Bharat Nalluri)
94. Gook (d. Justin Chon)
95. A United Kingdom (d. Amma Asante)
96. Spider-Man: Homecoming (d. Jon Watts)
97. Murder on the Orient Express (d. Kenneth Branagh)
98. Good Time (d. Ben Safdie, Joshua Safdie)
99. Kong: Skull Island (d. Jordan Vogt-Roberts)
100. Before I Fall (d. Ry Russo-Young)