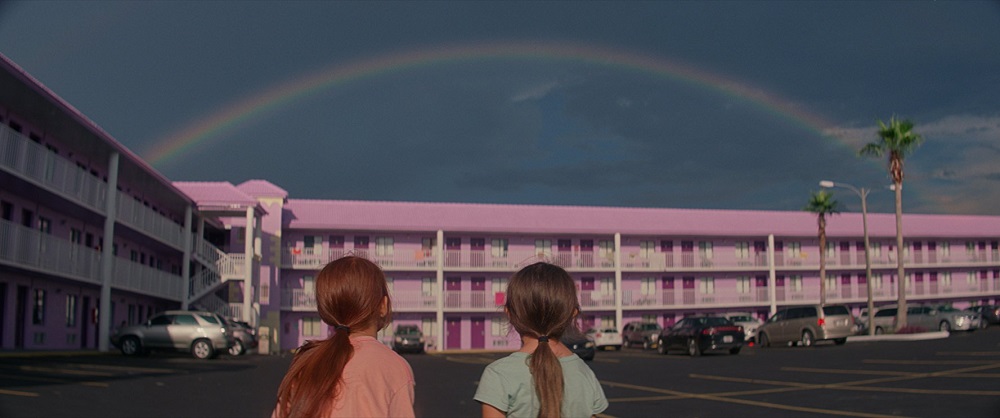 TOP TEN FILMS OF 2017
1. The Florida Project (d. Sean Baker)
It's hard to imagine I won't be treasuring Baker's The Florida Project for decades to come. This wondrous story of a six-year-old girl spending her summer messing around with her friends in the shadow of Disney World never fully comprehending how tenuous the situation is for both her and her twenty-something single mother, this film treats its characters with such empathetic understanding and nonjudgmental grace the inherent emotional power fueling things ends up being monumental. Featuring Willem Dafoe in one of his all-time best roles and breakout performances from child actor Brooklynn Prince and young newcomer Bria Vinaite this movie might very well be a masterpiece. Ask me again in a couple of years and I'll likely proclaim it to be one. [Interview with Sean Baker]
2. Frantz (d. François Ozon)
Leave it to Ozon to take a relatively forgotten Ernst Lubitsch comedy classic (1932's Broken Lullaby) and transform it into something heartfelt, introspective and timeless, Frantz such a stunning achievement I get choked up just thinking about it again while writing this tiny little capsule. The story of a German family making the acquaintance of a French soldier just after the close of WWI who knew and befriended their son before his untimely death, this is another movie that refuses to pander to its audience, offering up an emotional scenario with the frank empathetic simplicity it so richly deserves. At the center of it all is Paula Beer as Anna, the young fiancée of the deceased soldier, her ability to see the bigger picture yet still understand sometimes a sincere fiction is better than a merciless truth the key element around which everything else revolves.
3. Dunkirk (d. Christopher Nolan)
Nolan's kinetic, unrelentingly tense WWII epic of survival, sacrifice, retreat and resilience is an ode to heroism on a massive scale. It's depiction of the events at Dunkirk focuses on the minutia, using the varying battles in the air, on the sea and on the ground to show the horror of the situation and what it took to get nearly 400,000 soldiers off of a French beach and back to Britain before it was too late. Stunning.
4. Lady Bird (d. Greta Gerwig)
I knew I was head over heels in love with Gerwig's solo directorial debut Lady Bird barely a third of the way into the movie. A priceless coming of age saga overflowing in life, energy and exuberance, there's just way too much about this fabulous little gem of a dramatic comedy to adore. Saoirse Ronan is an absolute delight as the title character, while a varied supporting cast, which includes the likes Tracy Letts, Lucas Hedges, Odeya Rush, Beanie Feldstein and Timothée Chalamet, hits it continually out of the park. But it is veteran character actress Laurie Metcalf who makes the biggest impression, her lived-in, fearlessly unsentimental performance breaking my heart in two with its authentic, lovingly multifaceted authority.
5. Their Finest (d. Lone Scherfig)
Scherfig's Their Finest is the one undiscovered marvel of 2017 that upsets me the most that audiences failed to turn out for in larger numbers. A beguiling love story. An inspirational marvel of an intelligent young woman coming into her own as an artist. A vibrantly alive history lesson. A portrait of wartime resilience and togetherness on the home front as bombs drop from the sky and victory is still something of a doubt. An examination of the manner in which propaganda is created and utilized in order to achieve its desired effect. Their Finest is all of this and more, Scherfig's direction as strong and as focused as it has ever been, while star Gemma Arterton turns in what is to my mind the best performance of her still relatively short career. Make no mistake, this might be my favorite film of 2017, and one I guarantee each time I watch I'll have a smile plastered so big across my face some will start to wonder if I've had it surgically implanted there.
6. Logan (d. James Mangold)
One of the great comic book movies ever made and arguably the best one involving any of the X-Men (although X2: X-Men United deserves to be in the conversation), Hugh Jackman's final go as Wolverine is a surprisingly simple, straight-forward modern Western about heroism, aging, friendship and family that strikes quite the emotional chord. With an award-worthy performance by Patrick Stewart as an aging Professor X struggling to control his mental powers as his body deteriorates around him and a breakout turn by young Dafne Keen as a mysterious child whose connection to the title mutant hero is as violent and as uncompromising as one might expect it to be. Mangold directs with efficient kinetic virtuosity, building things slowly but surely to a final confrontation that hits all the themes inherent in this narrative throwback to John Ford and John Sturges films of old rather splendidly. As haunting a final scene as any 2017 had to offer.
7. Polina (d. Valérie Müller, Angelin Preljocaj)
Acclaimed filmmaker Müller and renowned choreographer Preljocaj join forces for a balletic marvel of a drama that held me spellbound for each step of its bravura dance of discovery. The story of a ballet student who dreams of stardom, and while her technical brilliance is readily apparent to all her work with her, the young woman's inability to attach herself emotionally to the music or to the movements she's being asked to perform keeps her from achieving greatness. Featuring a sublime, albeit brief, supporting role for Juliette Binoche, the film's breakout sensation is dancer Anastasia Shevtsova, the actress connecting with the material so seamlessly the line between her performance and the character as written in the script vanishes into invisibility almost immediately. The final dance sequence held me spellbound in constant awe, Müller and Preljocaj staging it magnificently. Make no mistake; I loved this movie.
8. mother! (d. Darren Aronofsky)
Aronofsky's biblical whirligig is a motion picture I haven't been able to get out of my head ever since I first laid eyes on it back in early September. Twisting and turning like a snake intent on biting its own tail, this homebound Garden of Eden becomes a metaphorical playing ground for all sorts of unsettling mischief and mayhem. It's humanity under a microscope, with pitch-perfect star Jennifer Lawrence as the earthy figurehead whose only seeming care is to maintain the environment that surrounds her beloved companion (a terrifyingly divine Javier Bardem) while it is under direct assault from a variety of pesky intruders, including a squabbling married couple (Ed Harris, Michelle Pfeiffer), the latter of whom would love to get a bite of their host's inspirational apple. So much to unpack, this movie is so dangerously elegant in its brazen deconstruction of religion's inherent contradictions, making sense of them after only a single viewing is pretty much impossible.
9. The Post (d. Steven Spielberg)
It's hard to imagine any other 2017 release being more essential than this. A ticking clock procedural following The Washington Post executive editor Bill Bradlee (a wonderful Tom Hanks) and the paper's owner and publisher Kay Graham (Meryl Streep, delivering a spellbinding performance that might just be up there with her all-time best, which considering her filmography is saying something) as the former pursues a story the Nixon administration would rather see silenced and the latter has to make the decision whether or not to allow him to publish it, breaking all that's happening inside this magnificent motion picture into a handful of simplistic talking points isn't easy. But with gender equality in the workplace front and center as it never has been before and with the First Amendment and the freedom of the press under political assault in a way that is both terrifying and despicable, Spielberg's opus is a master class in taking recent history and drawing parallels to the here and now in ways both thought-provoking and inspired. Thankfully, it also turns out to be incredibly entertaining, too.
10. Battle of the Sexes (d. Jonathan Dayton, Valerie Faris)
It's a shame Battle of the Sexes wasn't a bigger hit, because this movie chronicling the 1973 match between superstar and women's sports pioneer Billie Jean King and 55-year-old former tennis legend Bobby Riggs is so sensationally entertaining, and so culturally relevant for this exact moment in history, watching it proves to be a continuous joy even if viewers know exactly how the pair's story comes to an end. Featuring rich, intelligently complex performances from Emma Stone and Steve Carell and a dynamic, magnetically intimate script from Oscar-winner Simon Beaufoy, Dayton and Faris's latest wins in straight sets, proving in the end to be one of 2017's most impressive achievements.
FIVE FAV DOCUMENTARIES
City of Ghosts (d. Matthew Heineman), Ex Libris: New York Public Library (d. Frederick Wiseman), Faces Places (d. JR, Agnès Varda), Kedi (d. Ceyda Torun), Step (d. Amanda Lipitz)
FAV 2016 FILMS RELEASED IN SEATTLE IN 2017
My Life as a Zucchini (d. Claude Barras), The Red Turtle (d. Michael Dudok de Wit), Silence (d. Martin Scorsese)
FAV 2017 FILMS HITTING DOMESTIC THEATRES IN 2018
A Fantastic Woman (d. Sebastián Lelio), The Final Year (d. Greg Barker), Foxtrot (d. Samuel Maoz), Freak Show (d. Trudie Styler), Loveless (d. Andrey Zvyagintsev)
– Portions of this feature reprinted courtesy of the SGN in Seattle