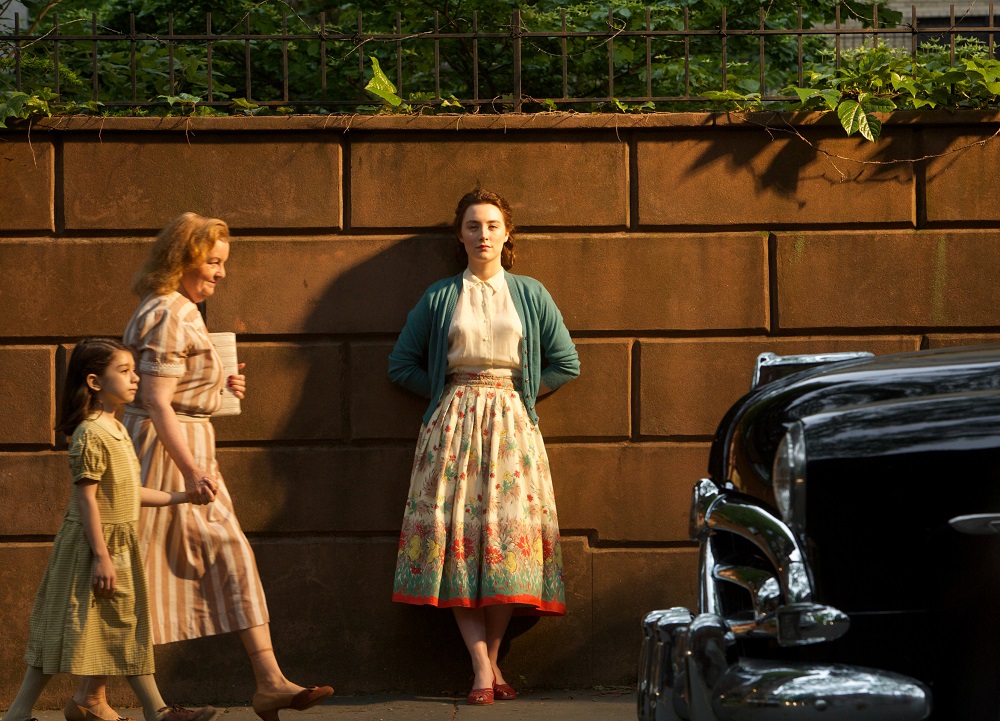 Spellbinding Brooklyn a Romantically Charming Treat
Eilis Lacey (Saoirse Ronan) is coming to America. The Irish lass is sad to leave her devoted older sister Rose (Fiona Glascott) and her beloved mother Mary (Jane Brennan), but with opportunity so scarce at home heading across the Atlantic to start a new life seems like the best option available to the young woman. But as kind as landlady Mrs. Kehoe (Julie Walters) might be, as understanding a sponsoring priest Father Flood (Jim Broadbent) is, the lass is so heartsick for her homeland she can barely make it through the day without devolving into a blubbery mess.
Things change when Father Flood enrolls her in night school to learn about bookkeeping, Eilis discovering she has a gift for numbers that she's electrified by. On top of that, she's met Tony Fiorello (Emory Cohen), a talkative New Yorker, whose Italian blood is immediately set ablaze by the fiery redhead. The sparks flying between the two are apparent to everyone, the two of them walking the sidewalks of their Brooklyn neighborhood hand-in-hand dreaming of all they're going to do with their lives in the very near future.
Based on the best-selling book Brooklyn by Colm Tóibín, director John Crowley (Closed Circuit) and screenwriter Nick Hornby (An Education, Wild) team up to bring to life one of the best Irish coming to America tales this side of Jim Sheridan's 2003 modern masterwork In America. Delivering what could be misconstrued as nothing more than a fluffy romantic comedy with dramatic undertones, sneakily and subtly the movie is actually about so much more. This is the saga of a youngster becoming her own, confident women ready to take on the world at large, learning who she is now and who she was then aren't as far apart as those wanting to keep Eilis standing still would like her to believe.
It's dazzling stuff, brilliantly brought to life by the breathlessly talented Ronan. Already an Academy Award nominee for her performance in Atonement when she was still a teenager, she's followed that up with remarkable turns in films as diverse as Byzantium, Hanna, The Grand Budapest Hotel and How I Live Now. She's fantastic here, channeling her inner Audrey Hepburn meets Vivien Leigh with spectacular aplomb. There is a lithe, delicately beauteous intensity to her portrait, a human spectacle of transformation and perseverance that's universal no matter what the age, what the nationality. Ronan leaps off the screen, delivering the kind of undeniably stratospheric performance that instantly lands her in the conversations as being one of the great young actors of today, the way Crowley's direction and Hornby's script helps facilitate all of this positively stunning.
I can't help but wish the two men who come into Eilis' life weren't such one-dimensional fantasy figures of post-WWII masculinity (the gently endearing Cohen in the U.S., the soulfully captivating Domhnall Gleeson back in Ireland), neither of them complex enough for my taste. As good as both are, and they are wonderful, it was difficult to take either of them as seriously as I wanted to, and thus my preference as to who our heroine would choose to spend her life with never weighed on me near as much as I kept hoping it would.
But days after my initial viewing I slowly realized, as pleasing as Eilis' romantic moments with Tony might be, as meaningful as her return to Ireland and flirtations with Gleeson's rugby playing golden boy Jim Farrell become, none of that mattered. What did was how this bright-eyed, whip-smart woman dealt with it all, how she learned to deal with life's obstacles in order to forge a path uniquely her own. This is a movie of worlds colliding, a child of two nations discovering how to imbed a piece of her motherland inside her heart while at the same time learning to call a new nation thousands of miles across the sea home. Eilis' coming of age is breathlessly realized and done so with a wink and smile, everything building to two hands intertwining together as one almost as if they were meant to do so from the first second time itself began.
As a director, Crowley makes a giant leap from showing promise in his previous efforts to realizing it with this. He establishes a strong visual component alongside cinematographer Yves Bélanger (Dallas Buyers Club) that's superb, allowing composer Michael Brook's (The Perks of Being a Wallflower) music to amplify the underlying emotions that permeate throughout beautifully. Crowley leads Eilis on her journey with consummate skill, utilizing Hornby's dexterous, emotion-filled script with naturalistic delicacy. Brooklyn is marvelous, watching it as close to pure bliss as any cinematic confectionary treat as I could possibly have imagined myself.
Film Rating: 3½ (out of 4)