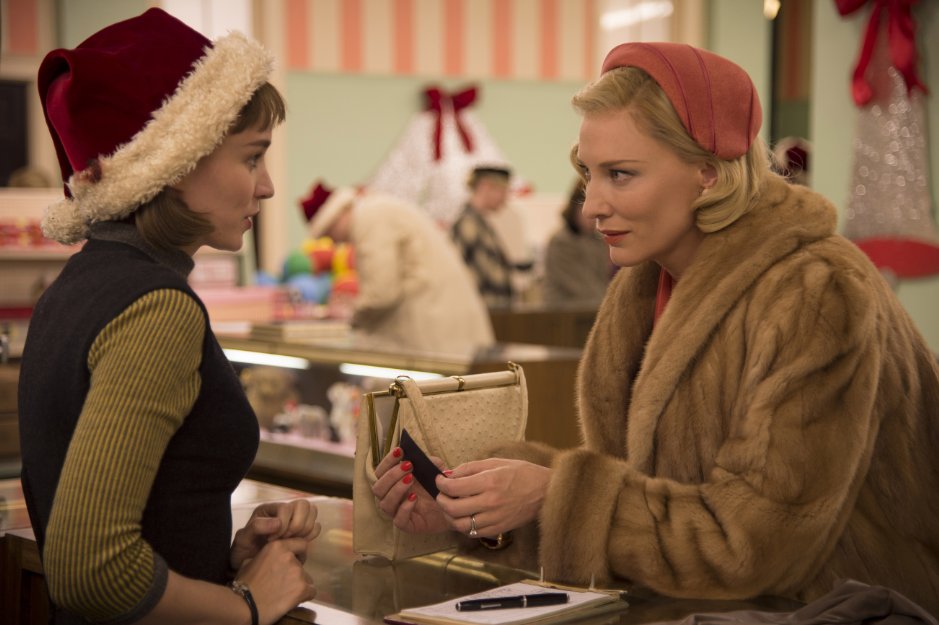 Subtly Intimate Carol a Fiercely Independent Stunner
If all you know of Patricia Highsmith is that she brought the literary world a charming psychopathic chameleon in the form of one Thomas Ripley, than you're only scratching the surface of the timeless treasures brought to life inside any number of her masterful novels. Not only were her books the basis for The Talented Mr. Ripley, Purple Noon and The American Friend, it was also she that fueled Alfred Hitchcock's timeless Strangers on a Train and helped breathe life into Hossein Amini's 2014 thriller The Two Faces of January. Between 1950 and 1995, the year of her death from cancer, Highsmith published 22 novels, and while I have not read them all the ones I have I adore with all my heart, her rich, complicatedly elegant prose a celebration of words and ideas beyond reproach.
Her second novel, The Price of Salt, published in 1952, is as groundbreaking as they come. Highsmith was forced to publish it under a pseudonym, Claire Morgan, the lesbian content of the tome so diametrically different than the tricky theatrics of Strangers on a Train the publisher, as well as the author, feared the controversial nature of the story could derail a promising career before it even had the opportunity to begin. Now, over half-century later, even with Marriage Equality the law of the land, the inherent passions driving this tale forward are as potent as ever, and as such it's no surprise at all a director like Todd Haynes would be interested in adapting it into a movie.
The result of these efforts, Carol, is an extraordinary achievement. Working with screenwriter Phyllis Nagy (Mrs. Harris), the film makes an obvious companion piece to the director's Douglas Sirk-inspired melodrama Far from Heaven as well as his award-winning HBO miniseries adaptation of Mildred Pierce. For those with narrower mindsets, it could also be described as some sort of female variant on Brokeback Mountain, but the seeing as the two tales end up in entirely different places and their views on the human condition aren't entirely comparable I'm not too sure how apropos this actually is.
New York City in the 1950s. A shopgirl at a posh Manhattan department store, Therese Belivet (Rooney Mara), does a good deed for one her store's best customers, Carol Aird (Cate Blanchett), posting her a pair of gloves she misplaced while shopping. The wealthy and affluent wife and mother is touched by the young woman's kindness, going back to the store to express her thanks the best way she knows how, by attempting to give her a tip. But this is money Therese firmly, if still kindly, refuses, claiming returning the gloves was all part of her job and that's she's just happy Carol is pleased to have them back.
Thus starts a journey neither woman anticipated. Lunch becomes dinner. Dinner become trips to the country. Trips to the country become sojourns that require Therese to leave her position at the store and trust that Carol won't strand her at a random hotel somewhere in the middle of the United States. The two are falling in love whether they want to admit it or not, each learning things about themselves and what they want from life that go way beyond their feelings of intimacy.
The complications, however, are immense. Carol's loveless marriage to Harge (Kyle Chandler) might be ending but that doesn't mean he wants to let it go without a fight, threatening to take the couple's daughter Rindi (twins Sadie Heim and Kk Heim) away from her mother unless she stops seeing Therese. As for the former shopgirl, she's got two different men (Jake Lacy, John Magaro) eyeing her, while the New York Times has taken interest in her talents as a photographer, messing any of that up by engaging in an affair with another woman not something polite society would consider appropriate or smart.
Haynes is in Sirk territory once again, the look and feel of the motion picture easily comparable to the likes of Imitation of Life, Written on the Wind and All That Heaven Allows. But Therese's journey, and, make no mistake, she is the main character, of self-discovery and inspiration goes beyond simple ideas of sexuality and gender norms. This is a young woman looking for direction, attempting to discover who she is and what mark she wants to leave o the world, Carol coming into her life at just the right moment to give her the kick in the pants she needs. Haynes and Nagy analyze and dissect this evolution with grace and intensity, peeling back layers revealing the person aching to burst forth deep inside a broken shell the world doesn't notice is as damaged as it is. It's a stunning portrait, one that fits the era flawlessly but at the same time is just as appropriate in today's world even with things having changed as much as they have; the basic truths as potent then as they are right now.
Mara is sensational. She drives the movie forward, her wide eyes a sea of opportunity and adventure that burn with increasing dynamism as things progress. She's believable right from the start, her first scene with Blanchett at the department store counter a model of subtle emotional complexity. They way she fidgets, how she sits in a booth or allows Lacy or Magaro to brush up next to her, it all speaks to internal transformations taking hold of Therese, Mara crafting a mesmerizing portrait of self-actualization that's delicately profound yet viscerally cathartic.
Blanchett equals her, Carol's reaction when she discovers just how far Harge will go to bring her back into his web devastating in its animalistic ferocity. She shares a couple of wonderful moments with Sarah Paulson (playing her best friend, and former lover, Abby Gerhard), the two understanding how complicated their lives have become and just how outside the perceived norm they find themselves, each attempting to rise above with a reserved poise that's part posturing, part elite bourgeois classism and almost all a defense mechanism. There's also a terrific sequence between her and Chandler with their respective lawyers that held me spellbound, what the actress does here revealing universal truths few live up to and even less openly admit.
Haynes, the master craftsman as he is, has assembled his typical crackerjack team of technicians, chief of which being ace cinematographer Edward Lachman (The Limey) his masterful compositions, his use of light, shadow and color, beyond measure. Judy Becker's (American Hustle) production design and Jesse Rosenthal's (Trumbo) art direction are both equally incredible, while three-time Oscar-winner Sandy Powell's (Cinderella) costuming is up to her customary masterful standards. Best of all is veteran composer Howard Shore's (Fargo) haunting score, his music the perfect counterpoint to the dramatic actions taking place throughout the drama.
It's sad that Highsmith couldn't claim her own novel when it was first published. Was she Carol? Did she consider herself to be like Therese? Either way, she didn't just understand the relationship she had crafted for her two heroines, she was by all accounts living something similar herself. Haynes takes these themes and ideas and makes them sing, never losing focus as to who this story belongs to. Carol is a timeless, brilliantly realized drama that ranks up with there with the finest features the director has ever had a hand in crafting, the smile of recognition and understanding that closes things out an unforgettable celebratory stunner that shook me right to my very core.
Review reprinted courtesy of the SGN in Seattle
Film Rating: 4 (out of 4)