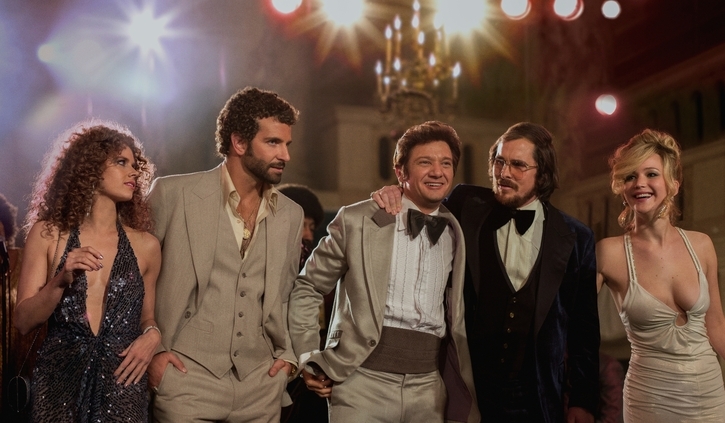 Invigorating American Hustle a Freewheeling Con
David O. Russell's latest American Hustle isn't based on fact, it is inspired by it. Instead of using the real people caught up in the New York/New Jersey 'Abscam' scandal of the 1970s, he and co-writer Eric Warren Singer (The International)  concoct a gregarious, freewheeling con job where career manipulators, the FBI and community-minded, if bent, politicians find themselves joining forces whether they want to or not. In many ways the movie is a return to the uninhibited days of the director's early comedies like Flirting with Disaster far removed from either The Fighter or Silver Linings Playbook, Russell taking no prisoners even if narratively he doesn't maintain as sharp a focus as was found in his previous two endeavors.
Irving Rosenfeld (Christian Bale) is a master of the small con. Sure he has some legitimate businesses, including a series of small dry cleaning establishments, but his main calling involves shrewdly convincing people to hand over their money without realizing they've been had. He's met a kindred spirit in the lovely, whip-smart firecracker of a woman Sydney Prosser (Amy Adams), the pair teaming together taking their respective games to an entirely different level bringing in dollar amounts that if continued could eventually have them set for life.
Agent Richie DiMaso (Bradley Cooper) of the F.B.I. knows what they're up to, and while he doesn't have much substantive on Irving he has managed to box Sydney into a corner that will likely lead her straight into prison. Thing is, he's not especially interested in them, he wants bigger fish, and if they're willing to play ball he'll make sure neither serves a day behind bars. But when the targets of their government-financed deceptions escalate from mid-level fences to actual members of the United States Congress, as well as enforcers connected to the Las Vegas mafia, Rosenfeld and Prosser realize they're in over their heads, trying to find a way out their number one concern.
The movie plays like some bizarre, retro 70s-style amalgam of Dog Day Afternoon, Dirty Rotten Scoundrels, Donnie Brasco and Ocean's Eleven, Russell mashing up genres and styles with skillfully energetic enthusiasm. He and Singer use a real F.B.I. sting operation as basis to go hog wild, taking a gifted ensemble of actors and giving them complicated characters to inhabit where nothing is ever what it seems and anything can happen to the lot of them at any given time. The good guy is kind of a jerk, the bad ones the only figures apparently with a humanistic moral center while the object of all their attentions, corrupt New Jersey politician Carmine Polito (Jeremy Renner), ends up being the most sympathetic figure inside this entire mélange.
The dialogue sizzles. The situations crackle with explosive electricity. I never entirely knew what was going to happen from one moment to the next. Russell allows the movie to live and breathe in syncopated rhythms that owe one heck of a debt to the New York excursions of director Sidney Lumet (especially his crime and punishment trifecta of Prince and the City, Serpico and the aforementioned Dog Day Afternoon). The movie dances to its own beat, keeps its own idiosyncratic cadences, and while there's the occasional sour note or times when it stumbles over its own quickly toe-tapping feet more often than not there's nary a false moment to be found.
At the very least it is as acting triumph. As glorious as other 2013 ensembles found in August: Osage County, Lee Daniels' The Butler, Prisoners, 12 Years a Slave, Blue Jasmine and Nebraska might have proven to be, the depth and breadth of the performances delivered by this particular group blows all of them clean out of the water. Everyone is wonderful, even bit players like Louis C.K., Michael Peña, Alessandro Nivola and Elisabeth Röhm having signature scenes that give the film an extra added bit of spunk.
Yet it is the central quintet that makes the movie a sensation. Cooper, coming into his own working with Russell in Silver Linings Playbook, is maybe even better here, his slimy go-for-broke F.B.I. agent an addict in the making who doesn't know just how bad he's sliding until it's too late attempt a recovery. As for Renner, he's terrific as Polito, traveling in shades of grey so murky and nebulous your heart almost can't help but break for the guy as the realization he's done all of his dirty dealings for an understandable greater good callously hammers its way home.
But the reason to be doing backflips over this production has everything to do with the trifecta of Bale, Adams and Jennifer Lawrence, the latter an unhinged firebrand portraying Rosenfeld's disgruntled, free-spirited yet emotionally crippled estranged wife Rosalyn. Coupled with his astonishing turn in Out of the Furnace, Bale delivers one of the best one-two punches I've seen all year (even better then Tom Hanks' Captain Phillips / Saving Mr. Banks double-whammy), disappearing so completely the cumulative effect is extraordinary. In regards to Lawrence, there's a reason she's a shoe-in for her third Academy Award-nomination (and maybe in line to win her second Oscar), the young upstart stealing scenes and breaking hearts with such cagey, unbridled aplomb taking my eyes off of her at any point was close to impossible.
Then there is Adams. Why we are not talking about her as far as the Best Actress race is concerned is way beyond me, because for my money she's right up there with Cate Blanchett (Blue Jasmine), Adèle Exarchopolous (Blue is the Warmest Color), Brie Larson (Short Term 12), Judi Dench (Philomena), Greta Gerwig (Frances Ha) and Felicity Jones (The Invisible Woman) as having delivered one of 2013's most superlative performances. Adams shifts gears (and accents) as Sydney with tempestuous abandon, traversing emotional minefields with shocking precision. She is astonishing, dominating the film in ways so subtle yet so all-encompassing it's difficult to express just how remarkable the actress truly is.
There are times when American Hustle is too cute and too crafty for its own good, moments when the frenzied puzzle box wraps itself into knots it can't completely wriggle its way free of. But the movie is so funny, so gosh darn engaging, so much frickin' fun that its shortcomings don't amount to much more than a slightly aggravating annoyance and even saying that isn't entirely accurate. Russell, if not hitting on all cylinders, is still working at such a frenzied and fevered pitch it's difficult to come away unimpressed, and I have this sneaky suspicion the more I think about the picture the more I'm going to come to believe it's something moderately magnificent.
Review reprinted courtesy of the SGN in Seattle
Film Rating: 3½ (out of 4)