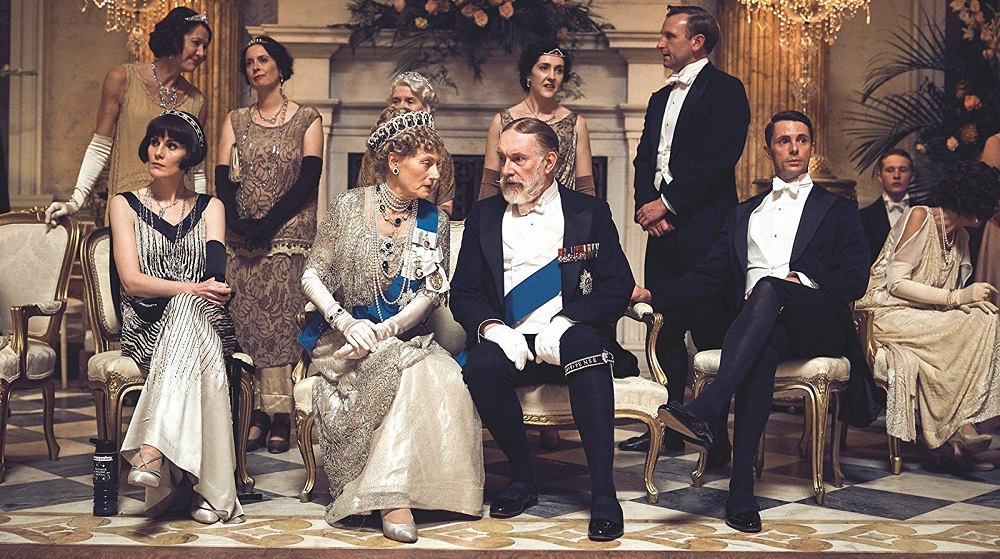 Breezy Downton Abbey an Enjoyably Witty Upstairs/Downstairs Melodrama
Having never seen an episode of the BBC television series, I honestly didn't know what to expect walking into a screening of Downton Abbey. I figured with writer/creator Julian Fellowes (Gosford Park) delivering the screenplay at worst I'd be in for some wittily amusing bits of dialogue, and with a cast featuring the likes of Maggie Smith, Imelda Staunton, Hugh Bonneville, Michelle Dockery, Matthew Goode, Elizabeth McGovern, Tuppence Middleton, Geraldine James and Jim Carter I knew it would certainly be exceedingly well acted. But I didn't know what else to expect, and as I knew nothing of these characters, their backstories or any of their various interpersonal situations, I couldn't help but wonder if I was going to be more than a little bit lost.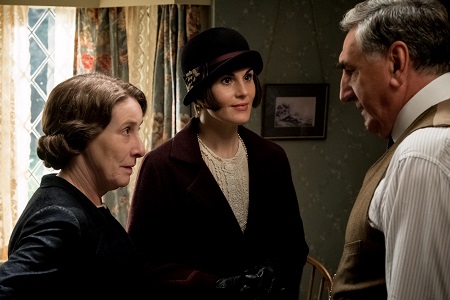 I shouldn't have been worried. While Downton Abbey will undoubtedly please fans of the series more than it will newcomers to the material, this movie is nevertheless a great deal of breezy fun. Not particularly substantive, never aiming to do more than send the audience out of the theatre with a jolly smile planted upon their faces, none of that matters much as far as the grand scheme of things is concerned. Fellowes has written a shrewdly mischievous script that overflows in agreeable subplots, director Michael Engler (The Chaperone) orchestrating the action with a relaxed confidence that suits things just about perfectly.
Not that this handsomely mounted production is going to be a motion picture I'm going to be talking about much in the foreseeable future. It's almost instantly forgettable, and while it is easy to see why these characters and their stories made for such massively popular television, Fellowes hasn't exactly written a scenario that makes moving the action from your local PBS station to the local multiplex worthy of so much fuss. All of this feels more like a pilot for a spin-off or handful of years later continuation of the original show, and if Engler's film ends up doing good box office it won't surprise me at all if a sequel or a new series is announced rather quickly.
The plot is fairly straightforward. The residents of the Great House at Downton Abbey, most notably Robert Crawley, Earl of Grantham (Bonneville), his American wife Cora (McGovern) and their fastidious daughter Lady Mary Talbot (Dockery), are honored to learn their home will be the site of a royal visit from their Majesties King George V (Simon Jones) and Queen Mary (James). The staff is even more excited, and even though new head butler Thomas Barrow (Robert James-Collier) appears to be over his head preparing for this visit, everyone working in the Great House take pride in the knowledge they'll be able to showcase their skills in front of the King and Queen.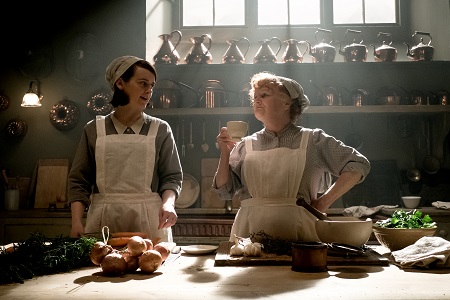 With a synopsis that simple, leave it to Fellowes to stuff in about seven or eight various subplots that deftly intermingle with the core narrative. Retired butler Mr. Carson (Carter) is asked to temporarily resume his duties when Barrow doesn't appear to be up to the task. Widower Tom Branson (Allen Leech), an Irish Republican but still very much part of the family, believes he might be under government surveillance. Violet Crawley (Smith), as drolly crotchety as ever, is looking forward to matching wits with the Queen's Lady in Waiting, Maud Bagshaw (Staunton), a distant relative with whom she shares a complicated past. The Downton Abbey staff, led by Miss Baxter (Raquel Cassidy), Mr. Molesley (Kevin Doyle) and Anna Bates (Joanne Froggatt), plan a minor revolt when they are refused the opportunity to cook, serve or clean for the King and Queen personally during their visit.
But all of that is only a small handful of the numerous strands Fellowes and Engler are juggling. There are at least four more subplots (at least), each of them vying for a viewer's attention along with the others I've already mentioned. At times it can all feel like six or so episodes of television that have been condensed into a two-hour plot for no other reason than the filmmakers believe they can do it. That they accomplish their task is a testament to the skill of all involved in making this movie a reality, but that does not mean things still don't feel moderately overstuffed. There's so much happening that some of the twists and turns of this royal visit can come across as being malnourished. Worse, a few of them are downright silly, a major one concerning Branson, Lady Mary and a mysterious gentleman monitoring the Irishman's every move undeniably so.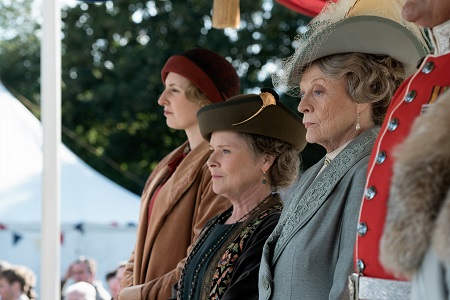 Thankfully the cast is so universally stellar these various missteps and miscalculations aren't worth spending any time marinating upon. Leech is wonderful as Branson, The Imitation Game actor so charming his crooked smile alone was enough to get my heart to flutter while I sat there in my seat. Dockery is equally outstanding, as are Froggatt, Staunton, Bonneville and especially a magnetically stalwart Carter. As for Smith, unsurprisingly she steals the show, the delectable relish with which she verbally attacks Fellowes' most melodiously pithy bon mots beyond compare. The film is also deliciously shot by Ben Smithardl (Blinded by the Light) and euphorically scored by series composer John Lunn, while Anna Robbins' (Wild Rose) exquisite costumes are irrefutably spectacular.
Look, Downton Abbey didn't make me feel like I needed to rush out and watch the Emmy-winning series any time soon. It isn't a movie I'm going to be remembering in all that great of detail by net week, let alone come the end of the year when awards chatter is in full swing. But none of that makes the film less entertaining, Fellowes and Engler doing a fine job making this upstairs/downstairs melodrama worth watching whether the viewer is a die-hard fan of the source material or a complete newcomer who hasn't the faintest clue who these people are or why any of us should care about them.
Film Rating: 3 (out of 4)